---
US correction confirmed
By Colin Twiggs
February 4th, 2014 2:00 am ET (6:00 pm AEDT)
These extracts from my trading diary are for educational purposes. Any advice contained therein is provided for the general information of readers and does not have regard to any particular person's investment objectives, financial situation or needs and must not be construed as advice to buy, sell, hold or otherwise deal with any securities or other investments. Accordingly, no reader should act on the basis of any information contained therein without first having consulted a suitably qualified financial advisor. Full terms and conditions can be found at Terms of Use.
Research & Investment: Performance update
ASX200 Prime Momentum strategy returned +28.65%* for the 12 months ended 31st January 2014, outperforming the benchmark ASX200 Accumulation Index by +17.59%. The S&P 500 strategy, started in November 2013, returned 3.21% for the first 3 months, outperforming the S&P 500 Total Return Index by 1.21%.
* Results are unaudited and subject to revision.
US correction confirmed
The S&P 500 broke support at 1770, confirming a secondary correction. At times like this it pays to look at monthly charts to gain a long-term perspective. The first line of support is at 1700. Respect of the secondary trendline would flag a weak correction indicative of a strong up-trend. Breach of that level, however, would suggest a strong correction to 1550 and the primary trendline. The scale of the bearish divergence on 13-week Twiggs Money Flow, when compared to the divergence in 2007, suggests medium-term selling pressure — typical of a secondary correction rather than a (primary) reversal.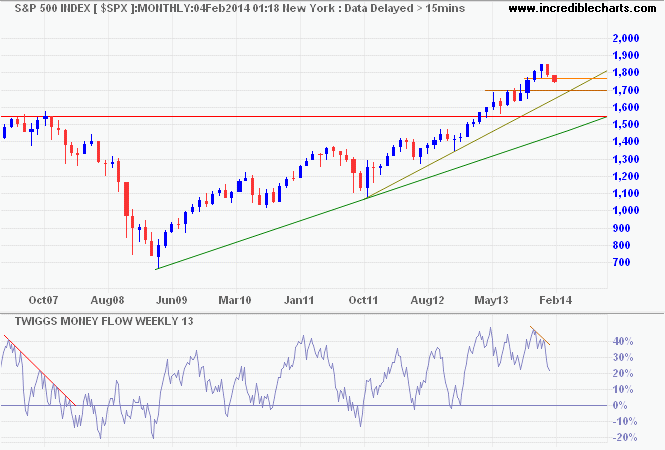 CBOE Volatility Index (VIX) crossed to above 20, suggesting moderate risk, but not yet cause for concern.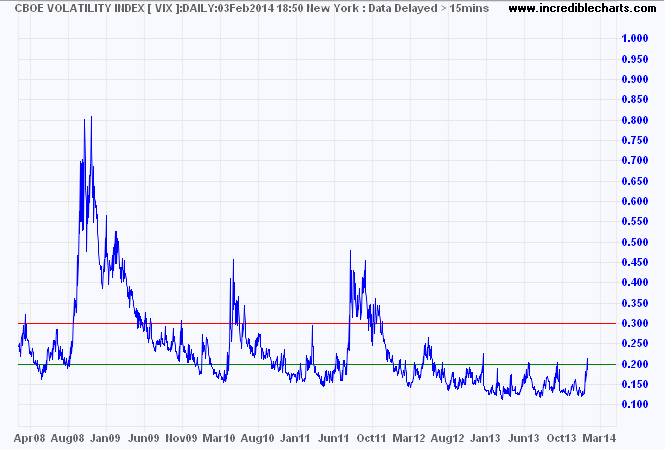 The Nasdaq 100 retreated below 3500, warning of a correction. Again, the bearish divergence on 13-week Twiggs Money Flow appears secondary and no threat to the primary up-trend.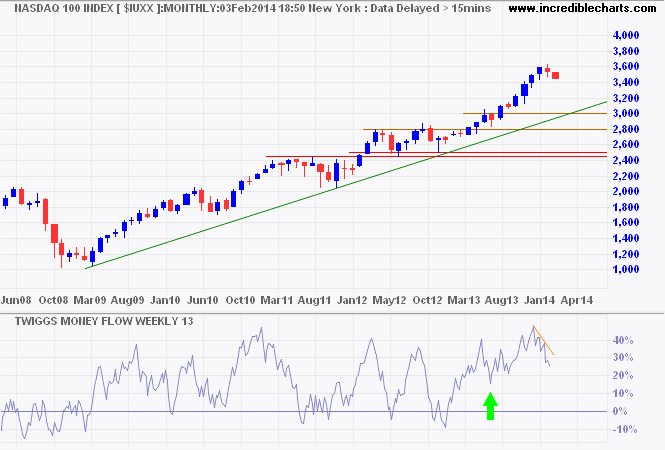 Winning is not a sometime thing, it is an all the time thing. You don't do things right once in a while.....you do them right all the time.

~ Vince Lombardi