---
Bull market but correction overdue
By Colin Twiggs
January 20th, 2014 1:00 am ET (5:00 pm AEDT)
These extracts from my trading diary are for educational purposes. Any advice contained therein is provided for the general information of readers and does not have regard to any particular person's investment objectives, financial situation or needs and must not be construed as advice to buy, sell, hold or otherwise deal with any securities or other investments. Accordingly, no reader should act on the basis of any information contained therein without first having consulted a suitably qualified financial advisor. Full terms and conditions can be found at Terms of Use.
Research & Investment: 12 month performance
ASX200 Prime Momentum returned +32.88% for the 12 months ended 31st December, outperforming the ASX200 Accumulation Index by +12.58%. Comparable results for the S&P 500 are not yet available as the strategy is only in its third month.
Bull market but correction overdue
Both the S&P 500 and Nasdaq 100 have exceeded their targets. Absence of a significant correction for several months indicates extreme bullishness, but makes the advance more precarious as buyer/seller imbalances grow.
The S&P 500 is testing medium-term resistance at 1850. Breakout would confirm a target of 1900*. Respect is less likely, but would warn of a correction if followed by reversal below 1810. Rising 21-day Twiggs Money Flow suggests (short-term) buying pressure, but reversal below the rising trendline would warn of medium-term bearishness.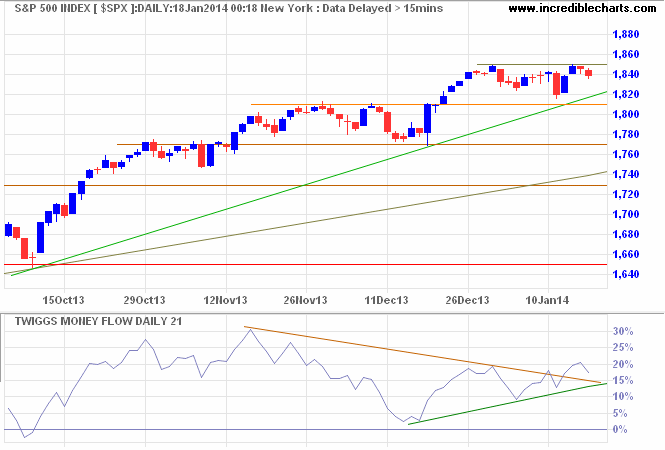 * Target calculation: 1850 + ( 1850 - 1800 ) = 1900
Declining CBOE Volatility Index (VIX) readings for the S&P 500 continue to indicate a bull market.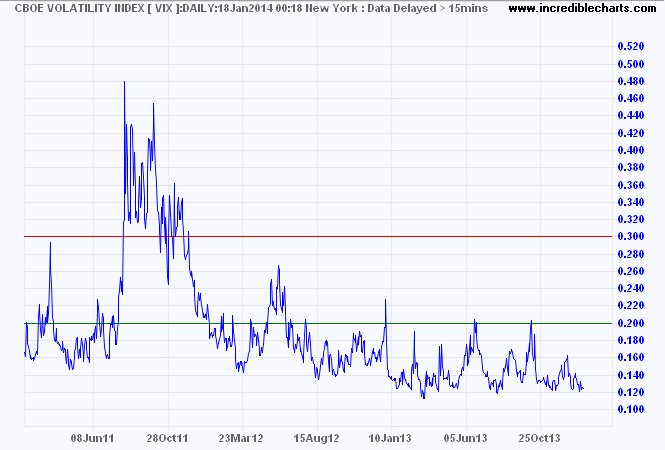 The Nasdaq 100 is similarly testing resistance at 3600. Twiggs Money Flow troughs high above the zero line indicate strong buying pressure. Absence of a significant correction makes the advance more precarious, but this imbalance can endure for several months.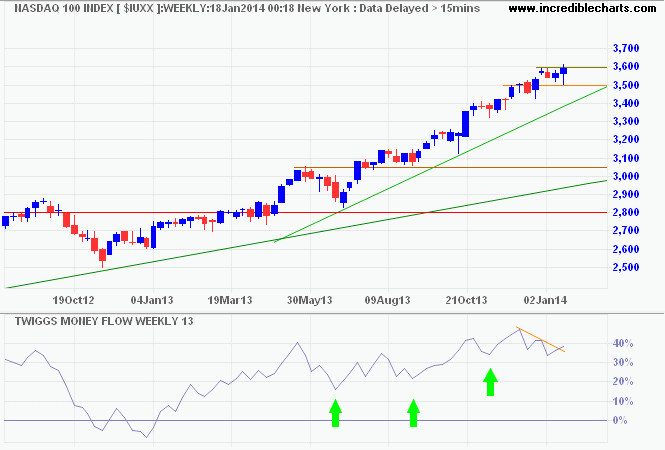 * Target calculation: 3600 + ( 3600 - 3500 ) = 3700
The greatest accomplishment is not in never falling, but in rising again after you fall.

~ Vince Lombardi