---
Strong recovery in 2014
This is the last trading diary for the year. The newsletter will resume on Monday, January 6th.
By Colin Twiggs
December 24th, 2013 2:30 am ET (6:30 pm AEDT)
These extracts from my trading diary are for educational purposes. Any advice contained therein is provided for the general information of readers and does not have regard to any particular person's investment objectives, financial situation or needs and must not be construed as advice to buy, sell, hold or otherwise deal with any securities or other investments. Accordingly, no reader should act on the basis of any information contained therein without first having consulted a suitably qualified financial advisor. Full terms and conditions can be found at Terms of Use.
The S&P 500 followed through above 1810, signaling another primary advance. Troughs high above zero on 13-week Twiggs Money Flow indicate strong long-term buying pressure. Short corrections such as the recent retracement are normally followed by strong gains, but there is no reliable method calculating targets in an accelerating up-trend. The target of 1910* calculated by the conventional method may well underestimate the advance.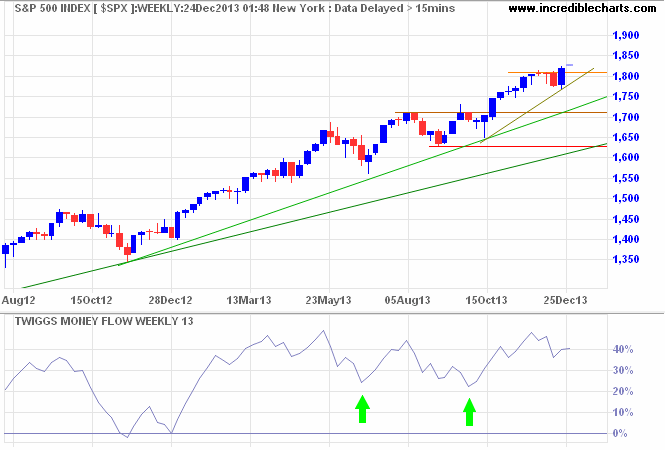 * Target calculation: 1810 + ( 1810 - 1710 ) = 1910
My favorite bellwether, transport stock Fedex, is surging ahead on the monthly chart, suggesting a strong recovery for the US economy in the year ahead.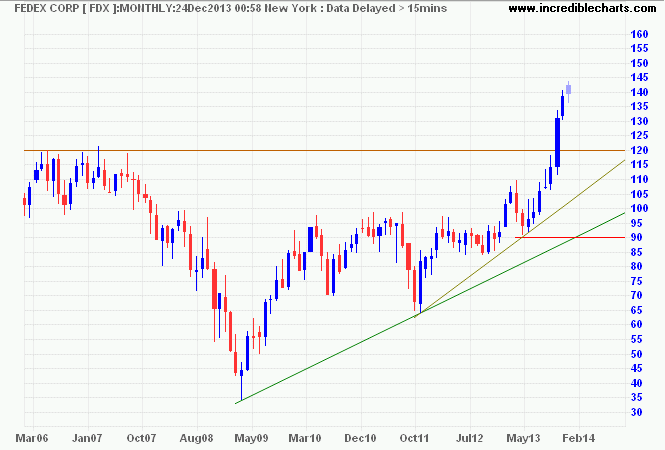 CBOE Volatility Index (VIX) readings below 20 also indicate a bull market.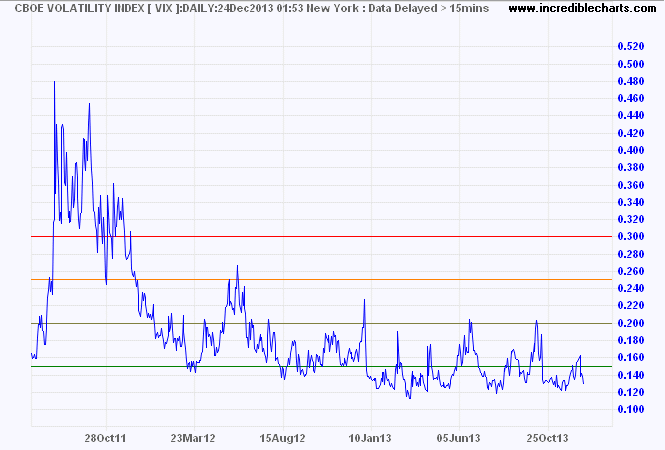 We wish all our readers peace and goodwill over the Christmas season and prosperity in the year ahead.
Regards,
Colin Twiggs
I will arise and go now, and go to Innisfree,
And a small cabin build there, of clay and wattles made;
Nine bean-rows will I have there, a hive for the honey-bee,
And live alone in the bee-loud glade.

And I shall have some peace there, for peace comes dropping slow,
Dropping from the veils of the morning to where the cricket sings;
There midnight's all a glimmer, and noon a purple glow,
And evening full of the linnet's wings.

I will arise and go now, for always night and day
I hear lake water lapping with low sounds by the shore;
While I stand on the roadway, or on the pavements grey,
I hear it in the deep heart's core.

~ William Butler Yeats: The Lake Isle of Innisfree