---
Gold support at $1200
By Colin Twiggs
December 4th, 2013 10:30 p.m. ET (2:30 p:m AEDT)
These extracts from my trading diary are for educational purposes. Any advice contained therein is provided for the general information of readers and does not have regard to any particular person's investment objectives, financial situation or needs and must not be construed as advice to buy, sell, hold or otherwise deal with any securities or other investments. Accordingly, no reader should act on the basis of any information contained therein without first having consulted a suitably qualified financial advisor. Full terms and conditions can be found at Terms of Use.
Gold
The long tail on this week's candle reflects buying support for spot gold at $1200/ounce. Recovery above $1250 would suggest another rally to $1350. But the 63-day Twiggs Momentum peak below zero warns of a down-trend. And breach of primary support at $1200 would confirm.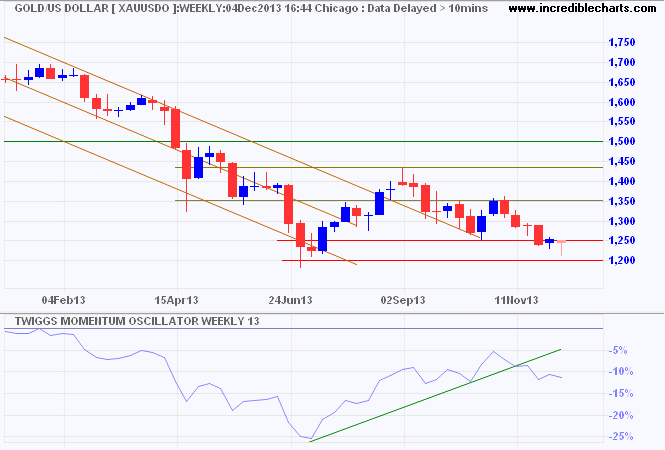 * Target calculation: 1250 - ( 1350 - 1250 ) = 1150
Often a leading indicator of spot prices, the Gold Bugs Index, representing un-hedged gold stocks, continues in a primary down-trend after breaking support at 210. Completion of a 13-week Twiggs Momentum peak below zero would strengthen the signal.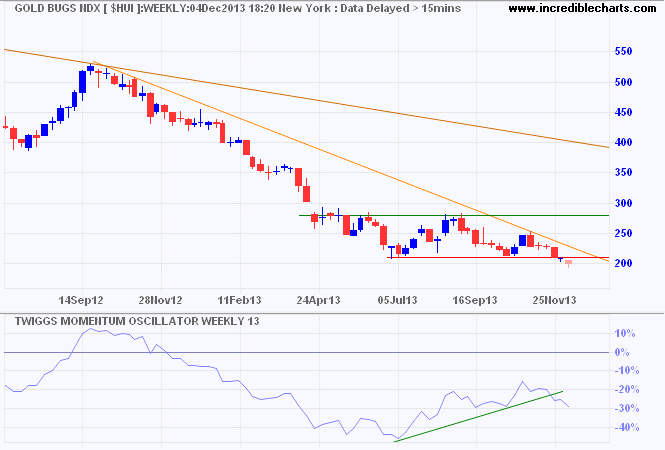 Dollar Index
The yield on ten-year Treasury Notes broke through medium-term resistance 2.75, suggesting a primary advance to 3.50 percent*. Breakout above 3.00 percent would confirm. Reversal below the rising trendline is unlikely, but would warn of trend weakness and another test of 2.50. Higher yields are likely to strengthen the dollar.
* Target calculation: 3.00 + ( 3.00 - 2.50 ) = 3.50
The Dollar Index shows evidence of strong support at 80.50, consolidating in a narrow band between 80.50 and 81.00 over the last 2 weeks. Upward breakout would suggest a primary advance; confirmed if resistance at 81.50 is broken. Breach of support at 80.50 remains as likely and would warn of another test of primary support at 79.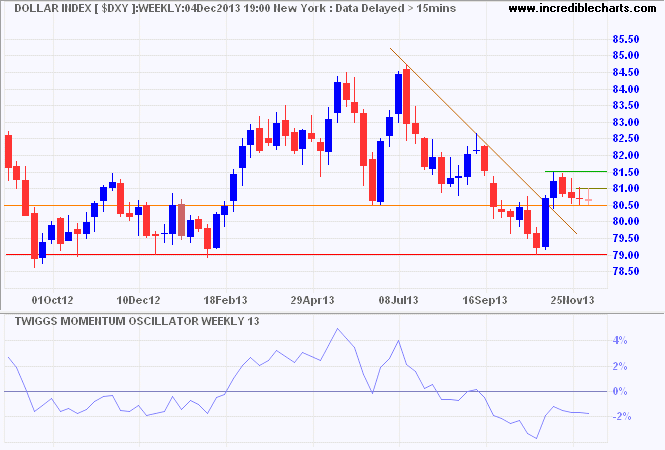 * Target calculation: 81.5 + ( 81.5 - 79 ) = 84
Higher interest rates and a stronger dollar would increase downward pressure on gold.
Crude Oil
Nymex crude penetrated its downward trendline but this first bear rally may not be the last. Expect resistance between $98 and $100/barrel. Respect remains likely and would indicate another test of support at $92. Brent crude reflects global supply constraints and is likely to find strong support at $100/barrel.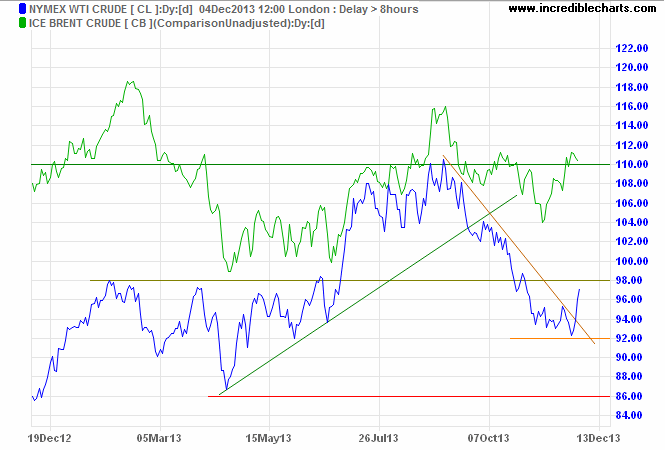 Commodity Prices
A rising Shanghai Composite Index is supporting commodity prices. Recovery of the Dow Jones-UBS Commodity Index above 126 would indicate a bear trap. Breakout above 130 would suggest reversal to a primary up-trend; and cross-over of 13-week Twiggs Momentum above zero would strengthen the signal. Respect of resistance at 126 and a primary decline now appear unlikely.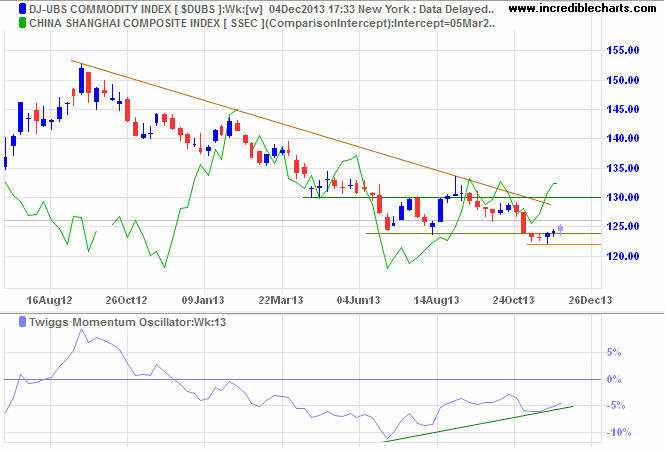 Besides the noble art of getting things done, there is the noble art of leaving things undone. The wisdom of life consists in the elimination of non-essentials.

~ Lin Yutang, The Importance Of Living