---
S&P 500 and Nasdaq bouyant
By Colin Twiggs
November 18th, 2013 1:30 am ET (5:30 pm AEDT)
These extracts from my trading diary are for educational purposes. Any advice contained therein is provided for the general information of readers and does not have regard to any particular person's investment objectives, financial situation or needs and must not be construed as advice to buy, sell, hold or otherwise deal with any securities or other investments. Accordingly, no reader should act on the basis of any information contained therein without first having consulted a suitably qualified financial advisor. Full terms and conditions can be found at Terms of Use.
The S&P 500 is advancing strongly but expect some resistance at the target of 1800*. penetration of the descending trendline on 13-week Twiggs Money Flow suggests that selling pressure is easing. Reversal below 1750 is unlikely at present, but would warn of a correction to at least the secondary trendline at 1700. Short corrections are indicative of long-term buying pressure.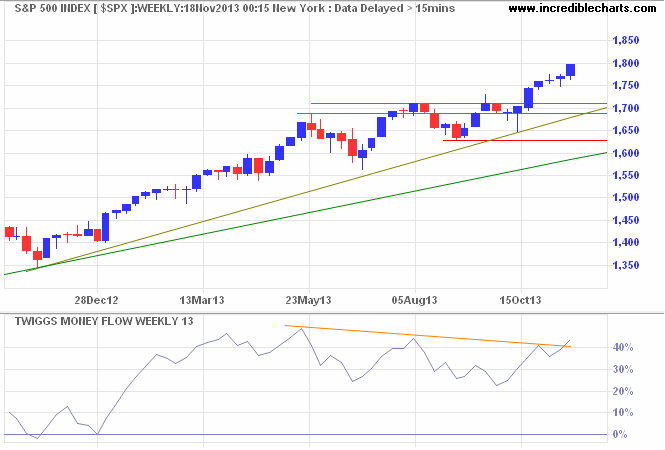 * Target calculation: 1725 + ( 1725 - 1650 ) = 1800
Bellwether transport stock Fedex exceeded its target of $130*, with rising Twiggs Money Flow indicating strong buying pressure. A bullish sign for the US economy.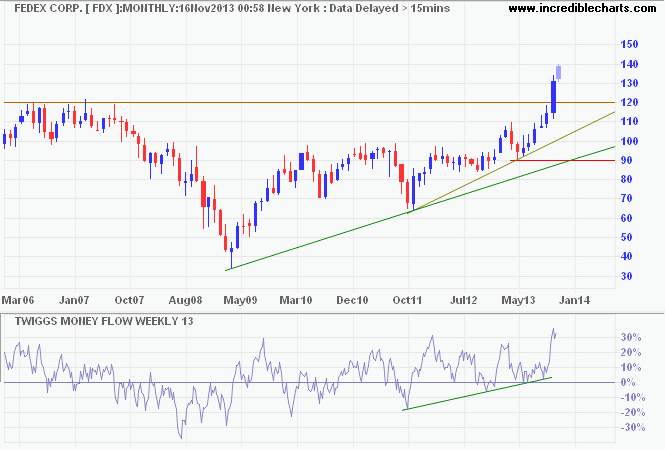 * Target calculation: 100 + ( 100 - 70 ) = 130
CBOE Volatility Index (VIX) below 15 continues to indicate low market risk.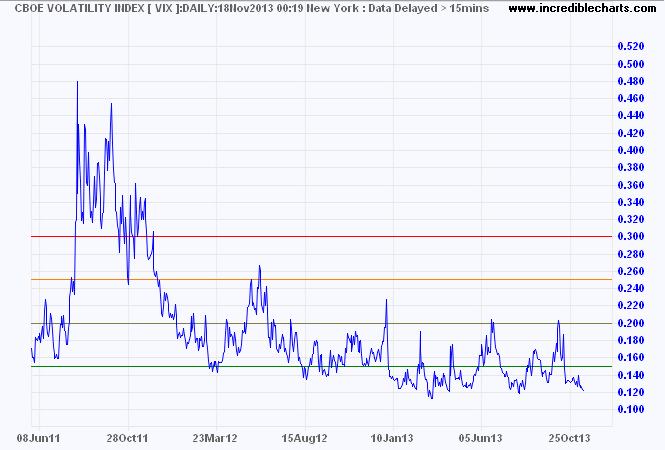 The Nasdaq 100 continues its accelerating up-trend, breaking resistance at 3400 after a brief consolidation. Rising Twiggs Money Flow, with troughs above the zero line, indicates strong buying pressure. Target for the advance is 3550*. Accelerating trends, or blow-offs, enjoy rapid gains but inevitably end with a sharp fall.
* Target calculation: 3400 + ( 3400 - 3250 ) = 3550
The worst form of inequality is to try
to make unequal things equal.

~ Aristotle