---
Dollar bear trap?
By Colin Twiggs
October 16th, 2013 10:30 p.m. EDT (1:30 p:m AEDT)
These extracts from my trading diary are for educational purposes. Any advice contained therein is provided for the general information of readers and does not have regard to any particular person's investment objectives, financial situation or needs and must not be construed as advice to buy, sell, hold or otherwise deal with any securities or other investments. Accordingly, no reader should act on the basis of any information contained therein without first having consulted a suitably qualified financial advisor. Full terms and conditions can be found at Terms of Use.
The Dollar Index found support at 80. Recovery above 81 would suggest a bear trap. A peak close to zero on 13-week Twiggs Momentum, however, indicates a primary down-trend. Reversal below 80 would confirm the long-term target of 76.50*.
A falling dollar would boost gold prices.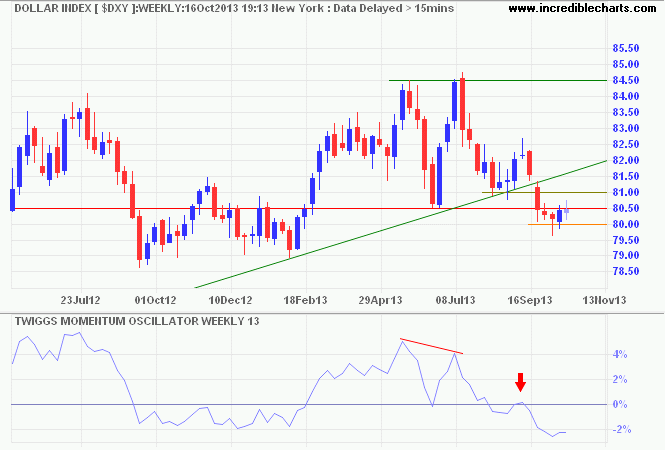 * Target calculation: 80.5 - ( 84.5 - 80.5 ) = 76.5
The yield on ten-year Treasury Notes threatens recovery above 2.70 percent, which would signal an advance to 3.40 percent. Failure of support at 2.60 is unlikely, but would warn of a correction to 2.40 percent.
Rising treasury yields would lift the dollar, while raising the opportunity cost of holding precious metals and exerting downward pressure on gold.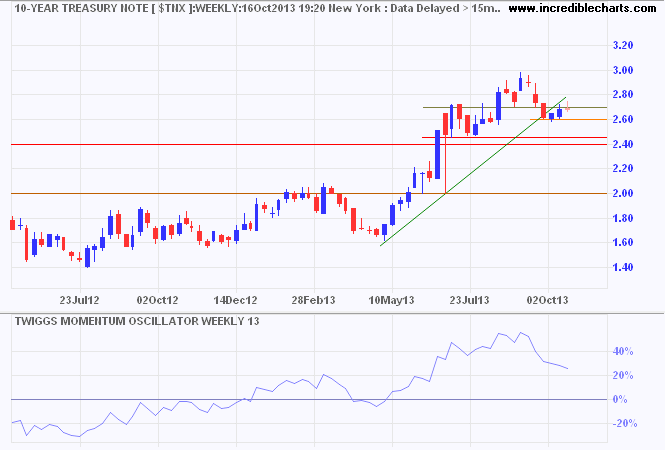 * Target calculation: 3.00 + ( 3.00 - 2.60 ) = 3.40
Gold
Spot gold continues its correction toward primary support at $1200. Follow-through below $1250 would confirm, while recovery above $1300 would suggest a higher trough and primary up-trend. 13-Week Twiggs Momentum peaking below zero, however, would indicate continuation of the down-trend.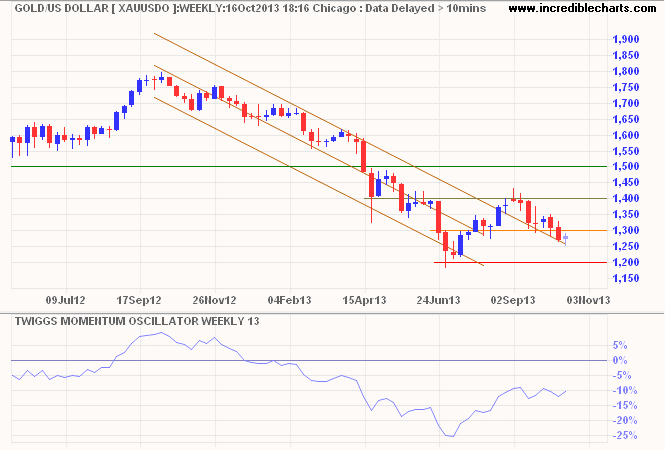 Crude Oil
Nymex light crude is edging lower and likely to test medium-term support at $98/barrel. Brent crude is diverging, reflecting continuing tensions over Syria.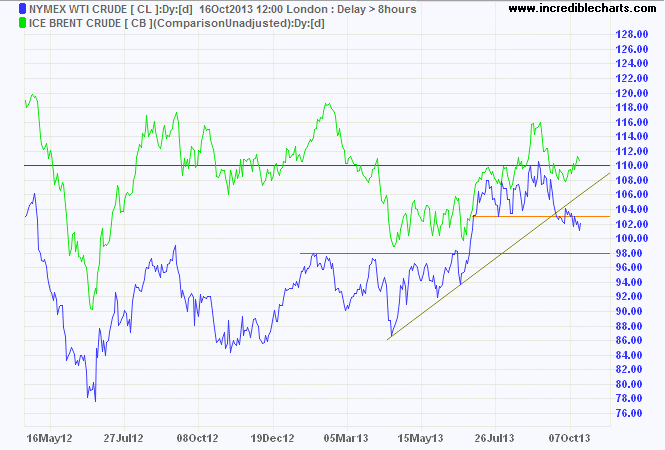 Commodity Prices
China's Shanghai Composite Index is testing medium-term support at 2150. Downward breakout would warn of another correction — a bearish sign for commodity prices. Dow Jones-UBS Commodity Index shows evidence of a higher trough, however, and recovery above 130 would signal a primary up-trend. Bullish divergence on 13-week Twiggs Momentum also suggests a reversal.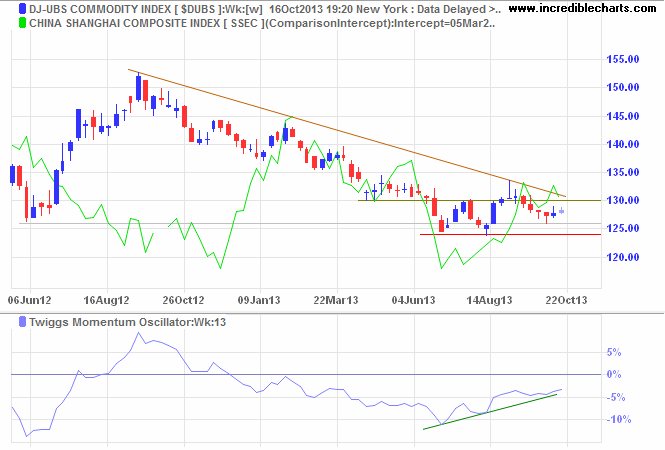 * Target calculation: 130 + ( 130 - 125 ) = 135
No one will really understand politics until they understand that politicians are not trying to solve our problems. They are trying to solve their own problems — of which getting elected and re-elected are number one and number two. Whatever is number three is far behind.

~ Thomas Sowell