---
S&P 500 threatens correction but Nasdaq holds firm
By Colin Twiggs
October 8th, 2013 3:00 am EDT (5:00 pm AET)
These extracts from my trading diary are for educational purposes. Any advice contained therein is provided for the general information of readers and does not have regard to any particular person's investment objectives, financial situation or needs and must not be construed as advice to buy, sell, hold or otherwise deal with any securities or other investments. Accordingly, no reader should act on the basis of any information contained therein without first having consulted a suitably qualified financial advisor. Full terms and conditions can be found at Terms of Use.
The September quarter-end often heralds a correction as fund managers re-balance their portfolios and shed under-performing stocks. Congressional gridlock raises the probability of a correction even higher.
The S&P 500 continues to test support at the May high of 1675 on the daily chart. Declining 21-day Twiggs Money Flow warns of medium-term selling pressure; reversal below the recent lows would further strengthen the signal. Breach of support and the (secondary) rising trendline would signal a correction to primary support at 1625/1630. Respect of the (secondary) trendline and recovery above 1700 is unlikely, but would indicate another advance.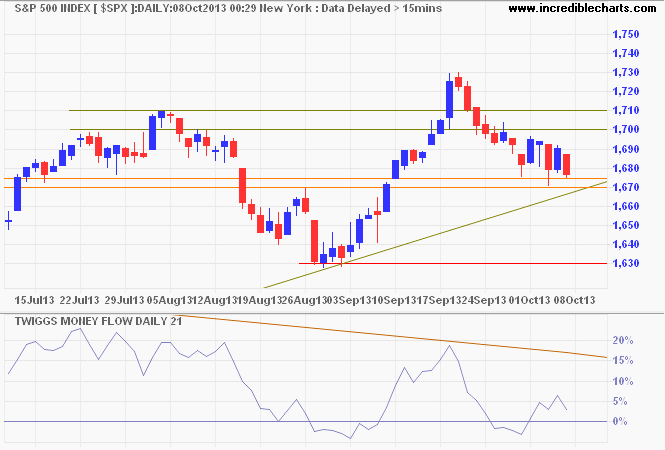 VIX threatens to cross above 20, into no-man's-land between low and high. Follow-through above 25 would warn of elevated market risk.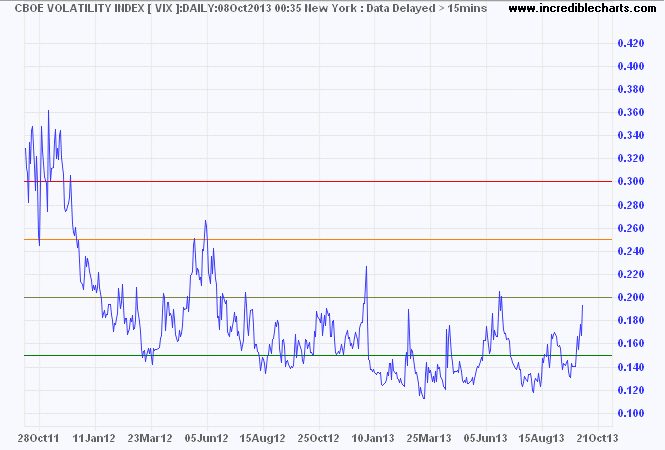 Dow Jones Industrial Average is heading for a test of primary support at 14800. Bearish divergence on 13-week Twiggs Money Flow warns of a reversal and breach of 14800 would strengthen the signal. Follow-through below 14500 would confirm. Recovery above 15660 is unlikely, but would indicate a fresh advance.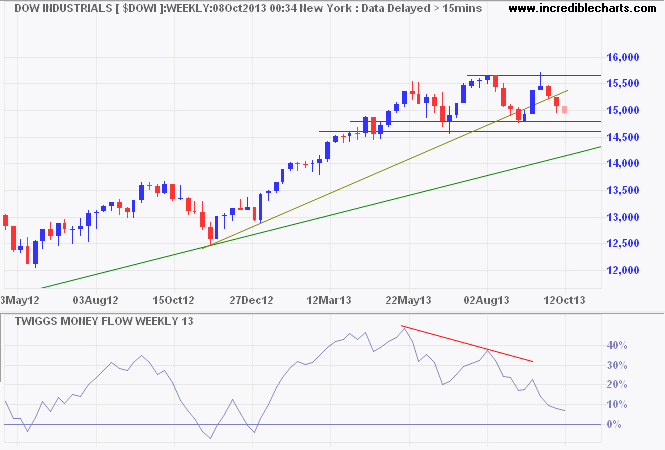 The Nasdaq 100, however, is surprisingly bullish. 13-Week Twiggs Money Flow troughs well above zero signal buying pressure, while the index advances toward its current target of 3300*. Breach of the rising trendline would warn of a correction to 3050.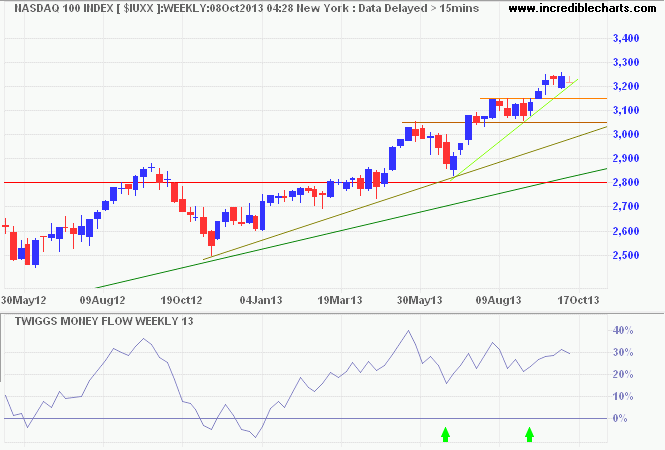 * Target calculation: 3050 + ( 3050 - 2800 ) = 3300
The elements of good trading are: 1. cutting losses; 2. cutting losses; and 3. cutting losses. If you can follow these three rules, you may have a chance.

~ Ed Seykota