---
Dow warns of reversal but S&P 500 hesitates
By Colin Twiggs
September 9th, 2013 3:00 am EDT (5:00 pm AET)
These extracts from my trading diary are for educational purposes. Any advice contained therein is provided for the general information of readers and does not have regard to any particular person's investment objectives, financial situation or needs and must not be construed as advice to buy, sell, hold or otherwise deal with any securities or other investments. Accordingly, no reader should act on the basis of any information contained therein without first having consulted a suitably qualified financial advisor. Full terms and conditions can be found at Terms of Use.
Dow Jones Industrial Average bearish divergence on 13-week Twiggs Money Flow warns of a reversal. Failure of primary support at 14500/14600 would confirm. Recovery above 15000 would defer the test of primary support, but strong selling pressure should not be ignored.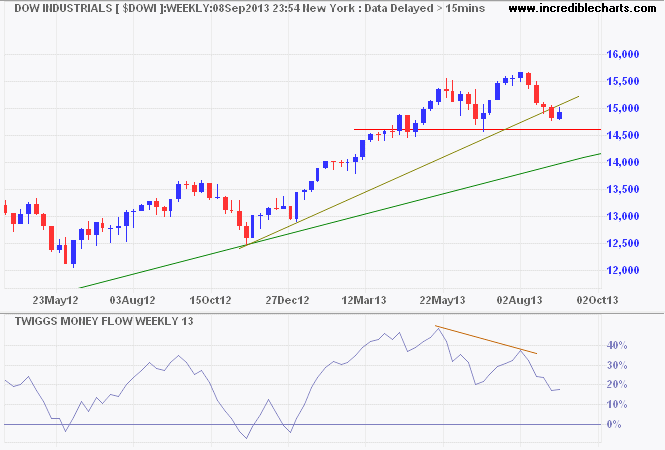 Friday's long-legged doji candle on the S&P 500 (daily chart) indicates hesitancy. Follow-through above the descending trendline would suggest that the correction is over, while a fall below the longer-term rising trendline would warn that momentum is slowing and another test of primary support at 1560 is likely. Bearish divergence on 21-day Twiggs Money Flow indicates selling pressure. In the long-term, failure of primary support would offer a target of 1400*.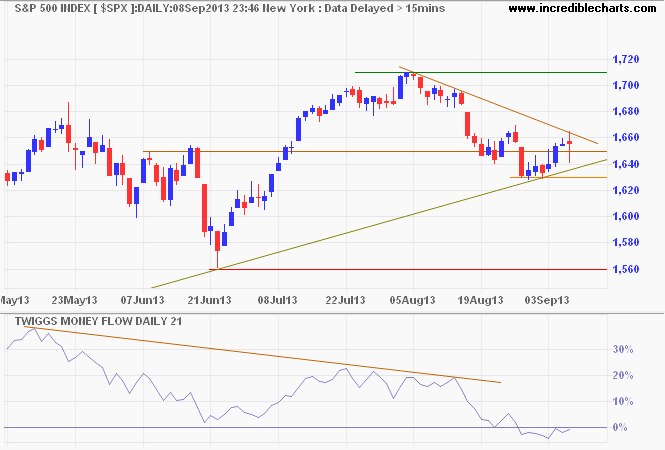 * Target calculation: 1550 - ( 1700 - 1550 ) = 1400
VIX below 20, however, continues to suggest a bull market.
Rising 13-week Twiggs Money Flow and consolidation above the preceding peak at 3040/3050 on the Nasdaq 100 also favors continuation of the primary up-trend.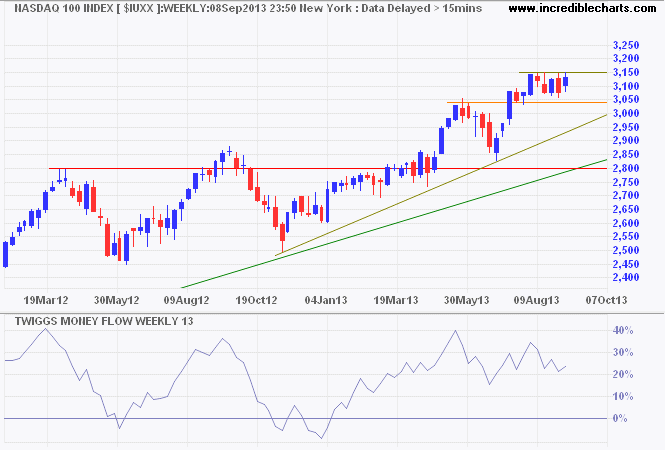 Signals are mixed at present, but a stronger bear signal on the Dow, or an upward spike on the VIX, would tilt probabilities towards a reversal.
There are old traders and there are bold traders, but there are very few old, bold traders.

~ Ed Seykota