---
What's New: Screening For Potential Breakouts
By Colin Twiggs
August 27th, 2013 6:00 p.m. EDT (8:00 a.m. AET)
These extracts from my trading diary are for educational purposes. Any advice contained therein is provided for the general information of readers and does not have regard to any particular person's investment objectives, financial situation or needs and must not be construed as advice to buy, sell, hold or otherwise deal with any securities or other investments. Accordingly, no reader should act on the basis of any information contained therein without first having consulted a suitably qualified financial advisor. Full terms and conditions can be found at Terms of Use.
A reader asked for a screen to identify narrow consolidations of several months, with the aim of identifying potential breakouts. I devised a screen using the following filters:
Twiggs Money Flow is useful for identifying accumulation/buying pressure. I used 21-day Twiggs Money Flow to identify situations where TMF is holding above zero (the last 30 trading days); a reliable indication of buying pressure.
Low Bollinger Band Width normally identifies narrow consolidations.
Percentage Price Move is used to reinforce Bollinger Band Width.
A Volume Filter is used to eliminate flat-liners, where the stock is not trading.
The new Screens #62277 and #62281 to #62284 are on the Shared tab. You will find this at Securities >> Stock Screens >> Shared.
Envestra (ENV) is one of the ASX stocks identified by the screen: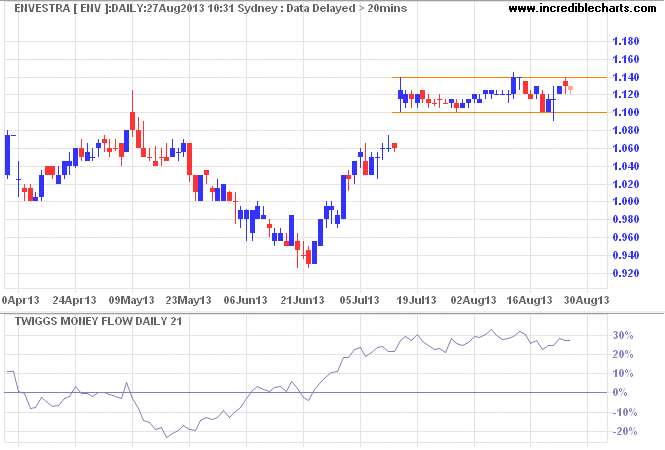 Total System Services (TSS) is from the S&P 500 screen: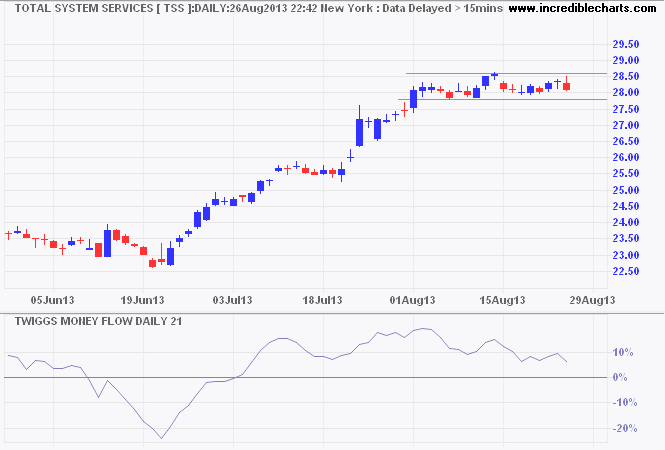 Widening the Bollinger BandWidth filter to a Maximum of 10 increases the number of stocks returned, but will require more sifting to find the gems.
Reject any stock where 21-day Twiggs Money Flow shows a bearish divergence or has been declining steeply for 4 or more weeks. That denotes selling pressure, even if above zero.
Stock Screen Upgrade
We have been promising an upgrade of our stock screen filters for some time and hope to make some progress in the next 6 weeks. Thank you for your patience. We would welcome any further suggestions readers may have.
The elements of good trading are cutting losses, cutting losses, and cutting losses.

~ Ed Seykota from 500 of the Most Witty, Acerbic and Erudite Things Ever Said About Money, edited by Philip Jenks