---
Europe: Improving but beware of The Joker
By Colin Twiggs
August 26th, 2013 2:30 a.m. EDT (4:30 p.m. AET)
These extracts from my trading diary are for educational purposes. Any advice contained therein is provided for the general information of readers and does not have regard to any particular person's investment objectives, financial situation or needs and must not be construed as advice to buy, sell, hold or otherwise deal with any securities or other investments. Accordingly, no reader should act on the basis of any information contained therein without first having consulted a suitably qualified financial advisor. Full terms and conditions can be found at Terms of Use.
Monthly charts best reflect the state of play in Europe. Germany and France are improving but there are still pockets of weakness elsewhere that threaten to destabilize the monetary union.
Germany's DAX recovered above its 2007 high at 8200. Reversal below 8000 would indicate hesitancy, with another test of primary support (and rising trendline) at 7600. But the up-trend is intact and follow-through above 8500 would offer a long-term target of 9500*. Momentum is slowing but 13-week Twiggs Momentum holding above zero suggests continuation of the up-trend.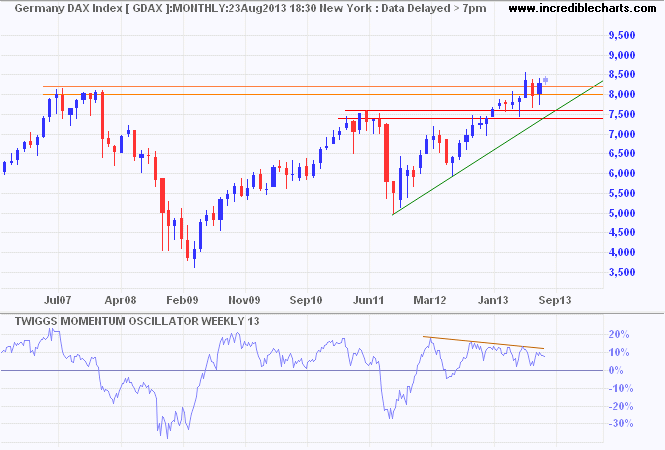 * Target calculation: 8500 + ( 8500 - 7500 ) = 9500
The FTSE 100 fell through support at 6500 but the long tail indicates buying pressure. Reversal below 6400 would confirm a correction to the rising trendline. Breakout above 6750 would signal an advance to the 1999 high of 7000, but strong bearish divergence on 13-week Twiggs Money Flow warns of a correction. Breach of primary support at 6000 would signal a reversal.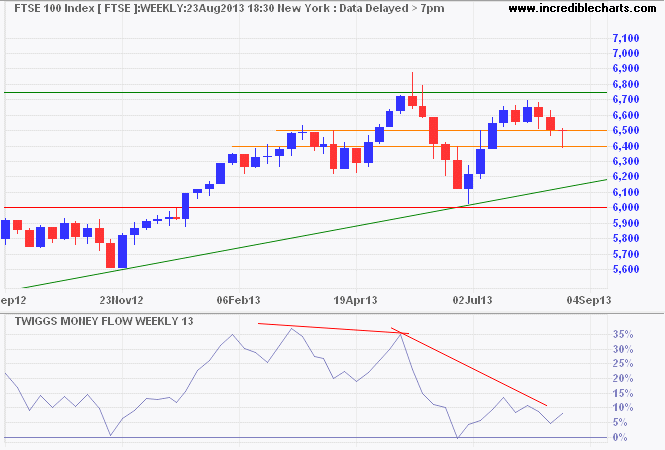 France's CAC-40 is headed for another test of its 2011 high at 4200. Breakout would offer a long-term target of 4800*. Reversal below 3600 is unlikely but would signal a primary down-trend.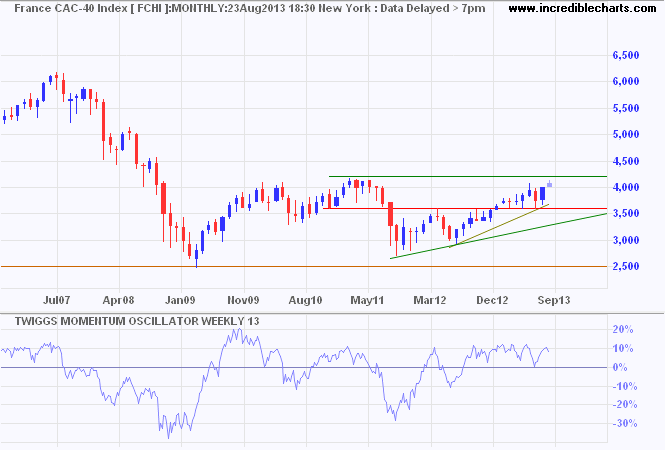 * Target calculation: 4200 + ( 4200 - 3600 ) = 4800
Italy's MIB Index is testing resistance at 18000. Momentum is weakening so one needs to be prepared for another correction. But breakout would offer a target of 21000*.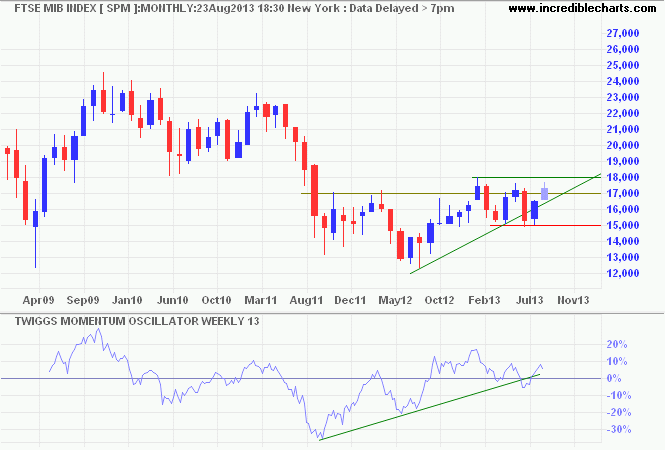 * Target calculation: 18000 + ( 18000 - 15000 ) = 21000
Adam Taylor at Business Insider quotes Tim Parks from New York Review of Books:
If Nixon had refused to accept impeachment and had tried somehow to hang on to power, he would have been summarily removed. The same goes for any leader in Europe's main democracies. Most will step down at the first sign of a serious criminal charge against them, aware that their parties will not support someone who damages their cause. The truly disquieting aspect of the present situation in Italy is not so much Berlusconi's brazenness, but that his blackmail is possible and credible, that he has such complete control over such a large political party, and that he still commands considerable popular support. Astonishing as it may seem to those not familiar with the country, even serious newspapers and respectable commentators seem reluctant to insist on the enforcement of law, rarely mentioning the details of his crimes and actually giving credence to the argument that removing Berlusconi from the political scene would amount to disenfranchising the millions of voters who supported him at the previous election, as if there was no autonomous party in parliament to represent their views, as if they were not free to choose another leader before the next election.
The Joker may still have the last laugh.
Silvio Berlusconi as The Joker. Reproduced with thanks to Vincos on Flickr.com.
Spain's Madrid General Index is testing resistance at 900. Momentum is weakening so, again, be prepared for another correction. But breakout above 900 would indicate an advance to 1050*.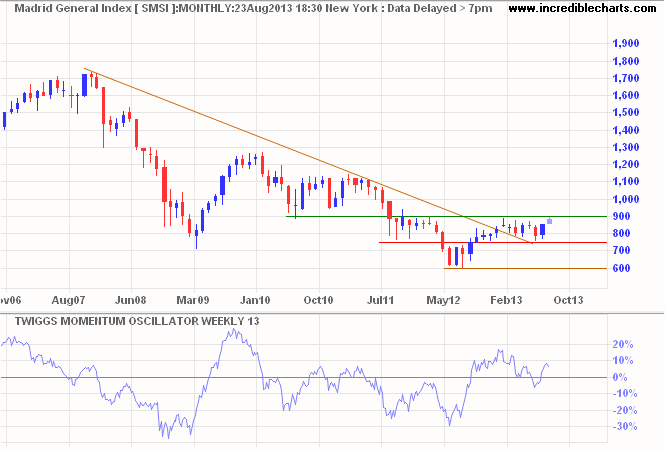 * Target calculation: 900 + ( 900 - 750 ) = 1050
People on all levels of income are better off than they were in 1979. The hon. Gentleman is saying that he would rather that the poor were poorer, provided that the rich were less rich. That way one will never create the wealth for better social services. As we have. What a policy.

~ Margaret Thatcher, House of Commons - in response to a question by MP Simon Hughes (1990)