---
China rally spurs ASX advance
By Colin Twiggs
August 13th, 2013 3:00 a.m. EDT (5:00 p.m. AET)
These extracts from my trading diary are for educational purposes. Any advice contained therein is provided for the general information of readers and does not have regard to any particular person's investment objectives, financial situation or needs and must not be construed as advice to buy, sell, hold or otherwise deal with any securities or other investments. Accordingly, no reader should act on the basis of any information contained therein without first having consulted a suitably qualified financial advisor. Full terms and conditions can be found at Terms of Use.
China's Shanghai Composite Index rallied from support at 1950 to test medium-term resistance at 2100 on the weekly chart. Breakout would indicate a test of the descending trendline at 2200. The primary trend is down, but penetration of the trendline would suggest that a bottom has formed.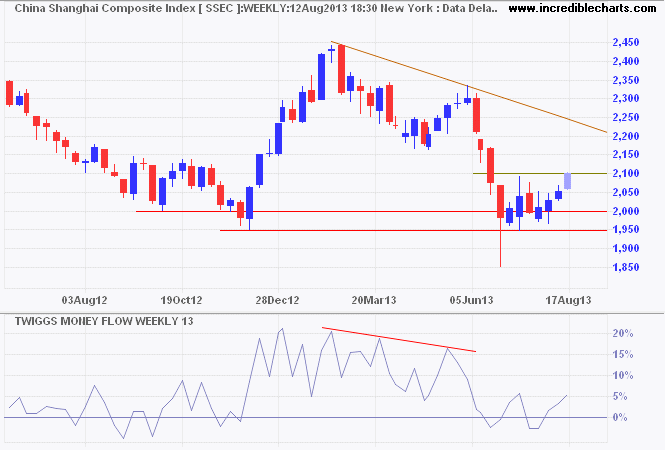 The Shenzhen Composite Index has been in a primary up-trend since May, but displayed weakness with a second, shaky test of support at 900. Troughs above zero on 13-week Twiggs Money Flow indicate the primary up-trend is intact. Breakout above the last high at 1040 would confirm — a bullish sign for the Shanghai Composite.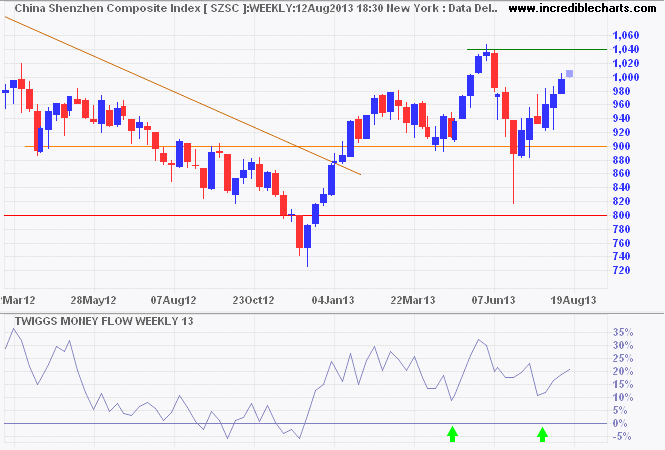 Japan's Nikkei 225 is testing medium-term support at 13500. Breach would indicate a correction to primary support at 12500, but respect of the zero line by 21-day Twiggs Money Flow would suggest the primary up-trend is intact. Recovery above 14500 would strengthen the signal.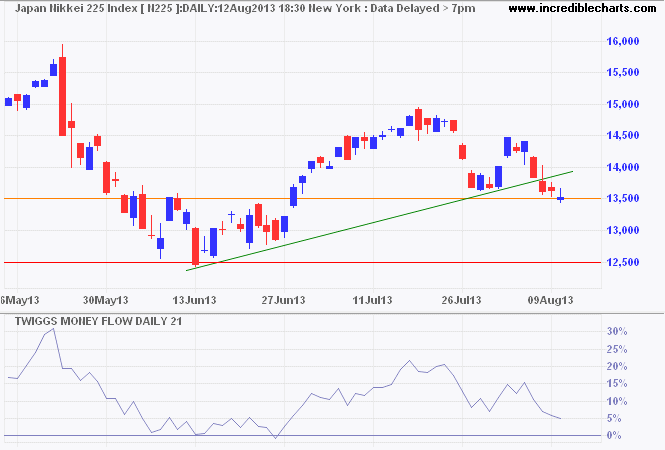 India's Sensex respected primary support at 18500. Rising troughs on 13-week Twiggs Money Flow indicate moderate buying pressure. Expect another test of resistance at 20500 (i.e. a test of 20500 is likely). Breach of support, while unlikely, would warn of a primary down-trend — confirmed if there is follow-through below 18000.
* Target calculation: 20 + ( 20 - 18 ) = 22
The ASX 200 broke short-term resistance at 5120, signaling an advance to the May peak at 5250. Rising 21-day Twiggs Money Flow indicates buying pressure. Reversal below 5000 is unlikely, but would warn of a correction to at least 4850.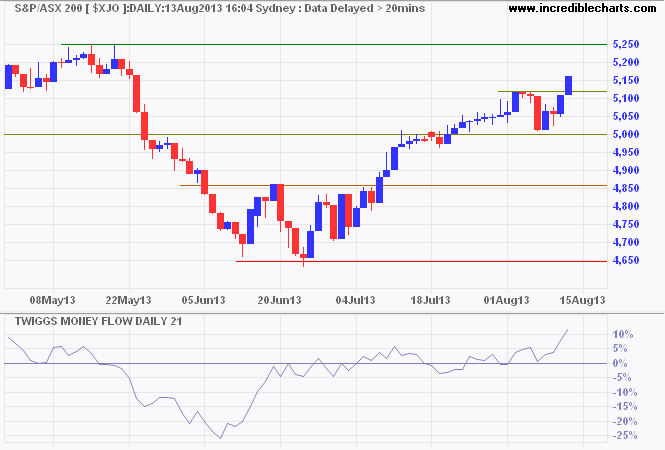 Breakout above 5250 would indicate another advance, but high volatility, shown by the broadening formation of the last few months, will require further evidence to confirm this.
* Target calculation: 5250 + ( 5250 - 4650 ) = 5850
Live a good life. If there are gods and they are just, then they will not care how devout you have been, but will welcome you based on the virtues you have lived by. If there are gods, but unjust, then you should not want to worship them. If there are no gods, then you will be gone, but will have lived a noble life that will live on in the memories of your loved ones.

~ Marcus Aurelius