---
Gold and commodities falling while Dollar weakens
By Colin Twiggs
August 8th, 2013 5:30 a.m. EDT (7:30 p:m AET)
These extracts from my trading diary are for educational purposes. Any advice contained therein is provided for the general information of readers and does not have regard to any particular person's investment objectives, financial situation or needs and must not be construed as advice to buy, sell, hold or otherwise deal with any securities or other investments. Accordingly, no reader should act on the basis of any information contained therein without first having consulted a suitably qualified financial advisor. Full terms and conditions can be found at Terms of Use.
Gold is drifting lower after breaking support at $1300/ounce. Penetration of support at $1270 would signal a re-test of primary support at $1200, but reversal above $1300 remains as likely and would indicate another test of $1350. Breakout above $1350 would target $1400.
The above feed is from a new data supplier. Data is 10-minute delayed and time-stamped US Central Time (Chicago exchanges). After recent problems with data reliability we have cancelled the contract with our current supplier and will switch to the new source within a few days.
The Gold Bugs Index, representing un-hedged gold stocks, continues its sharp fall. Follow-through below 200 would indicate a test of the 2008 low at 160 — a bearish sign for the spot metal.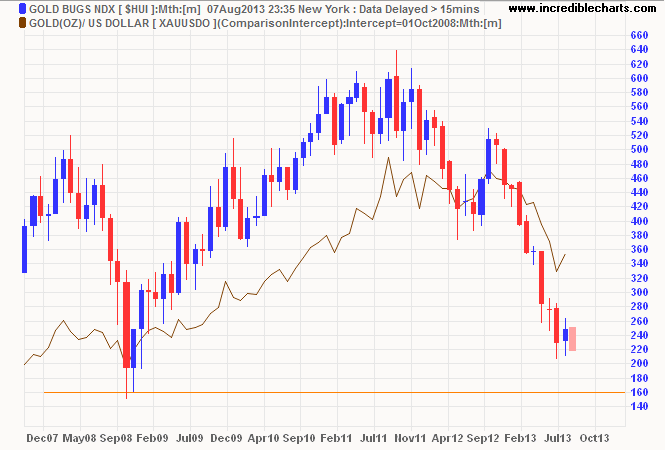 Dollar Index
The Dollar Index is heading for a test of primary support at 80.50. Respect of the rising trendline would be a bullish sign, but bearish divergence (and reversal below zero) on weekly Twiggs Momentum warns of weakness. Breach of 80.50 would signal a primary down-trend.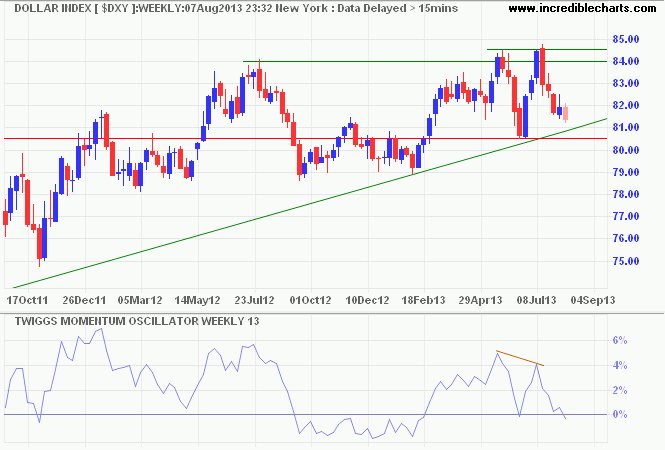 Crude Oil
Nymex WTI light crude twice respected resistance at $108/barrel. Reversal below last week's low at $103 would warn of a test of $98, while respect would suggest another strong advance. Brent crude is likely to track its US counterpart closely.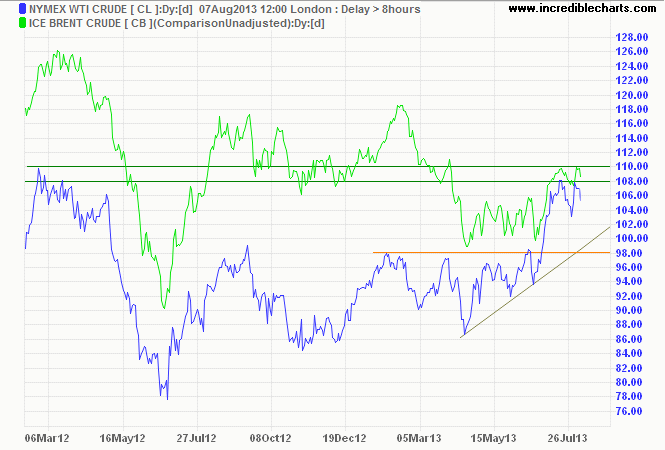 * Target calculation: 98 + ( 98 - 86 ) = 110
Commodities
Copper is testing long-term support at $6800/ton. Follow-through below $6600 would confirm another primary decline.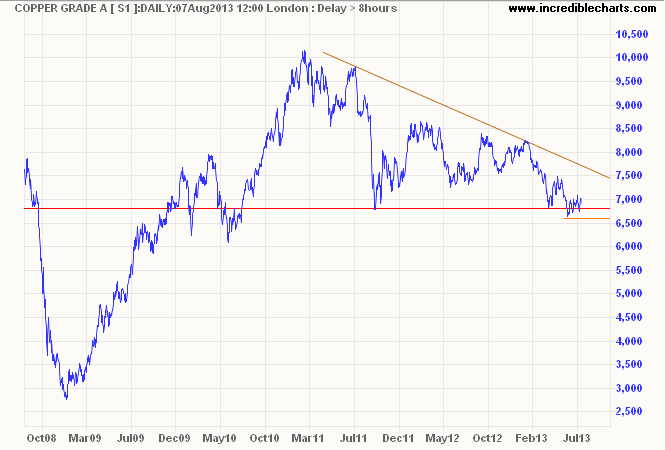 The Shanghai Composite Index is holding above its 2012 low at 1950, but further weakness is likely and would drive commodity prices lower. Dow Jones-UBS Commodity Index breached long-term support at 125/126, offering a target of the 2009 low at 100*. Not good news for Australian resources stocks, even if the impact is cushioned by a falling Aussie Dollar.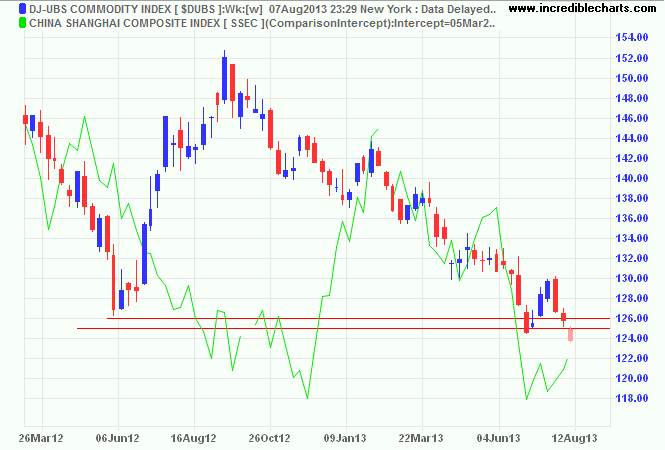 * Target calculation: 125 - ( 150 - 125 ) = 100
Count no day lost in which you waited your turn, took only your share and sought advantage over no one.

~ Robert Brault