---
S&P500 follows through
By Colin Twiggs
August 4th, 2013 9:00 pm EDT (11:00 am AET)
These extracts from my trading diary are for educational purposes. Any advice contained therein is provided for the general information of readers and does not have regard to any particular person's investment objectives, financial situation or needs and must not be construed as advice to buy, sell, hold or otherwise deal with any securities or other investments. Accordingly, no reader should act on the basis of any information contained therein without first having consulted a suitably qualified financial advisor. Full terms and conditions can be found at Terms of Use.
The S&P 500 followed through above resistance at 1700, indicating an advance to 1800*. Bearish divergence on 21-day Twiggs Money Flow suggests selling pressure, but this is not as pronounced on the weekly chart and a peak above the May high would negate this. Reversal below support at 1675 remains unlikely, but would warn of another test of primary support at 1560.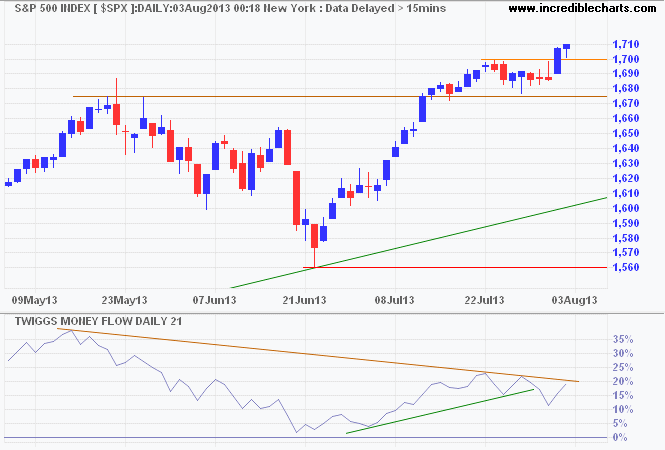 * Target calculation: 1680 + ( 1680 - 1560 ) = 1800
The VIX below 15 indicates historically low market risk.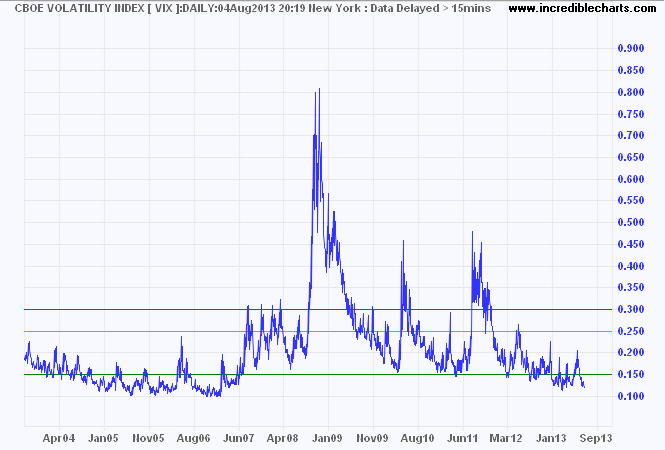 The Dollar Index is testing resistance at 82.50. Breakout would indicate the correction is over, suggesting an advance to 84.50. A 63-day Twiggs Momentum trough above zero would strengthen the signal.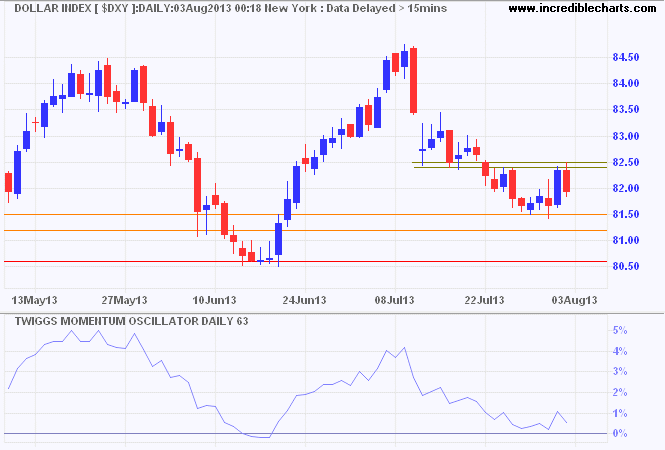 Gold continues to test support at $1300/ounce. Breach would suggest another test of primary support at $1200, while failure of primary support would offer a target of $1050*. Dollar Index breakout above 82.50 would strengthen the bear signal. Recovery above 1350 is less likely, but would indicate continuation of the rally to $1400/ounce.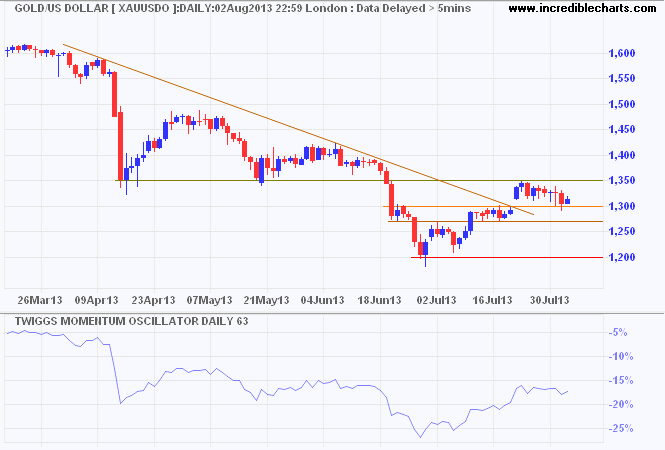 * Target calculation: 1200 - ( 1350 - 1200 ) = 1050
Without faith in his own judgment no man can go very far in this game. That is about all I have learned — to study general conditions, to take a position and stick to it.

~ Jesse Livermore