---
S&P500 support but TSX bearish
By Colin Twiggs
July 29th, 2013 3:00 am EDT (5:00 pm AET)
These extracts from my trading diary are for educational purposes. Any advice contained therein is provided for the general information of readers and does not have regard to any particular person's investment objectives, financial situation or needs and must not be construed as advice to buy, sell, hold or otherwise deal with any securities or other investments. Accordingly, no reader should act on the basis of any information contained therein without first having consulted a suitably qualified financial advisor. Full terms and conditions can be found at Terms of Use.
The S&P 500 ran into resistance at 1700, but long tails on the last two days indicate support at 1675. Follow-through above 1700 would offer a target of 1800*. The 21-day Twiggs Money Flow trough above zero indicates a healthy up-trend, but a lower peak than May would warn of selling pressure. Reversal below support at 1650 is unlikely, warning of another test of primary support at 1560.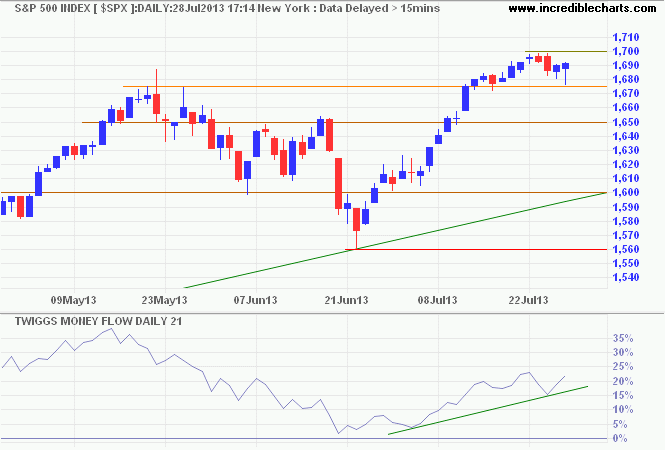 * Target calculation: 1680 + ( 1680 - 1560 ) = 1800
The VIX below 15 indicates historically low market risk.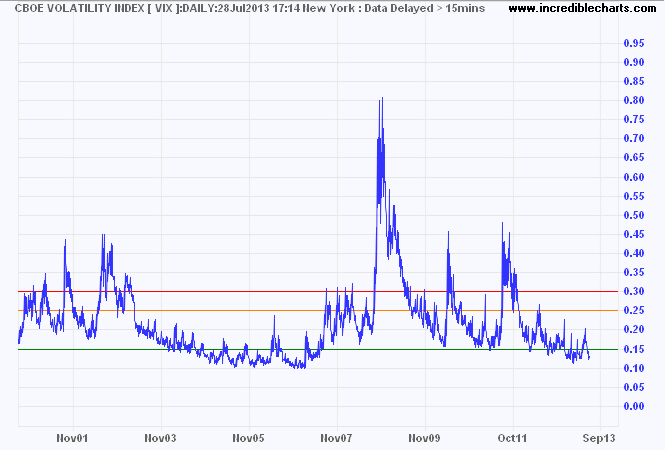 Canada's TSX 60 VIX is similarly bullish.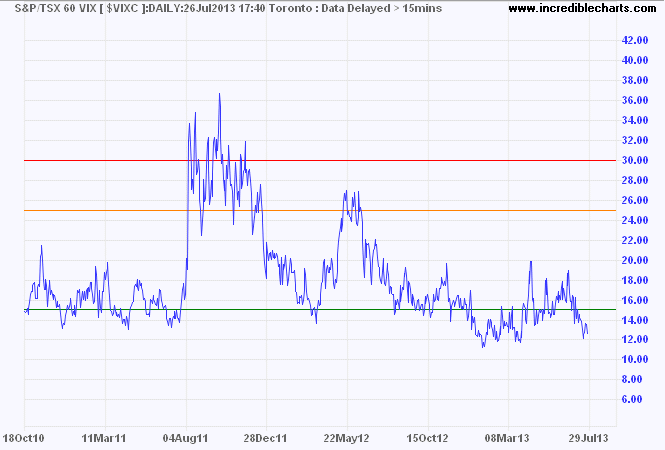 The TSX Composite Index encountered resistance below 12900, however, and declining 13-week Twiggs Money Flow warns of continued selling pressure. Respect of 12900 would indicate another test of 11750. Breakout above 12900 is less likely, but would offer a long-term target of 14000*.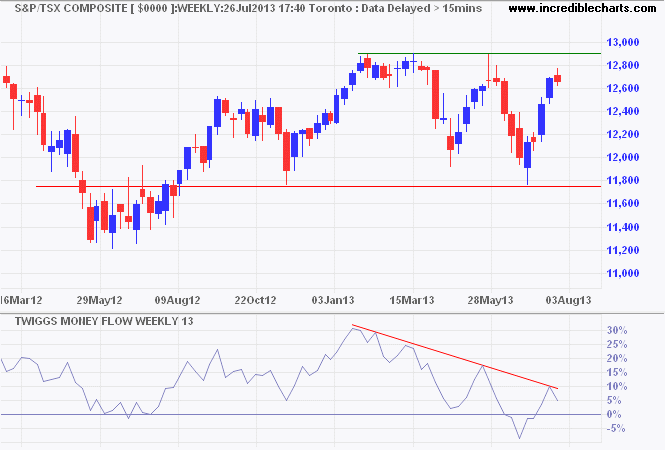 * Target calculation: 13000 + ( 13000 - 12000 ) = 14000
I believe there are no good stocks or bad stocks; there are only money making stocks. So there is no good direction to trade, short or long; there is only the money-making way to trade.

~ Jesse Livermore