---
Gold and commodities — bear rally likely to fail
By Colin Twiggs
July 4th, 2013 12:30 a.m. EDT (2:30 p:m AET)
These extracts from my trading diary are for educational purposes. Any advice contained therein is provided for the general information of readers and does not have regard to any particular person's investment objectives, financial situation or needs and must not be construed as advice to buy, sell, hold or otherwise deal with any securities or other investments. Accordingly, no reader should act on the basis of any information contained therein without first having consulted a suitably qualified financial advisor. Full terms and conditions can be found at Terms of Use.
Gold found support at $1200/ounce, but the rally was short-lived, encountering resistance at $1260. Breakout would test resistance at $1300/1320, while reversal below $1230 would again test $1200. Continuation of the down-trend is likely, and failure of support at $1200 would offer a medium-term target of $1100*.
* Target calculation: 1200 - ( 1300 - 1200 ) = 1100
The Gold Bugs index (representing un-hedged gold stocks) diverged from the spot price in 2012 and retreated, relatively, a lot further since 2011. Does that mean the spot price will follow — or that gold stocks are oversold? I have no idea how far gold will eventually fall, but do take this as a bearish sign for the metal.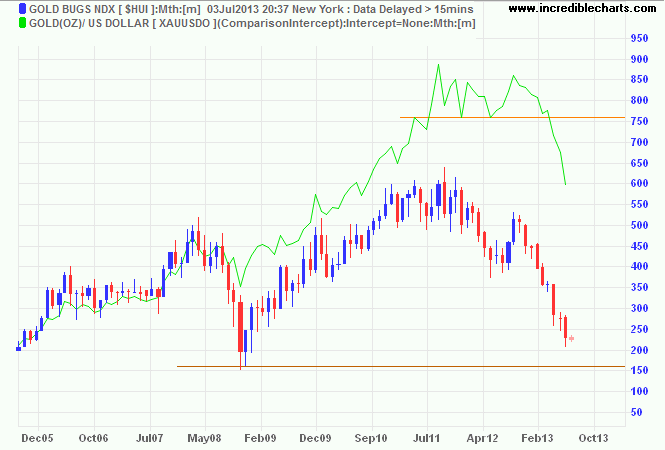 Crude Oil
Nymex WTI light crude broke resistance at $98/barrel and follow-through above $100 would confirm a primary up-trend. Brent continues to range between $100 and $106, with the spread narrowing to less than $4/barrel. Rising Nymex crude prices reflect a stronger US economy, and should ensure the spread closes completely in the months ahead.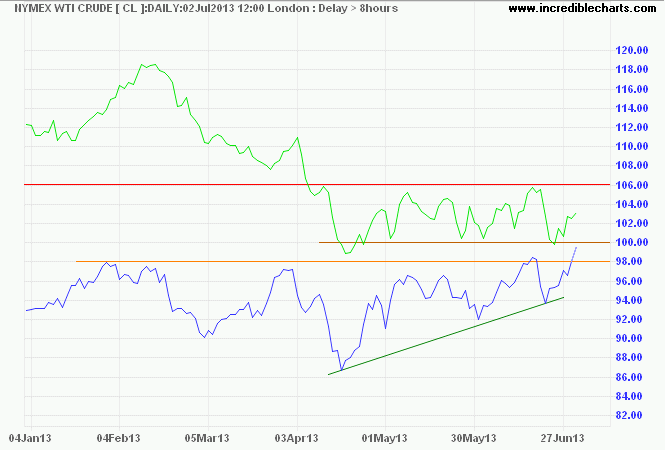 Commodities
Commodity prices are largely driven by Chinese demand, as reflected by the correlation between Dow Jones/UBS Commodity Index and the Shanghai Composite. The Shanghai is in a strong primary down-trend and likely to drag commodities even lower. Breakout below support at 125/126 would offer a long-term target of the 2009 low at 100*. Not good news for Australian resources stocks, even though the impact is cushioned by a falling Aussie Dollar.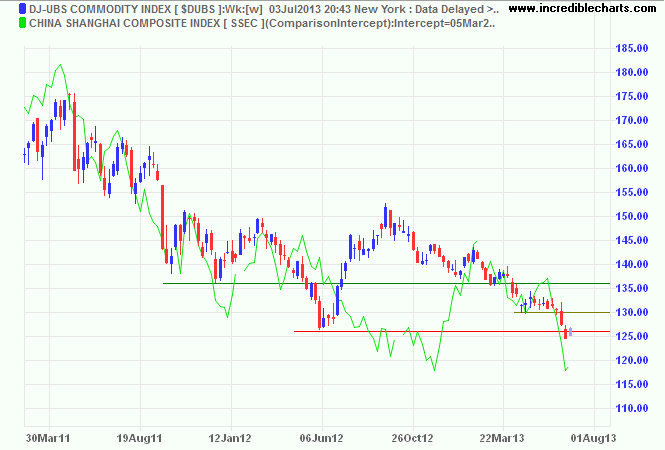 * Target calculation: 125 - ( 150 - 125 ) = 100
Happy Independence Day to our US readers.
You can't separate peace from freedom because no one can be at peace unless he has his freedom.

~ Malcolm X