---
Forex: Aussie Dollar falls below 93 US cents
By Colin Twiggs
June 20th, 2012 3:30 a.m. EDT (5:30 p:m AET)
These extracts from my trading diary are for educational purposes. Any advice contained therein is provided for the general information of readers and does not have regard to any particular person's investment objectives, financial situation or needs and must not be construed as advice to buy, sell, hold or otherwise deal with any securities or other investments. Accordingly, no reader should act on the basis of any information contained therein without first having consulted a suitably qualified financial advisor. Full terms and conditions can be found at Terms of Use.
The Aussie Dollar fell to below $0.93 within hours of the latest FOMC announcement from the Fed. Breach of support indicates another decline, with a target of $0.90*.
* Target calculation: 0.9330 - ( 0.9660 - 0.9330 ) = 0.9000
The monthly chart shows the Aussie has broken long-term support around $0.95, signaling a decline to $0.80*. Declining 13-week Twiggs Momentum below zero confirms a primary down-trend.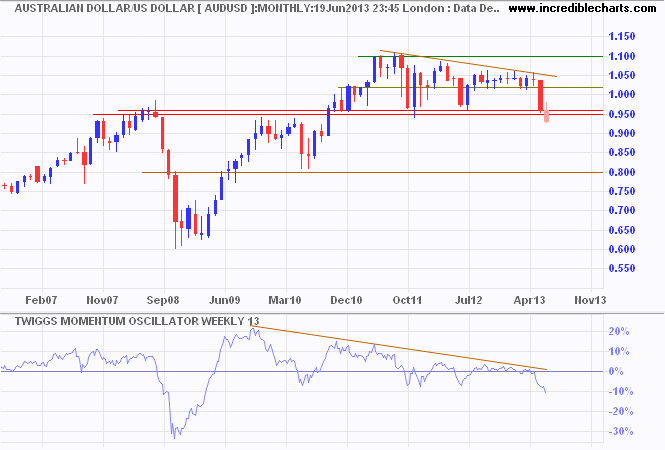 * Target calculation: 0.95 - ( 1.10 - 0.95 ) = 0.80
It is not just a stronger greenback, the Aussie is also falling against the crosses. Canada's Loonie broke resistance at parity to the Australian Dollar, signaling a primary up-trend.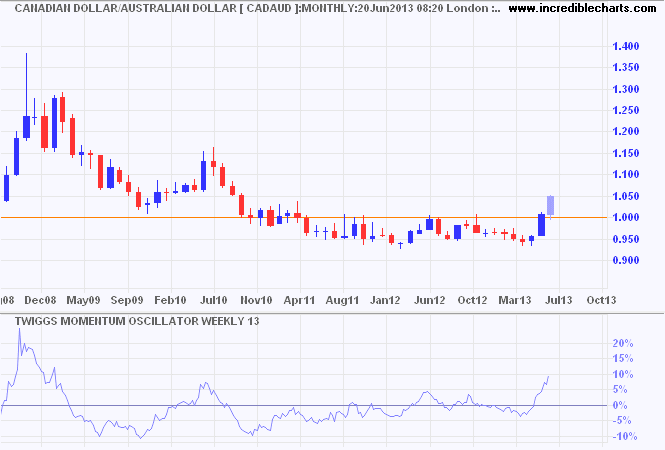 I myself am one of the approximately three columnists in the U.S. who don't know exactly what President Barack Obama ought to do in Syria. On the one hand, the Syrian civil war represents a humanitarian nightmare and an acute strategic challenge; on the other, I don't think the U.S. is capable of mediating a Sunni-Shiite civil war, and so shouldn't try.

~ Jeffrey Goldberg, Bloomberg: Why Kerry Wants to Strike Syria - June 20th, 2013.