---
ASX: Following China into a down-trend
By Colin Twiggs
June 18th, 2013 1:00 am EDT (3:00 pm AET)
These extracts from my trading diary are for educational purposes. Any advice contained therein is provided for the general information of readers and does not have regard to any particular person's investment objectives, financial situation or needs and must not be construed as advice to buy, sell, hold or otherwise deal with any securities or other investments. Accordingly, no reader should act on the basis of any information contained therein without first having consulted a suitably qualified financial advisor. Full terms and conditions can be found at Terms of Use.
The S&P 500 is testing resistance at 1650, but declining 21-day Twiggs Money Flow warns of continued selling pressure. Breakout would signal an advance to the upper trend channel, around 1700. Reversal below 1600, however, remains likely and would indicate a correction to 1500.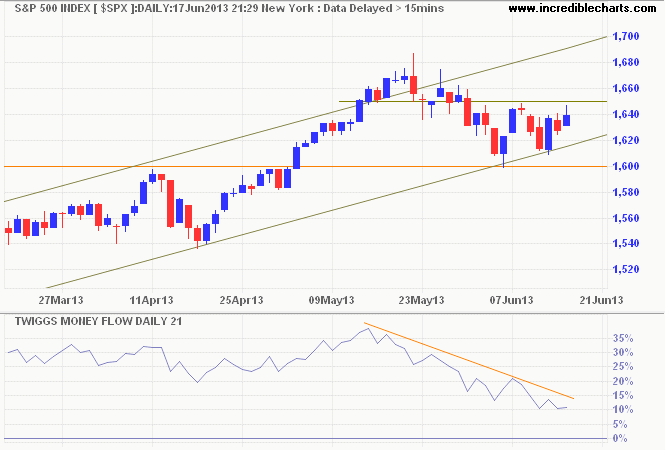 China's Shanghai Composite Index broke primary support at 2170 on Thursday. Follow-through below 2150 would signal a decline to the 2012 low of 1950*.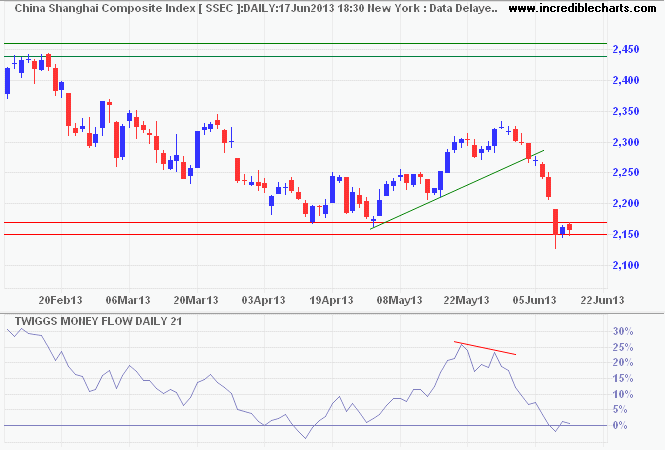 * Target calculation: 2150 - ( 2350 - 2150 ) = 1950
The ASX 200 is retracing to test its new resistance level at 4900. Respect would confirm the primary down-trend — as would a peak below zero on 21-day Twiggs Money Flow.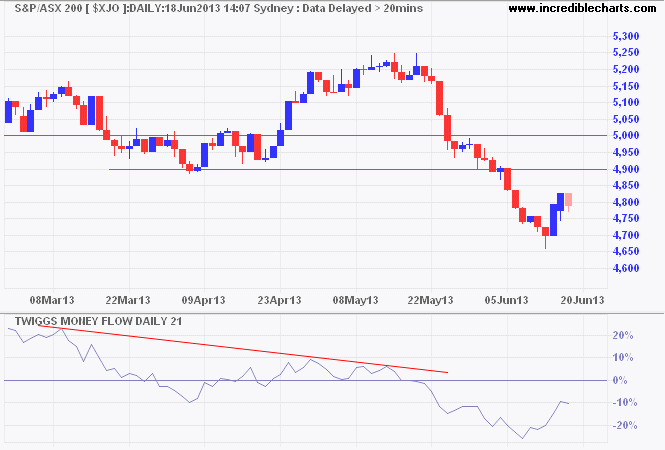 The ASX Small Ordinaries Index, reflecting retail investor interest in the market, continues its primary down-trend. Breach of the 2012 low at 2040 warns of a decline to 1700*.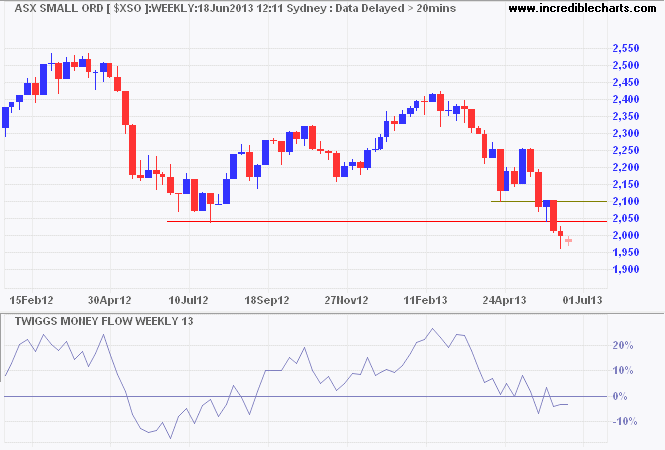 * Target calculation: 2050 - ( 2400 - 2050 ) = 1700
Our object is to get as many of our people as possible to take part in manly, healthy, vigorous pastimes, which will benefit the whole nation; it is not to produce a limited class of athletes who shall make it the business of their lives to do battle with one another for the popular amusement....... [The] existence of a caste of gladiators in the midst of a population which does not itself participate in any manly sports is usually, as it was at Rome, a symptom of national decadence.

~ President Theodore Roosevelt: Professionalism in Sports (1890)