---
Gold and Dollar fall
By Colin Twiggs
June 12th, 2013 2:00 a.m. EDT (4:00 p:m AET)
These extracts from my trading diary are for educational purposes. Any advice contained therein is provided for the general information of readers and does not have regard to any particular person's investment objectives, financial situation or needs and must not be construed as advice to buy, sell, hold or otherwise deal with any securities or other investments. Accordingly, no reader should act on the basis of any information contained therein without first having consulted a suitably qualified financial advisor. Full terms and conditions can be found at Terms of Use.
Gold retreated below support at $1400, indicating the end of the bear rally. Expect a test of primary support at $1320/$1340. Yesterday's long tail is evidence of short-term buying pressure, so breach of primary support is not a certainty. Respect would suggest another test of $1400.
* Target calculation: 1350 - ( 1500 - 1350 ) = 1200
Dollar Index
The Dollar Index is retreating after a false break above 84 on the monthly chart. Breach of support at 79 would complete a double top, signaling reversal to a down-trend. Fall of 13-week Twiggs Momentum below zero would strengthen the bear signal. Respect of the rising trendline remains as likely, however, and would signal a long-term advance to 89/90.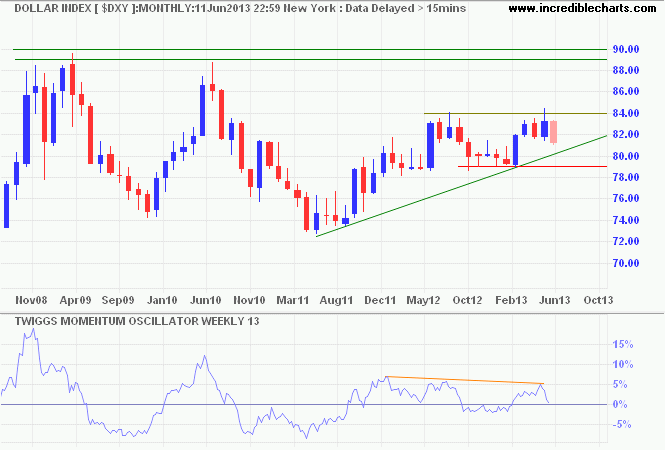 Crude Oil
Crude is consolidating, with Brent likely to continue the down-trend after breaking support at $100/barrel. Respect of resistance at $106 would strengthen the signal. Nymex WTI, however, is headed for resistance at $98. Breakout would signal an advance, but reversal below $90 is as likely and would test support at $85/barrel. The spread between the two is likely to narrow as the European economy under-performs the US.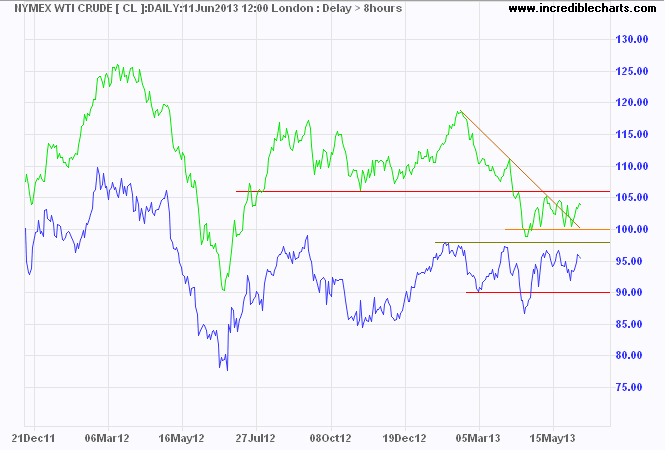 Commodities
A weakening Shanghai Composite Index is being followed lower by the Dow Jones/UBS Commodity Index. Breach of medium-term support at 130 would signal a test of primary support at 125/126. Commodities remain in a primary down-trend and are likely to stay there unless China resumes major infrastructure investment. Not good news for Australian resources stocks.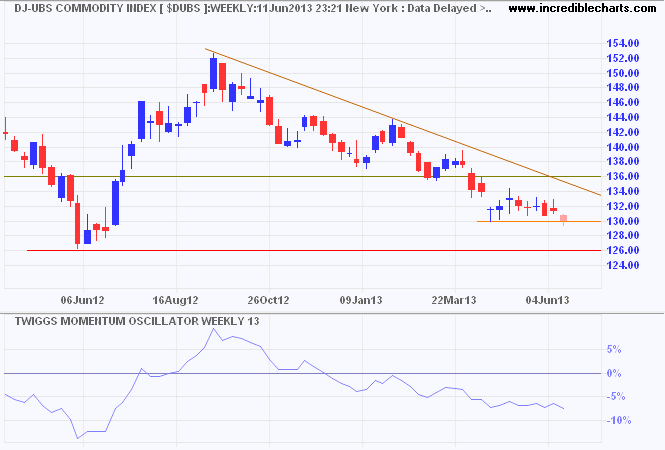 Any investment policy followed by all naturally defeats itself. Thus the first step for the individual really trying to secure or to preserve capital is to detach himself from the crowd.

~ Gerald Loeb