---
China hints at bottom while S&P 500 reverses
By Colin Twiggs
May 22nd, 2013 7:00 pm ET (9:00 am AET)
These extracts from my trading diary are for educational purposes. Any advice contained therein is provided for the general information of readers and does not have regard to any particular person's investment objectives, financial situation or needs and must not be construed as advice to buy, sell, hold or otherwise deal with any securities or other investments. Accordingly, no reader should act on the basis of any information contained therein without first having consulted a suitably qualified financial advisor. Full terms and conditions can be found at Terms of Use.
10-Year Treasury yields are testing resistance at 2.05/2.10%. Breakout above 2.10% would signal a primary up-trend and possible test of 4.00% in the next few years. Only breakout above 4.00%, however, would end the 31-year secular bear-trend.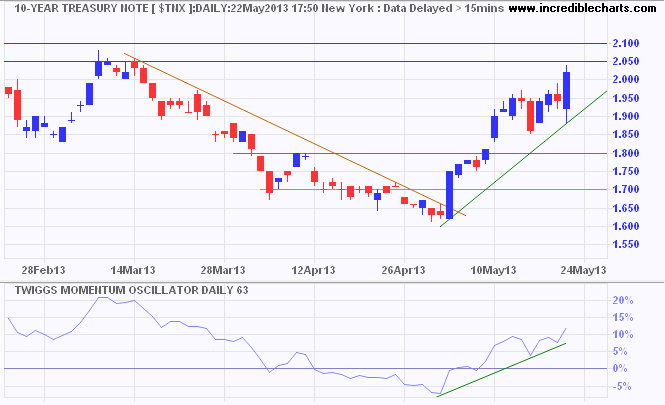 The S&P 500 completed a key reversal (or outside reversal), indicating selling pressure. Expect a test of the lower trend channel at 1600.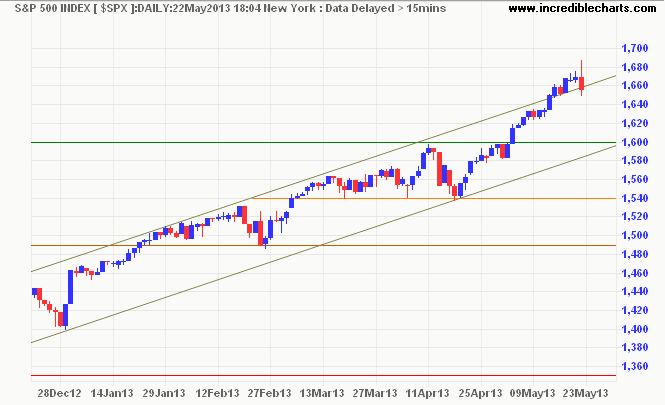 There is no great movement in the VIX and this so far looks like a normal retracement. June quarter-end below 1500 looks unlikely, but would present a long-term bear signal.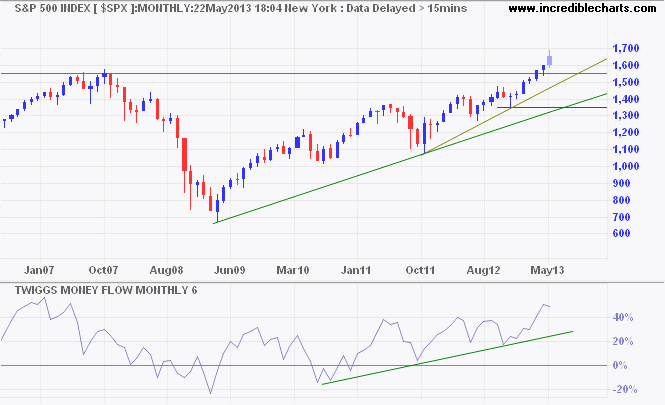 The UK's FTSE 100 Index is headed for a test of its year 2000 high at 7000. Expect a correction or consolidation below this level. Breakout remains doubtful but would signal a long-term primary advance.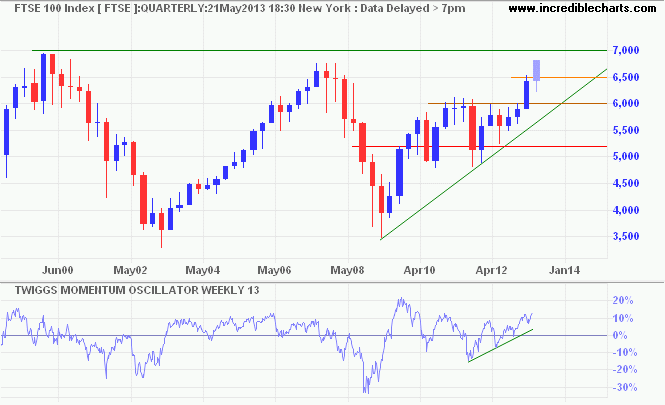 Penetration of its descending trendline indicates correction on the Shanghai Composite Index has ended and we can expect another test of resistance at 2500. Breakout above 2500 would complete an inverted head and shoulders reversal (as indicated by orange + green arrows), signaling a primary up-trend. That would be good news for Australia's beleaguered resources stocks.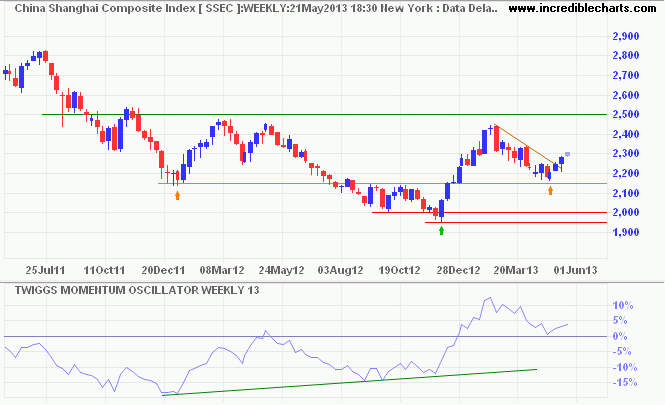 As traders we follow the trend, but in times like this it is important to remain vigilant.
Where are Barack Obama and his predecessor, George W. Bush? They have taken seriously the idea of the war of civilizations and have been confident that America would have the ultimate victory...... The path from hubris, according to the Greeks, leads toward nemesis.

~ William Pfaff at Truthdig: The Path of Hubris and War