---
VIX low S&P 500 high
By Colin Twiggs
May 20th, 2013 3:00 a.m. ET (5:00 pm AET)
These extracts from my trading diary are for educational purposes. Any advice contained therein is provided for the general information of readers and does not have regard to any particular person's investment objectives, financial situation or needs and must not be construed as advice to buy, sell, hold or otherwise deal with any securities or other investments. Accordingly, no reader should act on the basis of any information contained therein without first having consulted a suitably qualified financial advisor. Full terms and conditions can be found at Terms of Use.
The VIX CBOE Volatility Index is below 15%, indicating investor confidence.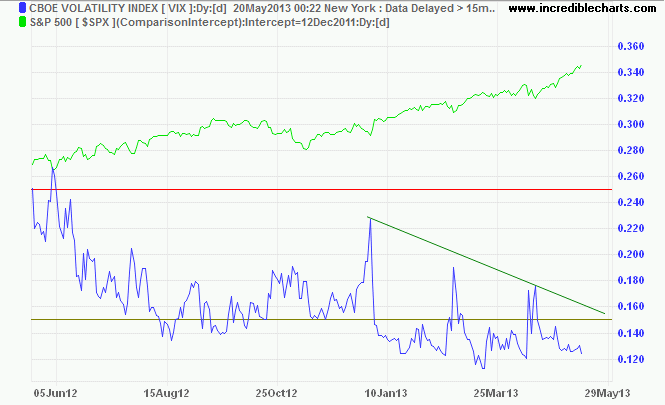 But the risk premium on Baa-grade bonds (Moody's lowest investment grade, compared to the 10-year Treasury yield) remains elevated. Corporate bond investors are still wary.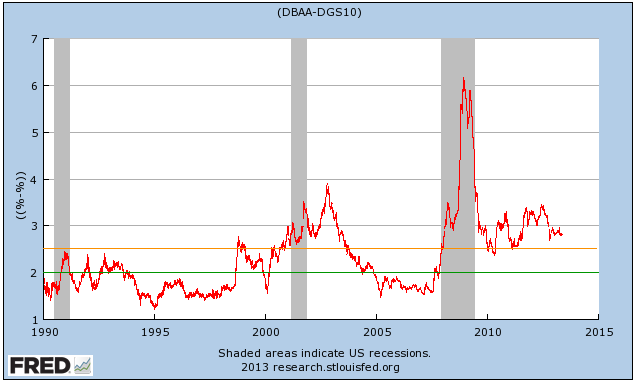 10-Year Treasury yields are headed for a test of resistance at 2.00%/2.10%. There is no sign of inflationary pressure, so outflow from Treasuries is more likely indicative of their extremely overbought position — with yields near record lows — and suggestions from FOMC minutes that quantitative easing may be scaled back later in the year. Breakout above 2.10% would signal a primary up-trend with an initial target of 2.40%.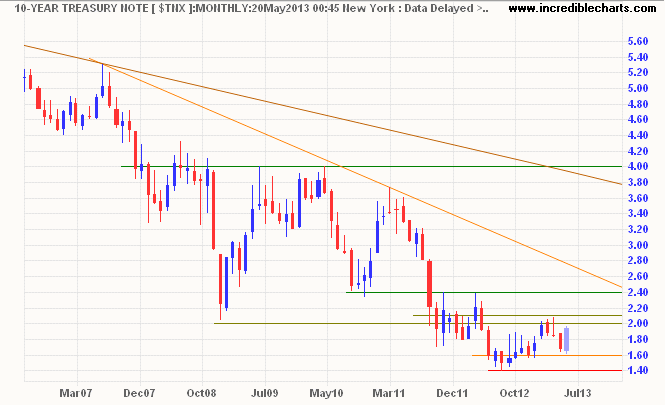 The S&P 500 is advancing strongly. Rising 6-month Twiggs Money Flow indicates a healthy primary up-trend. The index is overdue for a correction, but this is likely to be reasonably mild.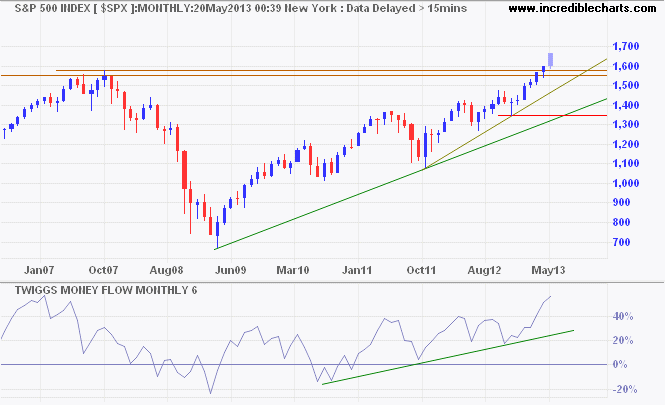 * Target calculation: 1475 + ( 1475 - 1350 ) = 1600
Nasdaq 100 also signals a healthy up-trend, advancing towards a target of 3400*.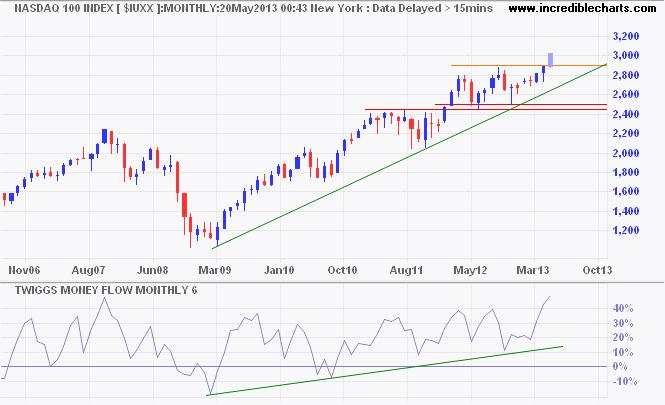 * Target calculation: 2900 + ( 2900 - 2500 ) = 3400
Bellwether transport stock Fedex respected support at $90. Recovery above $100 would confirm the primary up-trend is intact. A bullish sign for the economy.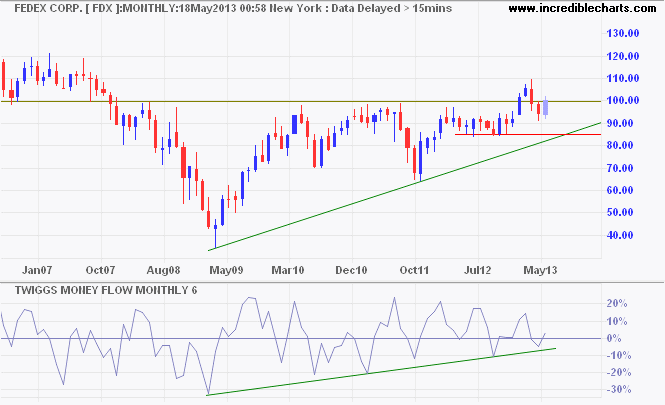 Follow the trend but keep an eye on risk measures like the VIX and Baa risk premium. These are uncertain times.
Injustice anywhere is a threat to justice everywhere. We are caught in an inescapable network of mutuality, tied in a single garment of destiny. Whatever affects one directly, affects all indirectly.

~ Martin Luther King: Letter from Birmingham Jail