---
S&P 500 and Treasury yields surge
By Colin Twiggs
May 5th, 2013 10:30 p.m. ET (12:30 pm AET)
These extracts from my trading diary are for educational purposes. Any advice contained therein is provided for the general information of readers and does not have regard to any particular person's investment objectives, financial situation or needs and must not be construed as advice to buy, sell, hold or otherwise deal with any securities or other investments. Accordingly, no reader should act on the basis of any information contained therein without first having consulted a suitably qualified financial advisor. Full terms and conditions can be found at Terms of Use.
10-Year Treasury yields rallied sharply on Friday, breaking the new resistance level at 1.70%. Follow-through above 1.80% would confirm the decline is over, signaling another test of resistance at 2.00%/2.10%.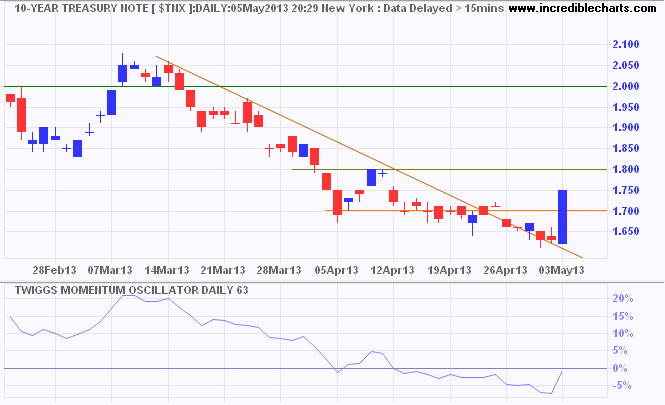 On the monthly chart we can see that breakout above resistance at 2.00%/2.10% would signal a primary up-trend and possible test of 4.00% in the next few years. Only a breakout above 4.00%, however, would end the secular bear-trend of the last three decades.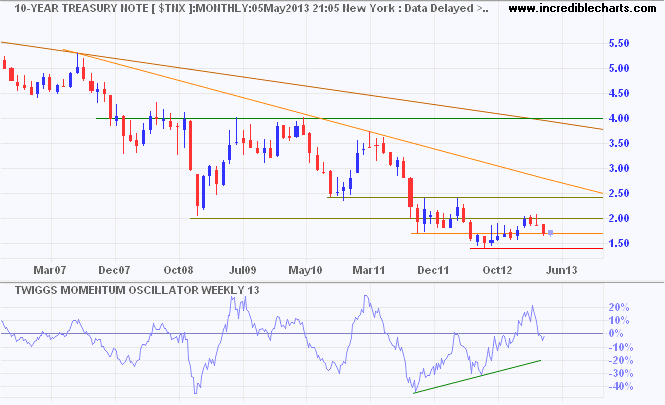 Last week Treasury yields were falling while stocks were rising. That changed on Friday, with the S&P 500 breaking through resistance at 1600, suggesting an advance to 1650. The index has exceeded its target of 1600* and seems overdue for a correction, but bullish sentiment is rising and the market can stay irrational longer than you can stay solvent (attributed to John Maynard Keynes). Oscillation above zero on 13-week Twiggs Money Flow indicates a healthy primary up-trend. A June quarter-end below 1500 now looks unlikely, but would present a strong long-term bear signal.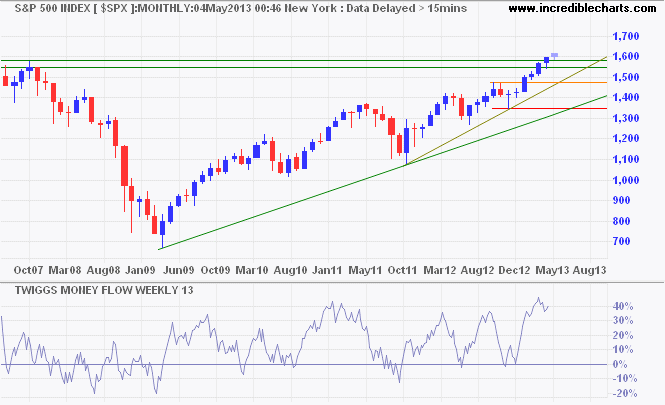 * Target calculation: 1475 + ( 1475 - 1350 ) = 1600
Bellwether transport stock Fedex is testing support at $90. Respect of the rising trendline would signal the primary up-trend is intact. Recovery above $100 would confirm.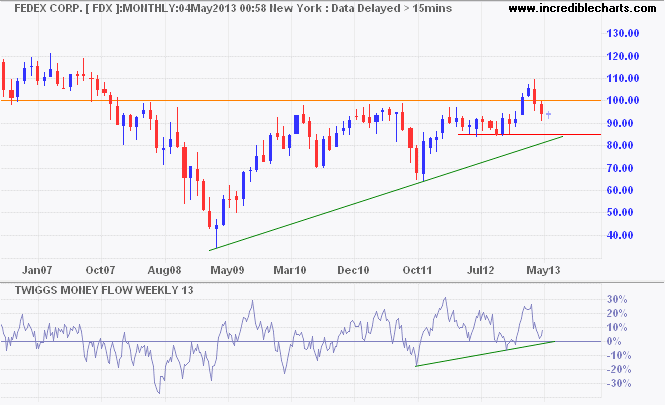 Structural flaws in the US economy have not been addressed and uncertainty remains high, despite low values on the VIX. House prices are rising, largely due to institutional buying, but the overhang of shadow inventory is expected to delay recovery of housing construction. Mamta Badkar at Business Insider reports:
Shadow inventory fell 18 per cent year-over-year in January to 2.2 million units, according to CoreLogic's latest report. This represents nine months' supply. ....down 28 per cent from its 2010 peak of 3 million units.
As traders we have to follow the trend, but it is important to remain vigilant.
The fundamental and irrefutable principles of politics:

Everyone has the right to life and liberty.
You have a right to pursue happiness - there's no guarantee that you'll catch it.
The payment for successful effort is ownership.
Both parties must benefit or no voluntary exchange will take place.
There is no such thing as the 'right' to anything produced by another person's effort.

~ William (Bill) Buckler at The Privateer