---
Economy: Weaker Dollar Outlook
By Colin Twiggs
May 2nd, 2013 3:30 a.m. ET (5:30 p:m AET)
These extracts from my trading diary are for educational purposes. Any advice contained therein is provided for the general information of readers and does not have regard to any particular person's investment objectives, financial situation or needs and must not be construed as advice to buy, sell, hold or otherwise deal with any securities or other investments. Accordingly, no reader should act on the basis of any information contained therein without first having consulted a suitably qualified financial advisor. Full terms and conditions can be found at Terms of Use.
Recovery of the Dollar has been overrated. With restrictions on fiscal deficits, it will be difficult to contain deflationary pressures from the Great Credit Contraction which is likely to endure for at least a decade — following the Great Credit Bubble over the last 40 years. Fed quantitative easing is likely to endure for longer than many observers, myself included, initially expected. And inflation will remain low despite QE, which is offset by deflationary pressures from the Great Credit Contraction.
The lower inflation outlook is reflected by falling gold and rising bond prices.
The Great Credit Bubble
There were two distinct credit bubbles in the last 50 years: the first in the 1980s, the second in the early 2000s. The chart comparing growth in Domestic Nonfinancial Credit (both Private and Government) to nominal GDP shows two clear episodes where credit growth outstripped GDP. Both resulted in significant falls in GDP from which the economy struggled to recover. The latter episode fed into the housing market, leading to the global financial crisis.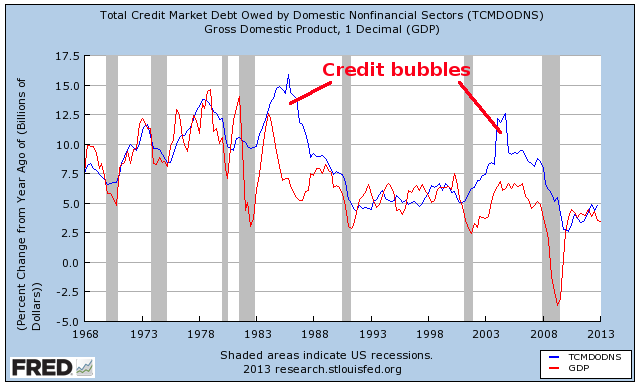 The Great Credit Contraction
If we look at total Domestic Nonfinancial Credit, the rate of growth remained positive. So why call this a contraction? But the aggregate conceals a hidden danger: private household credit contracted, threatening a deflationary spiral similar to the 1930s — when GDP fell almost 50 percent.
Which is why the Federal Government frantically borrowed money for stimulus spending — to offset the effect of private credit contraction.
Government deficits have not solved the problem — they are merely kicking the can down the road. Household credit growth continues to lag GDP.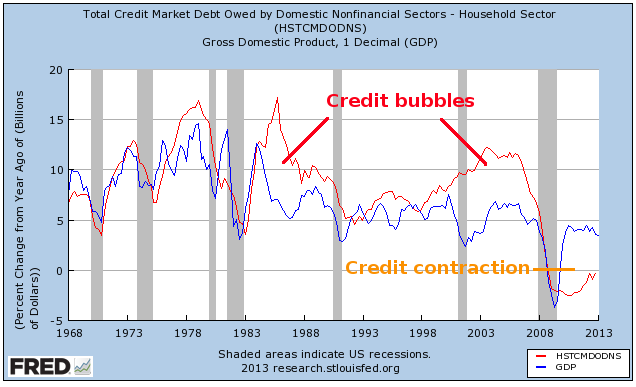 Outlook for the Dollar
The Dollar has not benefited from the lower inflation outlook as interest rates are also likely to remain low. Primary advance of the Dollar Index ($DXY) seems to be losing steam, with a lower peak than mid-2012. Expect a test of primary support at 79. Penetration of the rising trendline would indicate trend weakness, while failure of support at 79 would signal a reversal. Twiggs Momentum is approaching the apex of a long-term triangle; reversal below zero and the rising trendline would also warn of a reversal.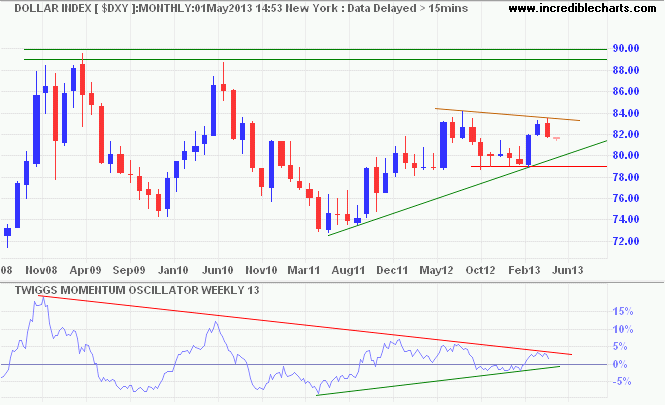 More....
We are in the business of making mistakes. The only difference between the winners and the losers is that the winners make small mistakes, while the losers make big mistakes.

~ Ned Davis (hat tip to Barry Ritholz)