---
S&P 500 at key resistance while Treasury yields fall
By Colin Twiggs
April 29th, 2013 5:30 a.m. ET (7:30 pm AET)
These extracts from my trading diary are for educational purposes. Any advice contained therein is provided for the general information of readers and does not have regard to any particular person's investment objectives, financial situation or needs and must not be construed as advice to buy, sell, hold or otherwise deal with any securities or other investments. Accordingly, no reader should act on the basis of any information contained therein without first having consulted a suitably qualified financial advisor. Full terms and conditions can be found at Terms of Use.
10-Year Treasury yields broke through support at 1.70%. Prior to 2012, the 1945 low of 1.70% was the lowest level in the 200 year history of the US Treasury. Expect a test of primary support at 1.40%.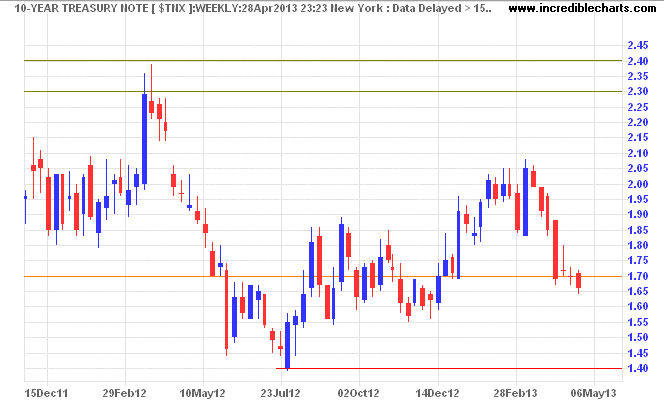 Falling Treasury yields generally indicate a flight from stocks to the safety of bonds. The S&P 500, however, is consolidating below resistance at 1600. Breakout would suggest an advance to 1650, while reversal below 1540 would indicate a correction to the rising trendline at 1475. Recent weakness on 13-week Twiggs Money Flow favors a correction, but oscillation above zero indicates a healthy primary up-trend. A June quarter-end below 1500 would present a strong long-term bear signal.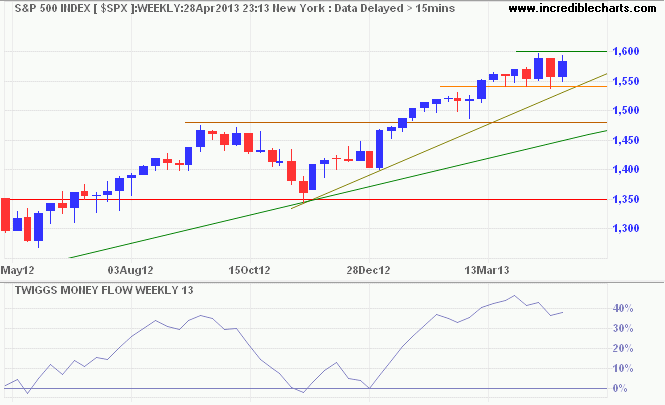 * Target calculation: 1475 + ( 1475 - 1350 ) = 1600
The Nasdaq 100 index is testing resistance at 2900. Breakout would offer a target of 3400*, but bearish divergence on 13-week Twiggs Money Flow favors a break of 2800 and test of the rising trendline at 2700.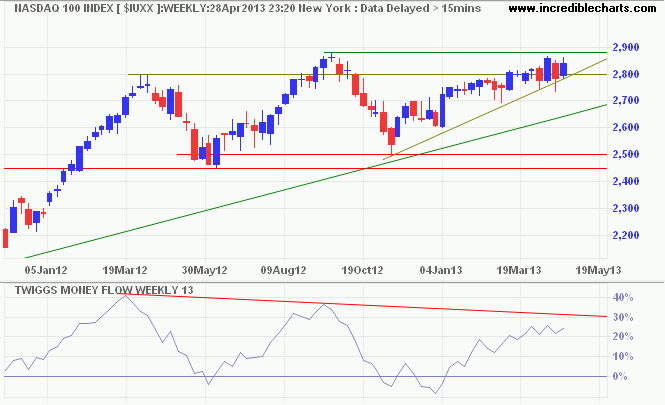 * Target calculation: 2900 + ( 2900 - 2500 ) = 3400
Gold rallied to test resistance at $1500/ounce. Breakout would suggest a bear trap and a rally to $1600, but respect of resistance is likely and would signal another test of support at $1330/1350. A gold bear market indicates falling inflation expectations, but that could also translate into lower growth in earnings and higher Price Earnings ratios.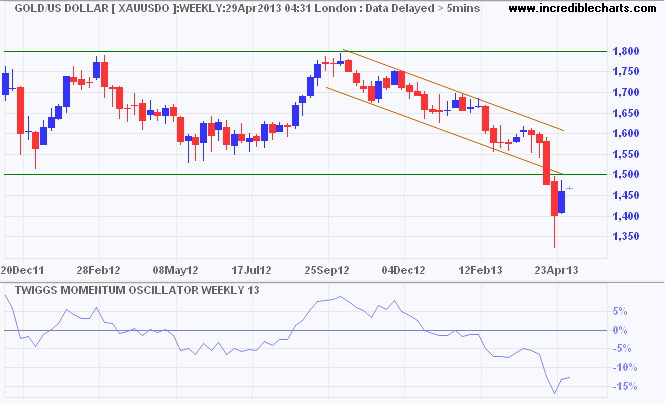 Structural flaws in the US economy have not been addressed and uncertainty remains high despite low values on the VIX.
People on all levels of income are better off than they were in 1979. The hon. Gentleman is saying that he would rather that the poor were poorer, provided that the rich were less rich. That way one will never create the wealth for better social services — as we have.

~ Margaret Thatcher - from her last House of Commons speech (22 November 1990)