---
Gold rallies while treasury yields fall
By Colin Twiggs
April 25th, 2013 2:00 a.m. ET (4:00 p:m AET)
These extracts from my trading diary are for educational purposes. Any advice contained therein is provided for the general information of readers and does not have regard to any particular person's investment objectives, financial situation or needs and must not be construed as advice to buy, sell, hold or otherwise deal with any securities or other investments. Accordingly, no reader should act on the basis of any information contained therein without first having consulted a suitably qualified financial advisor. Full terms and conditions can be found at Terms of Use.
Gold is testing short-term resistance at $1440. Bear market rallies are notoriously unreliable and reversal below $1400 would warn of another down-swing. Breach of $1330 would confirm another decline, with the next major support level at the 2008 high of $1000.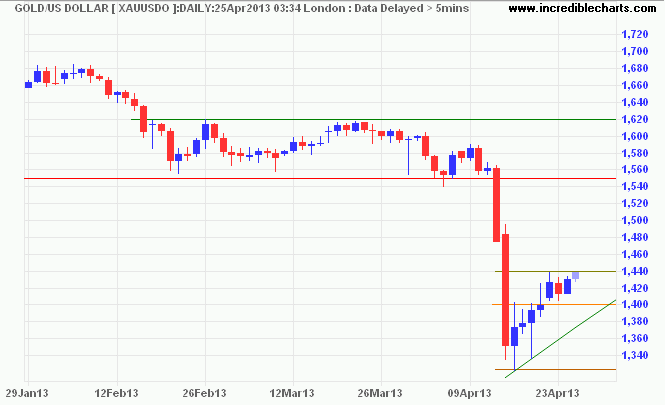 * Target calculation: 1550 - ( 1800 - 1550 ) = 1300
I am still bullish on gold in the long-term. We face a decade of easy monetary policy from central banks, with competing devaluations as nations struggle to recover at the expense of each other. This WSJ interview with PIMCO CEO Mohamed El-Erian offers a realistic long-term outlook.
Dollar Index
There has been no major strengthening of the Dollar, which one would expect if gold's fall was caused by revision of the market's inflation outlook. The primary trend is up, but so far resistance at 84.00 has held. Breakout would signal an advance to 89.00/90.00.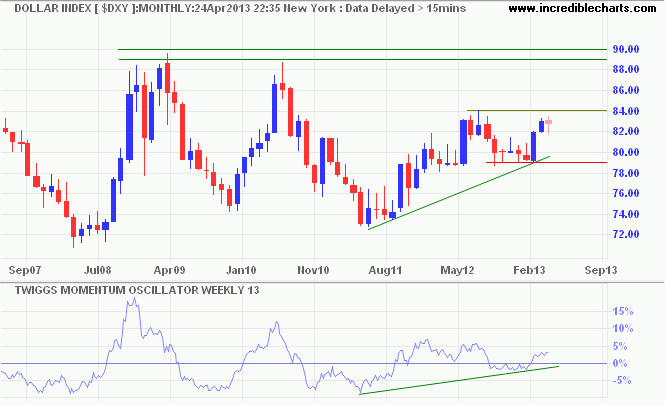 Treasury Yields
Ten-year treasury yields continue to test support at 1.70%. Follow-through below 1.65% would test the July 2012 low at 1.40%. Prior to 2012, the 1945 low of 1.70% at the end of WWII was the lowest level in the 200 year history of the US Treasury. Money flowing back into treasuries is a bearish sign for stocks.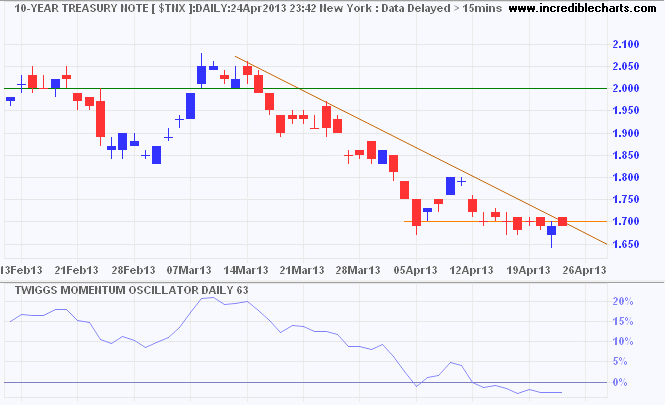 Crude Oil
Brent Crude is falling sharply, while Nymex WTI rallied back above $90/barrel. The gap between the two is narrowing as the European economy slows. Falling crude prices are a healthy long-term sign for the economy, but indicate falling demand and medium-term weakness. Nymex reversal below $90 would confirm a primary down-trend.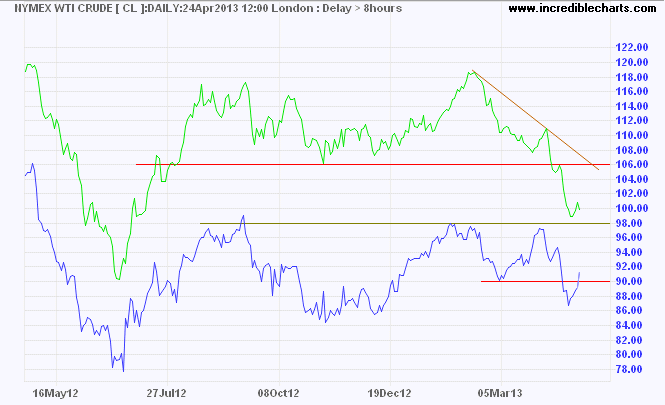 For my part, I favour an approach to statecraft that embraces principles, as long as it is not stifled by them; and I prefer such principles to be accompanied by steel along with good intentions.

~ Margaret Thatcher, Statecraft: Strategies for a Changing World (2002)