---
Forex: Euro finds support while Sterling, Aussie and Loonie fall
By Colin Twiggs
April 21st, 2012 10:30 p.m. ET (12:30 p:m AET)
These extracts from my trading diary are for educational purposes. Any advice contained therein is provided for the general information of readers and does not have regard to any particular person's investment objectives, financial situation or needs and must not be construed as advice to buy, sell, hold or otherwise deal with any securities or other investments. Accordingly, no reader should act on the basis of any information contained therein without first having consulted a suitably qualified financial advisor. Full terms and conditions can be found at Terms of Use.
The euro respected primary support at $1.26 on the monthly chart. Follow-through above $1.32 would indicate another test of $1.37, while breakout above $1.37 would signal a primary advance to $1.50. A trough above zero on 13-week Twiggs Momentum would reinforce this. Reversal below $1.26, however, would signal a down-swing to $1.20.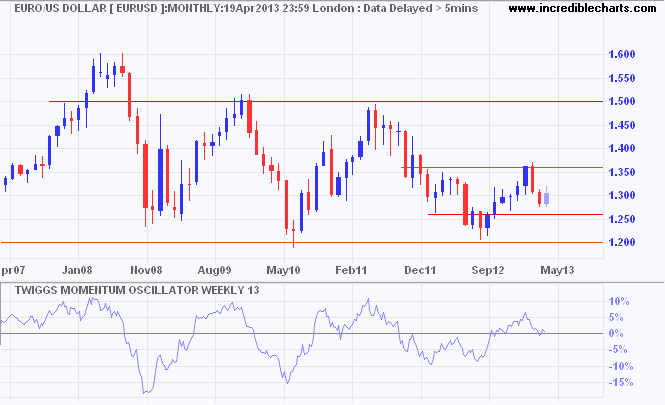 * Target calculation: 1.35 + ( 1.35 - 1.20 ) = 1.50
Pound sterling respected resistance at $1.53 against the dollar, confirming a down-swing to $1.43*. Declining 13-week Twiggs Momentum, below its 2011 lows, strengthens the signal.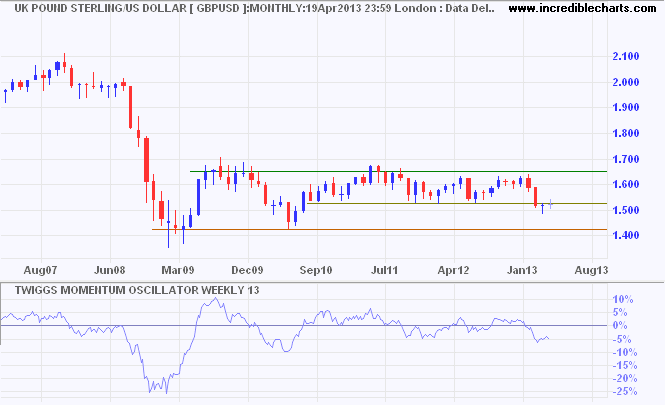 * Target calculation: 1.53 - ( 1.63 - 1.53 ) = 1.43
The Aussie Dollar fell sharply, headed or a test of primary support at $1.015. Narrow fluctuation of 63-day Twiggs Momentum around zero suggests a ranging market. Respect of support would suggest another rally to test $1.06.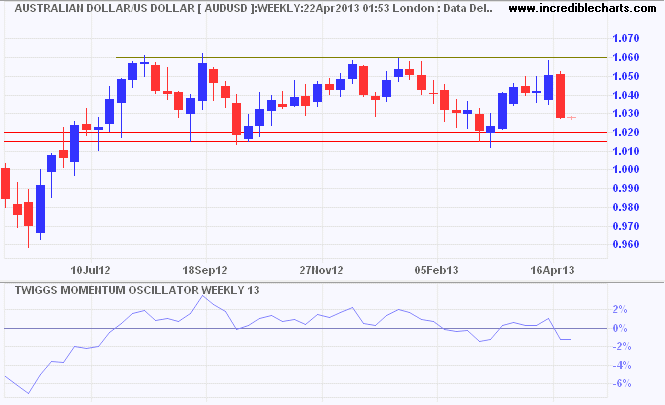 Canada's Loonie respected resistance at $0.99 against the greenback. The primary trend is down and breakout below $0.97 would indicate another decline, while breach of $0.96 would strengthen the signal. Respect of $0.96, however, would suggest an advance back to the 2012 high of $1.03; strengthened if resistance at $0.99 is broken.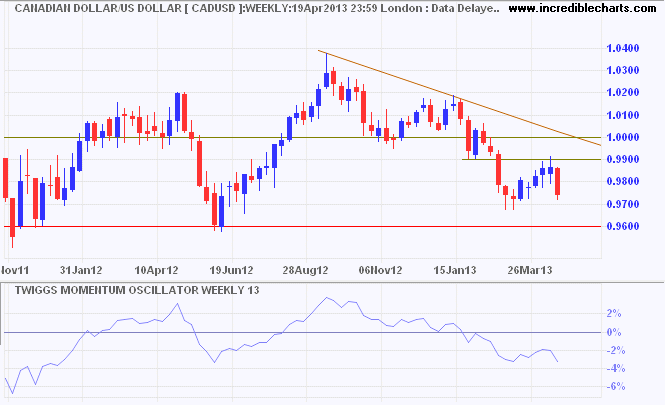 The greenback is testing resistance at ¥100 against the Japanese Yen. The 30-year down-trend of the dollar is over. Breakout above ¥100 is likely, after brief consolidation/retracement, and would suggest an advance to the 2007 high at ¥125*.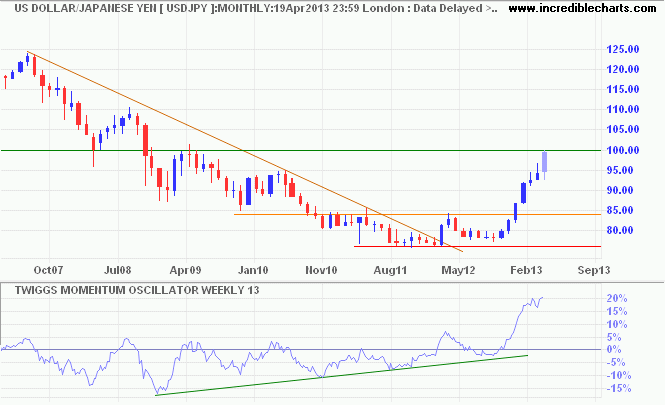 The Fed, ECB and BOJ are all printing money and debasing their currencies. It is a case of which boat is sinking the fastest. The US dollar, although taking on water, is viewed as relatively safe, with gold's fall revealing the market view that the Fed is likely to tail off quantitative easing in the next 6 to 12 months.
You don't need analysts in a bull market, and you don't want them in a bear market.

~ Gerald Loeb