---
S&P 500: Any gas left in the tank?
By Colin Twiggs
March 28th, 2013 9:30 p.m. ET (12:30 am AEDT)
These extracts from my trading diary are for educational purposes. Any advice contained therein is provided for the general information of readers and does not have regard to any particular person's investment objectives, financial situation or needs and must not be construed as advice to buy, sell, hold or otherwise deal with any securities or other investments. Accordingly, no reader should act on the basis of any information contained therein without first having consulted a suitably qualified financial advisor. Full terms and conditions can be found at Terms of Use.
The S&P 500 managed to close at a new high, with most fund managers reporting good results for the quarter, but does this signal a new bull market or a last-gasp effort to lock in performance bonuses before the market subsides into a correction?
While markets may be rising, there is strong risk aversion.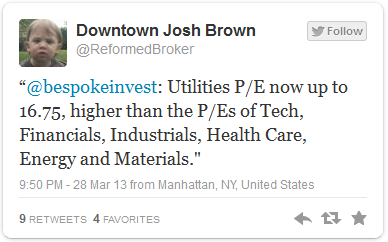 This is definitely not a classic bull market.
One also needs to be wary of September and March quarter-ends. They often represent significant turning points, with new highs (red arrows) and new lows (green arrows) frequently proving unsustainable.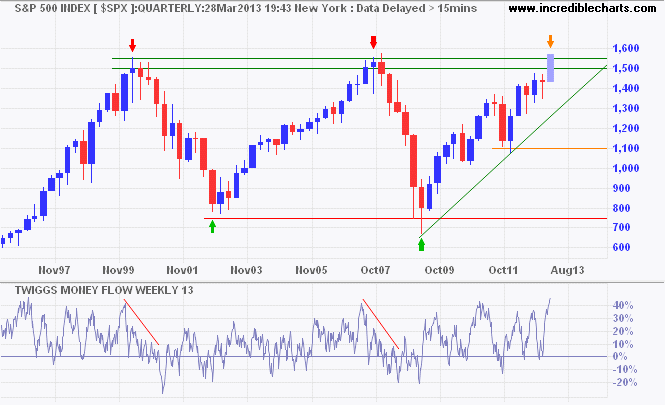 * Target calculation: 1530 + ( 1530 - 1485 ) = 1575
While there is no sign of divergence on 13-week Twiggs Money Flow, which would indicate unusual selling pressure, it is important to remain vigilant over the next quarter rather than blindly follow the herd. Bearish (TMF) divergence or reversal of the S&P 500 below 1500 would warn of a correction.
Don't hurry. Don't worry. You're only here for a short visit. So don't forget to stop and smell the roses.

~ golfing great, Walter Hagen