---
ASX and Asia fall
By Colin Twiggs
March 18th, 2013 3:00 a.m. ET (6:00 pm AET)
These extracts from my trading diary are for educational purposes. Any advice contained therein is provided for the general information of readers and does not have regard to any particular person's investment objectives, financial situation or needs and must not be construed as advice to buy, sell, hold or otherwise deal with any securities or other investments. Accordingly, no reader should act on the basis of any information contained therein without first having consulted a suitably qualified financial advisor. Full terms and conditions can be found at Terms of Use.
The ASX 200 retreated more than 2.0% Monday after the Cyprus deposit grab unsettled financial markets. Expect another test of support at 4980. Breakout would warn of a correction, while recovery above 5150 would signal an advance to 5500*. Declining 21-day Twiggs Money Flow indicates medium-term selling pressure.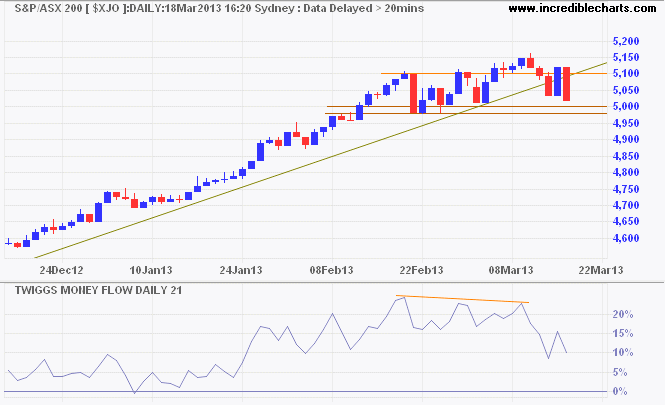 * Target calculation: 5000 + ( 5000 - 4500 ) = 5500
Dow Jones Japan Index dropped about 1.5%. Follow through below short-term support would indicate no more than retracement to the rising trendline.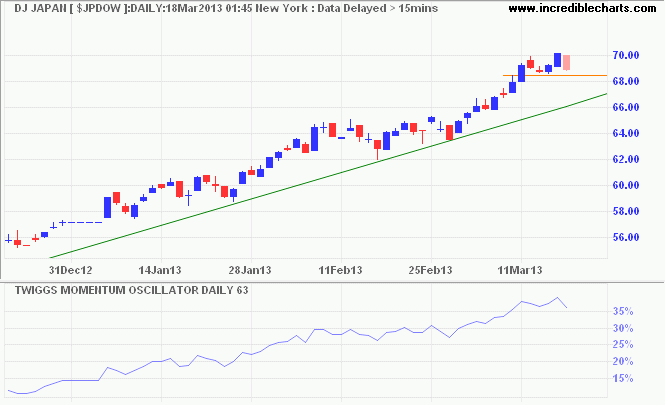 Dow Jones Hong Kong Index has fallen about 2.0% so far. Breach of support at 472 signals a correction.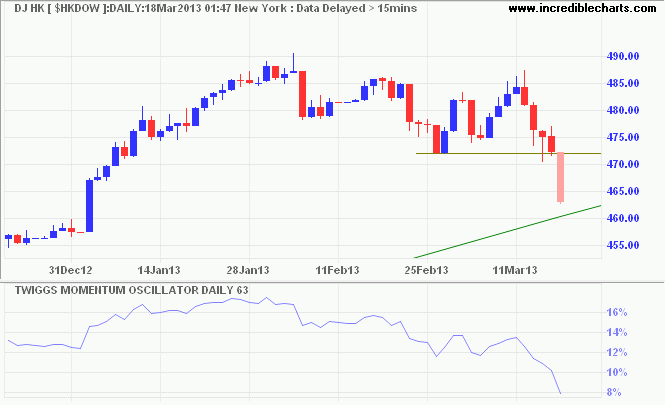 Dow Jones Singapore Index has fallen 1.0% in the morning and we can expect further weakness in the afternoon.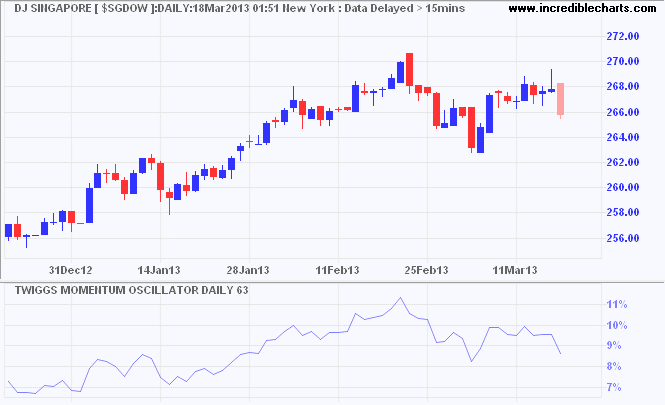 Conclusion:
European markets are likely to open lower. If the US follows and finishes the day with a weak close, negative sentiment could start to feed on itself, tipping global markets into a correction. Overall, the primary trend in the US and Australia remains positive.
Being democratic is not enough, a majority cannot turn what is wrong into right. In order to be considered truly free, countries must also have a deep love of liberty and an abiding respect for the rule of law.

~ Margaret Thatcher