---
Gold finds support while the Dollar rises
By Colin Twiggs
March 14th, 2013 3:30 a.m. ET (6:30 p:m AET)
These extracts from my trading diary are for educational purposes. Any advice contained therein is provided for the general information of readers and does not have regard to any particular person's investment objectives, financial situation or needs and must not be construed as advice to buy, sell, hold or otherwise deal with any securities or other investments. Accordingly, no reader should act on the basis of any information contained therein without first having consulted a suitably qualified financial advisor. Full terms and conditions can be found at Terms of Use.
Spot gold is testing primary support at $1500 to $1550. Reversal of 13-week Twiggs Momentum warns of a reversal and failure of support at $1500 would confirm. A Twiggs Momentum peak below zero would strengthen the signal.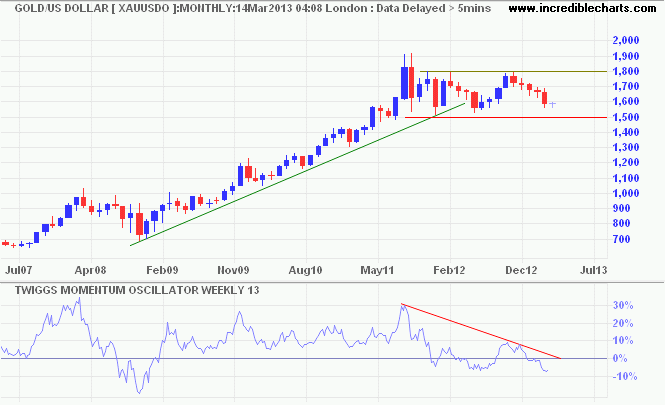 On the weekly chart we can see respect of support at $1550 is likely to be followed by a rally to test the February 26 high at $1620. That is likely to be followed by a re-test of support at $1550 but breakout above $1620 and the trend channel would indicate an advance to $1800.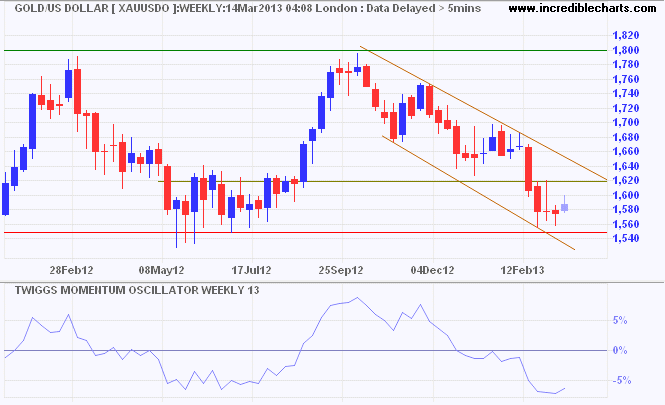 My conclusion is similar to last week:
I am not yet convinced that gold is headed for a primary down-trend. We may be in a low-inflation/deflationary environment right now but central bank expansionary policies will counteract this. Watch out for bear traps. Respect of primary support around $1500 could present a buying opportunity.
Dollar Index
A stronger dollar contributes to weaker gold prices. Breakout of the Dollar Index above 84.00 would signal an advance to 89.00/90.00. Rising momentum suggests continuation of the up-trend.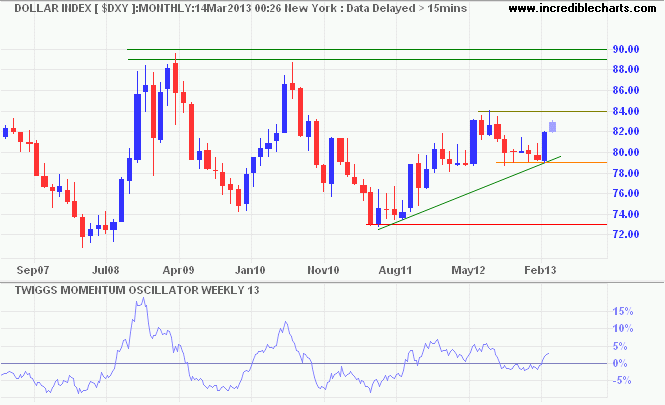 Crude Oil
A long-term view shows Brent and Nymex Crude ranging at far higher prices than in the lead up to the GFC. High crude prices continue to inhibit the global recovery. Breakout of Nymex above $100/barrel and Brent Crude above $120 would signal a primary up-trend — and more bad news for the recovery — while failure of primary support at $84 and $106/barrel, respectively, would signal a primary down-trend.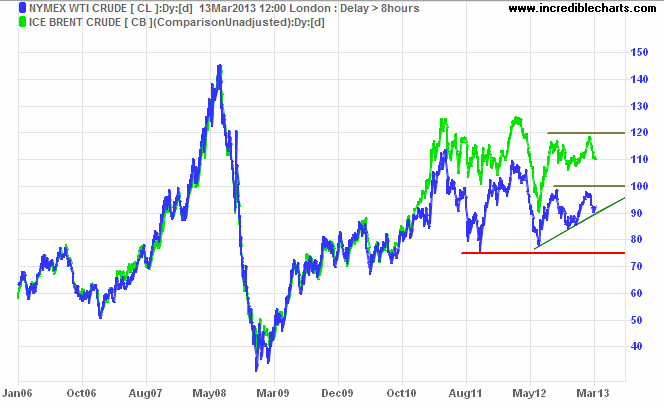 Commodities
Dow Jones-UBS Commodity Index found support at 126, but....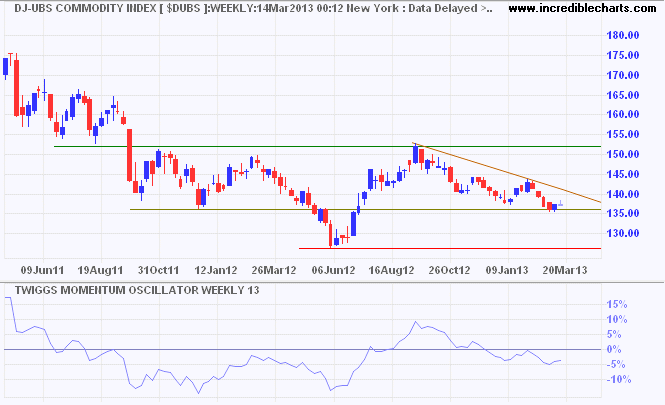 The Continuous Commodity Index has already broken its equivalent support level. Respect of resistance at 29 would confirm another down-swing to test the June 2012 lows. The Dow Jones-UBS Index would most likely follow.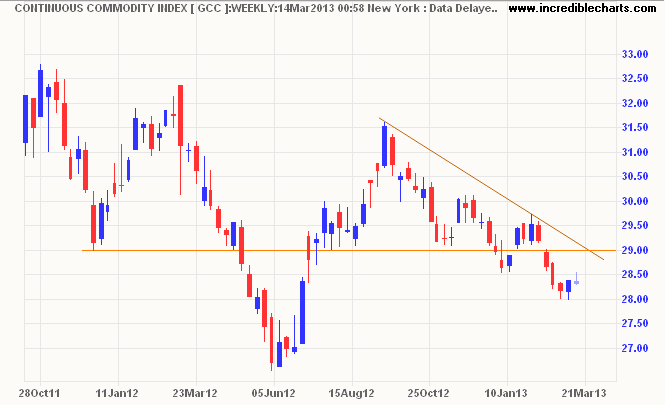 The only real valuable thing is intuition.

~ Albert Einstein