---
S&P 500 and Nasdaq selling pressure
By Colin Twiggs
March 4th, 2013 2:30 a.m. ET (6:30 pm AET)
These extracts from my trading diary are for educational purposes. Any advice contained therein is provided for the general information of readers and does not have regard to any particular person's investment objectives, financial situation or needs and must not be construed as advice to buy, sell, hold or otherwise deal with any securities or other investments. Accordingly, no reader should act on the basis of any information contained therein without first having consulted a suitably qualified financial advisor. Full terms and conditions can be found at Terms of Use.
The S&P 500 is oscillating between 1485 and 1530. I avoided using the word "consolidating" because that implies a degree of calm. Far from it. Bearish divergence on 21-day Twiggs Money Flow continues to warn of medium-term selling pressure. Reversal below 1485 and the rising trendline would indicate a correction. Breakout above 1530 is less likely but would offer a target of 1575*.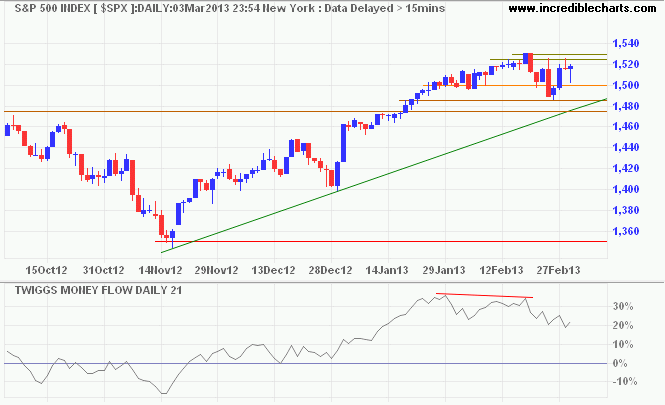 * Target calculation: 1530 + ( 1530 - 1485 ) = 1575
On the monthly chart we can see that a correction below the secondary trendline would target primary support and the primary trendline between 1350 and 1400. A 63-day Twiggs Momentum trough above zero would indicate continuation of the up-trend, while retreat below zero would suggest a primary reversal.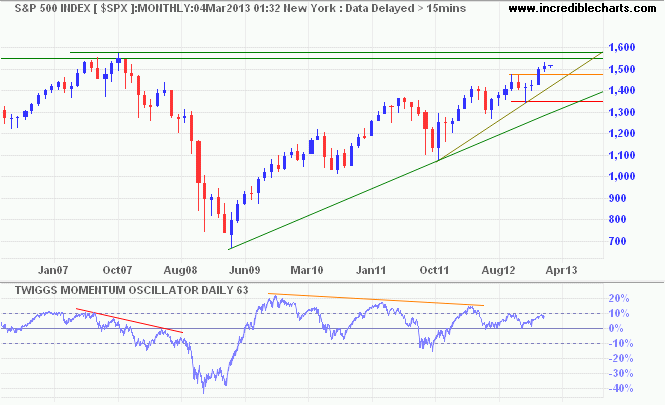 The VIX Volatility Index remains close to recent lows at 0.15. This does not provide much long-term reassurance: the VIX was at similar levels in May 2008. Breakout above the recent high at 0.20 would be a warning sign.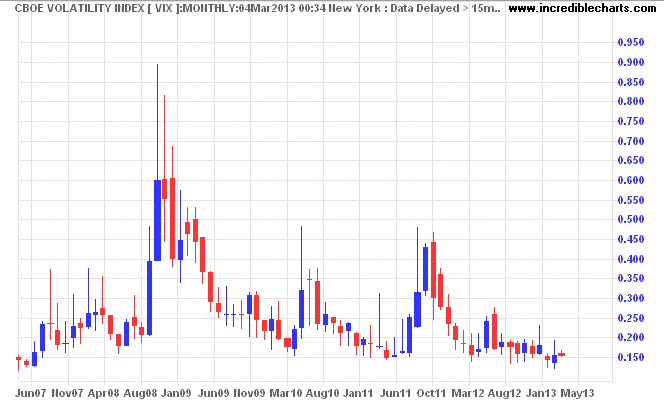 The Nasdaq 100 displays a bearish divergence on both 63-day Twiggs Momentum and long-term (13-week) Twiggs Money Flow. Reversal below the rising trendline would strengthen the signal. While breach of primary support at 2500 would signal a reversal.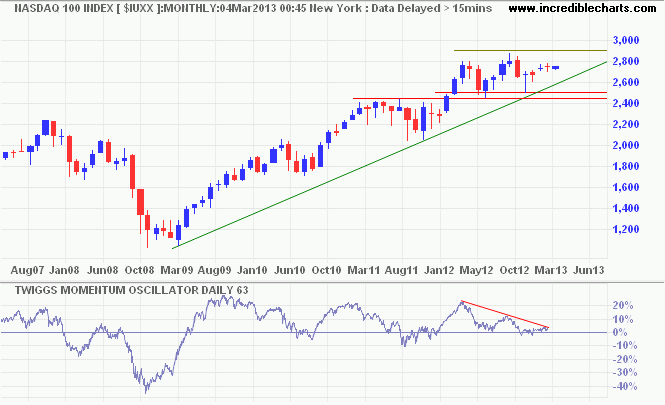 * Target calculation: 2500 + ( 2900 - 2500 ) = 2100
I like whiskey. I always did, and that is why I never drink it.

~ General Robert E. Lee