---
S&P 500 finds support but Nasdaq warns caution
By Colin Twiggs
February 25th, 2013 2:00 a.m. ET (6:00 pm AET)
These extracts from my trading diary are for educational purposes. Any advice contained therein is provided for the general information of readers and does not have regard to any particular person's investment objectives, financial situation or needs and must not be construed as advice to buy, sell, hold or otherwise deal with any securities or other investments. Accordingly, no reader should act on the basis of any information contained therein without first having consulted a suitably qualified financial advisor. Full terms and conditions can be found at Terms of Use.
The S&P 500 found support at 1500 and is headed for a re-test of resistance at 1525/1530. Bearish divergence on 21-day Twiggs Money Flow warns of mild selling pressure. Breakout above resistance would negate this, while reversal below 1500 and the rising trendline would warn of a correction.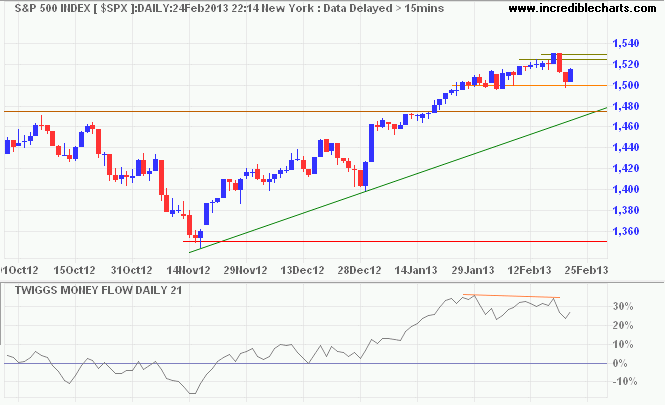 Breach of the secondary trendline (above) would indicate a correction to test primary support at 1350. Recovery of 63-day Twiggs Momentum above 10% would increase likelihood of an upward breakout — with a target of 1750* — while retreat below zero would suggest a primary reversal.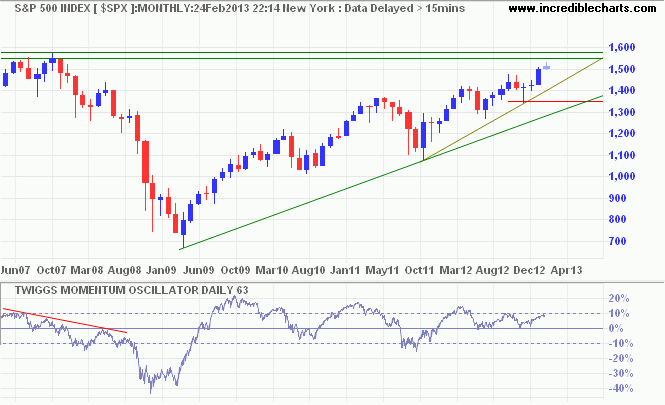 * Target calculation: 1550 + ( 1550 - 1350 ) = 1750
The Nasdaq 100 is weaker, with bearish divergence on 13-week Twiggs Money Flow warning of a primary trend reversal. Breakout below primary support at 2500 would confirm, offering a target of 2100*.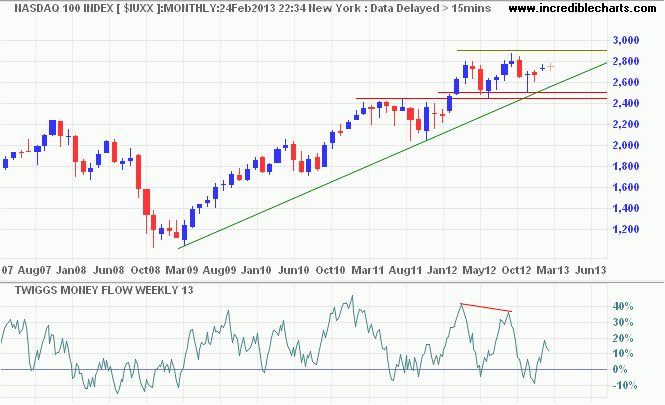 * Target calculation: 2500 + ( 2900 - 2500 ) = 2100
The power which the strong have over the weak, the employer over the employed, the educated over the unlettered, the experienced over the confiding, even the clever over the silly — the forbearing or inoffensive use of all this power or authority, or a total abstinence from it when the case admits it, will show the [holder] in a plain light.

~ Robert E. Lee