---
Stocks: Outlook for 2013
By Colin Twiggs
December 24th, 2012 2:00 a.m. ET (6:00 p.m. AET)
These extracts from my trading diary are for educational purposes. Any advice contained therein is provided for the general information of readers and does not have regard to any particular person's investment objectives, financial situation or needs and must not be construed as advice to buy, sell, hold or otherwise deal with any securities or other investments. Accordingly, no reader should act on the basis of any information contained therein without first having consulted a suitably qualified financial advisor. Full terms and conditions can be found at Terms of Use.
Wishing you peace and goodwill over the Christmas season and prosperity in the year ahead.
This is my last newsletter of the year. I am on vacation until mid-January but will continue to post at
goldstocksforex.com
if I see anything important.
Stocks: Outlook for 2013
Quarterly charts for the last two decades give a good idea of where stocks will be headed in 2013.
The S&P 500 is headed for a test of its 2000/2007 high at 1550. Declining 63-day Twiggs Momentum indicates that resistance is unlikely to be broken. While this does not mean another fall to 750, it does suggest a strong correction.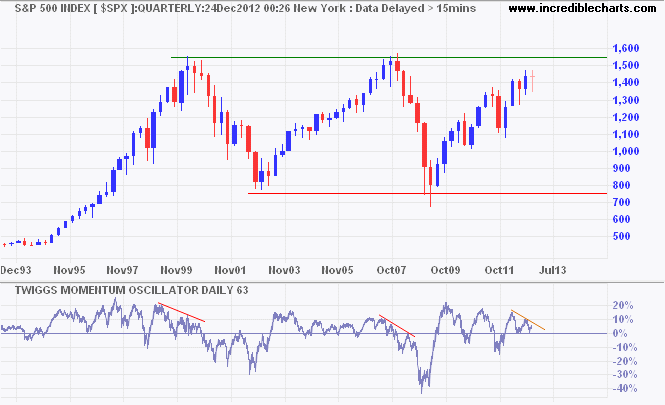 Apple Inc. [AAPL] is no longer leading the advance but testing primary support at 500. Failure of support would confirm the primary down-trend indicated by a 63-day Twiggs Momentum peak below zero.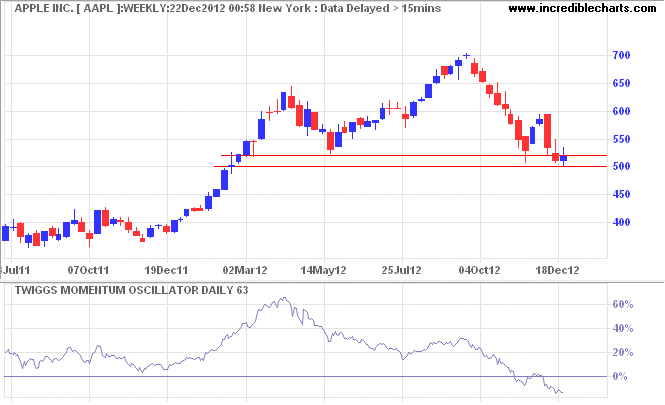 Germany's DAX is also headed for a test of its 2000/2007 high, at 8200, but rising momentum indicates that breakout above resistance is likely.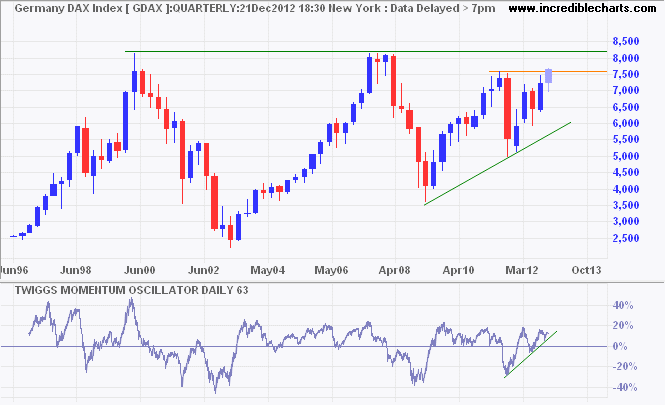 The FTSE 100 is also advancing but is some way off its earlier high of 7000 and breakout appears unlikely.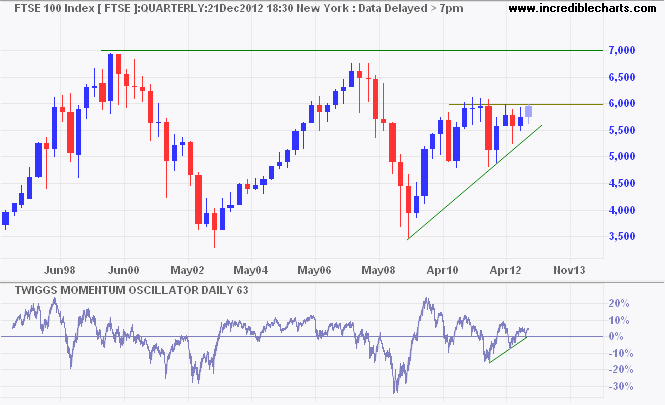 India's Sensex is more bullish and likely to break resistance at 21000.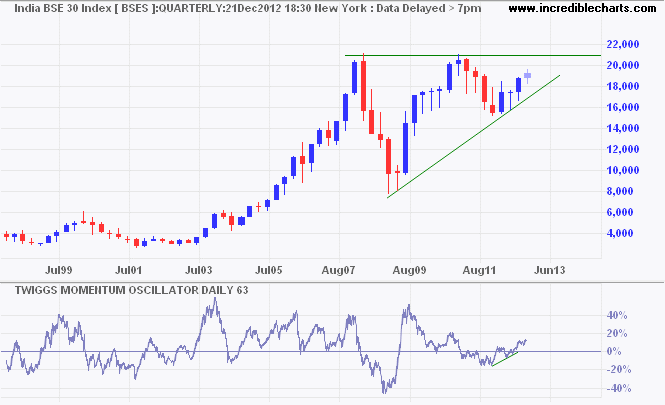 The Shanghai Composite is headed in the opposite direction and likely to re-test long-term support at 1800/1750. Rising 63-day Twiggs Momentum (below zero) suggests that a bottom will form at this level.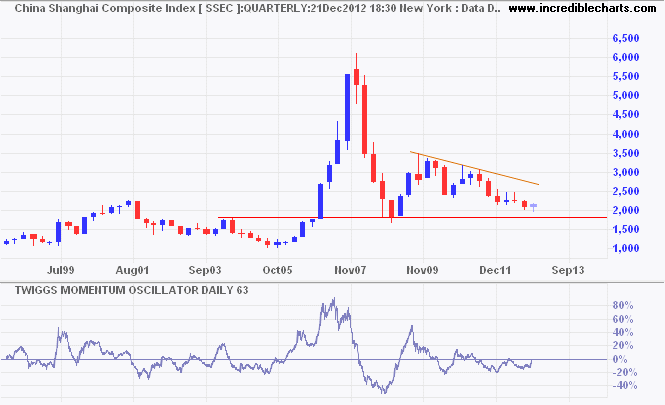 The ASX 200 is headed for a test of resistance at 5000, supported by rising 63-day Twiggs Momentum. Breakout would signal an advance to 6000, but weakness in China and the US may delay this for some time.
Peace cannot be achieved through violence, it can only be attained through understanding.

~ Ralph Waldo Emerson