---
S&P 500 hesitancy continues
By Colin Twiggs
December 11th, 2012 10:00 p.m. ET (2:00 p.m. AET)
These extracts from my trading diary are for educational purposes. Any advice contained therein is provided for the general information of readers and does not have regard to any particular person's investment objectives, financial situation or needs and must not be construed as advice to buy, sell, hold or otherwise deal with any securities or other investments. Accordingly, no reader should act on the basis of any information contained therein without first having consulted a suitably qualified financial advisor. Full terms and conditions can be found at Terms of Use.
The US remains hesitant under the uncertainty of fiscal cliff negotiations. The S&P 500 broke medium-term resistance at 1425 but a tall shadow on today's candle indicates short-term selling pressure. Expect a test of the new support level before further advances signaled by medium-term buying pressure on 21-day Twiggs Money Flow (holding above zero). Respect of 1425 would signal an advance to the September/October high of 1475.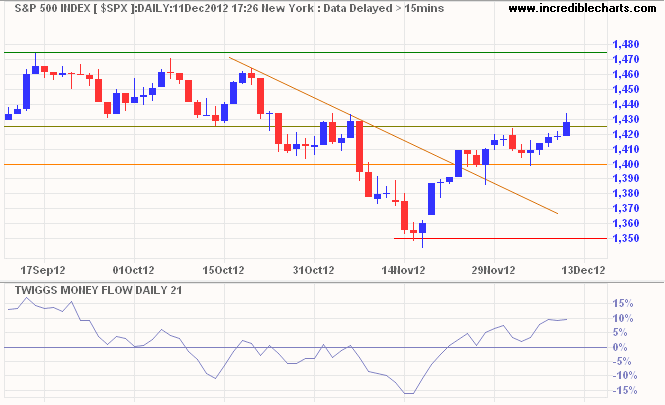 * Target calculation: 1475 + ( 1475 - 1350 ) = 1600
The Nasdaq 100 weekly chart is testing medium-term resistance at 2700. Breakout would signal an advance to 2800/2900. Falling 63-day Twiggs Momentum, however, warns of a primary down-trend; strengthened if the indicator reverses below zero. Profit-taking on stocks like AAPL, to recognize capital gains ahead of fiscal cliff measures, may be adding to selling pressure.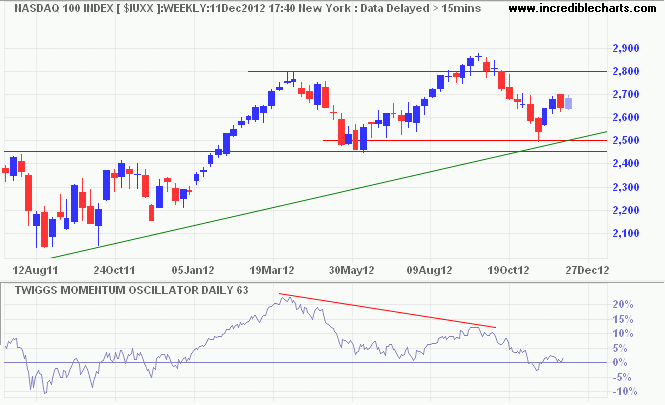 * Target calculation: 2450 - ( 2900 - 2450 ) = 2000
When designing governmental institutions we must assume that all men are knaves, and that the appropriate constraints are built in to ward off knavish behaviour even if knaves are in power.

~ David Hume, Scottish philosopher (1711 - 1776)