---
China: Shanghai breaks support
By Colin Twiggs
November 28th, 2012 1:00 a.m. ET (5:00 p.m. AET)
These extracts from my trading diary are for educational purposes. Any advice contained therein is provided for the general information of readers and does not have regard to any particular person's investment objectives, financial situation or needs and must not be construed as advice to buy, sell, hold or otherwise deal with any securities or other investments. Accordingly, no reader should act on the basis of any information contained therein without first having consulted a suitably qualified financial advisor. Full terms and conditions can be found at Terms of Use.
China's Shanghai Composite Index followed the DJ Shanghai Index, breaking primary support at 2000 to warn of a down-swing to 1850*. Completion of another 63-day Twiggs Momentum peak, this time deep below zero, would indicate a strong primary down-trend. Recovery above 2000 is unlikely but would suggest a bear trap.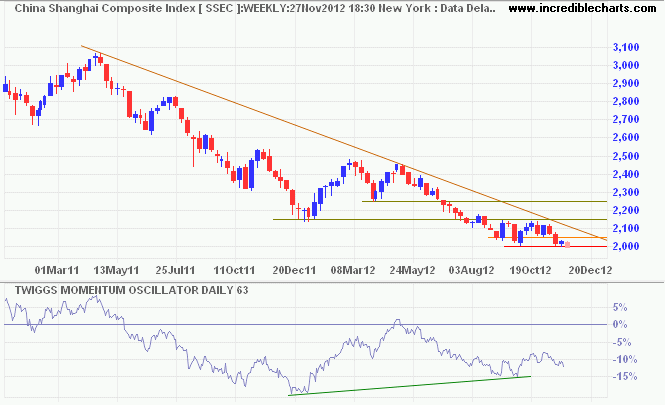 * Target calculation: 2000 - ( 2150 - 2000 ) = 1850
Dow Jones Shanghai Index earlier broke support at 250, signaling a primary decline. 13-Week Twiggs Money Flow below zero warns of selling pressure.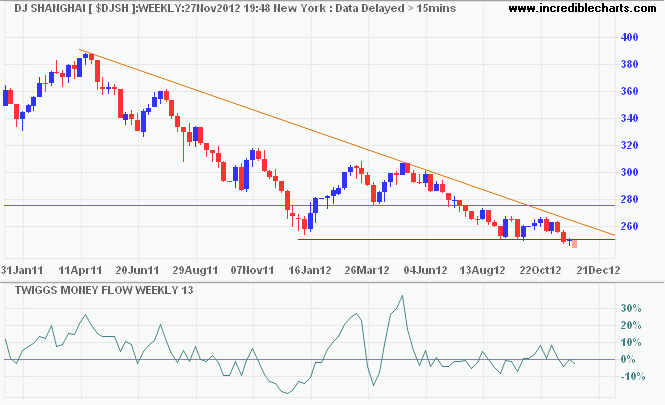 * Target calculation: 250 - ( 270 - 250 ) = 230
Hong Kong's Hang Seng Index is far stronger, testing resistance at 22000. But a sharp fall on 13-week Twiggs Money Flow warns of medium-term selling pressure. Breakout above 22000 would signal an advance to 24000* but reversal below 21000 is as likely and would indicate a test of the rising trendline at 20000.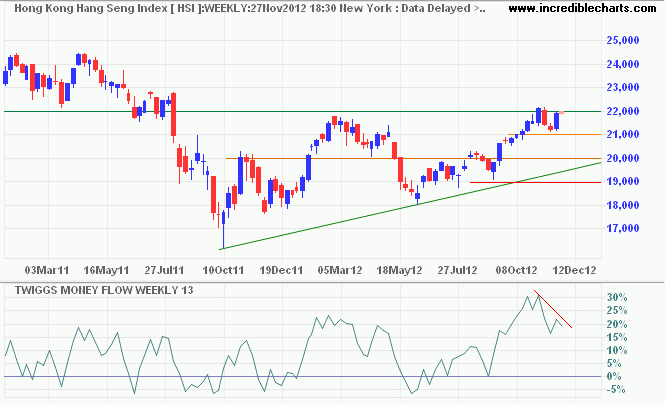 * Target calculation: 22 + ( 22 - 20 ) = 24
It takes a good crisis to get us going. When we feel fear and we fear loss we are capable of quite extraordinary things.

~ Paul Gilding