---
US losing momentum
By Colin Twiggs
November 12th, 2012 2:30 a.m. ET (6:30 p.m. AET)
These extracts from my trading diary are for educational purposes. Any advice contained therein is provided for the general information of readers and does not have regard to any particular person's investment objectives, financial situation or needs and must not be construed as advice to buy, sell, hold or otherwise deal with any securities or other investments. Accordingly, no reader should act on the basis of any information contained therein without first having consulted a suitably qualified financial advisor. Full terms and conditions can be found at Terms of Use.
The S&P 500 found short-term support at 1370 after penetrating the rising trendline on a weekly chart. Loss of momentum warns that a top is forming. Reversal of 63-day Twiggs Momentum below zero would strengthen the signal. Breach of support would test the primary level at 1270.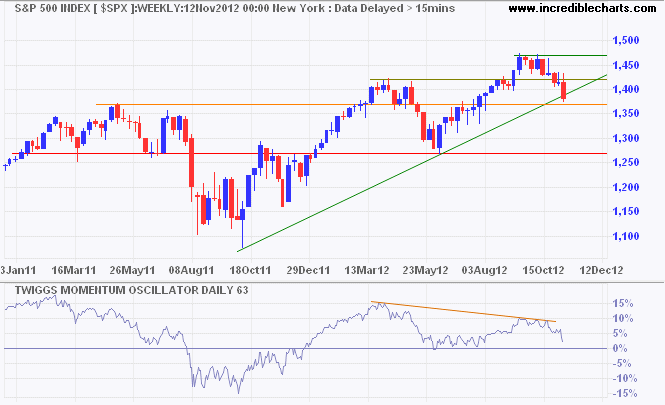 Note how the S&P 500 lately moves in increments of fifty: 1270, 1320, 1370, 1420, 1470.......
The Nasdaq 100 similarly penetrated its rising trendline — shown here on a monthly chart — warning that a top is forming. 63-Day Twiggs Momentum (not shown) is below zero, strengthening the signal. Breach of primary support at 2450 would confirm the primary down-trend signaled by bearish divergence on 13-week Twiggs Money Flow. Respect of primary support is unlikely, but would indicate another advance.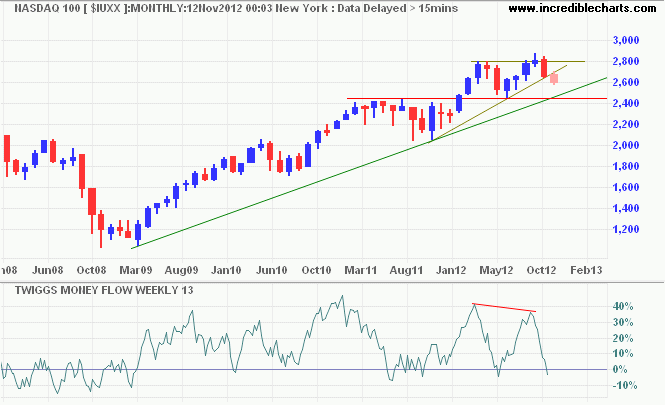 * Target calculation: 2400 - ( 2800 - 2400 ) = 2000
You can always amend a big plan, but you can never expand a little one. I don't believe in little plans. I believe in plans big enough to meet a situation which we can't possibly foresee now.

~ Harry S. Truman