---
Gold, TIPS and inflation
By Colin Twiggs
October 4th, 2012 3:30 a.m. ET (5:30 p:m AET)
These extracts from my trading diary are for educational purposes and should not be interpreted as investment or trading advice. Full terms and conditions can be found at Terms of Use.
The Dollar Index rally to test resistance at 81.00/81.50 appears to be faltering. Respect of resistance would confirm the primary down-trend. Reversal of 63-day Twiggs Momentum below zero earlier indicated a trend change; a peak below zero would strengthen the signal.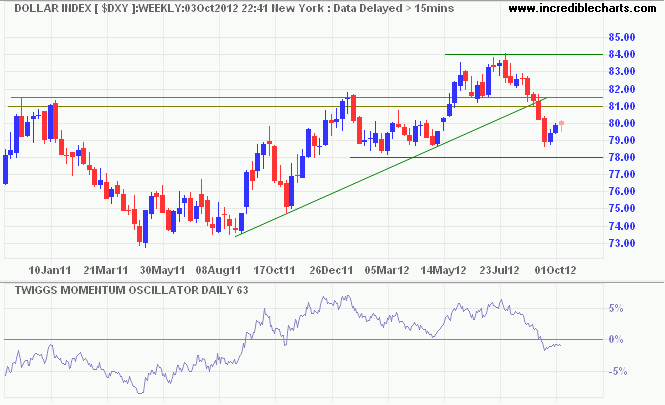 * Target calculation: 81 - ( 84 - 81 ) = 78
Spot Gold continues to test resistance at $1800 per ounce*. A 63-day Twiggs Momentum trough above zero would signal a primary up-trend, while breakout above $1800 would confirm.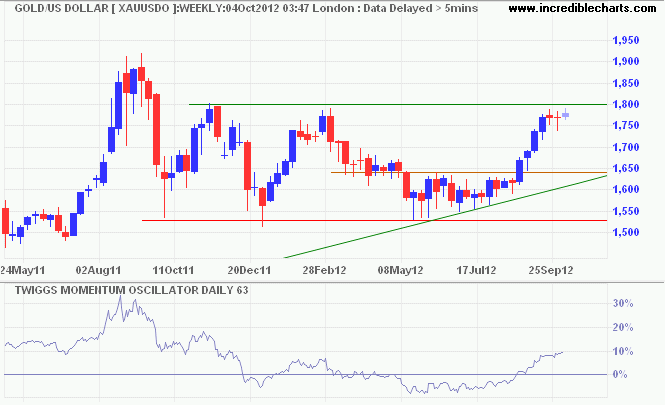 * Target calculation: 1650 + ( 1650 - 1500 ) = 1800
Rising gold prices indicate increased inflation expectations. The spread between 10-year Treasury yields and the equivalent TIPS (Treasury Inflation Protected Securities) yield also spiked up after the latest QE announcement but then retreated. The inflation effect of quantitative easing by the Fed is likely to be muted by deflationary pressures from private debt contraction — and a slow-down in government debt expansion after November (no matter who wins the election) — working in the opposite direction. I believe the Fed goal is to manufacture a soft landing rather than to generate inflation, which would go against their mandate.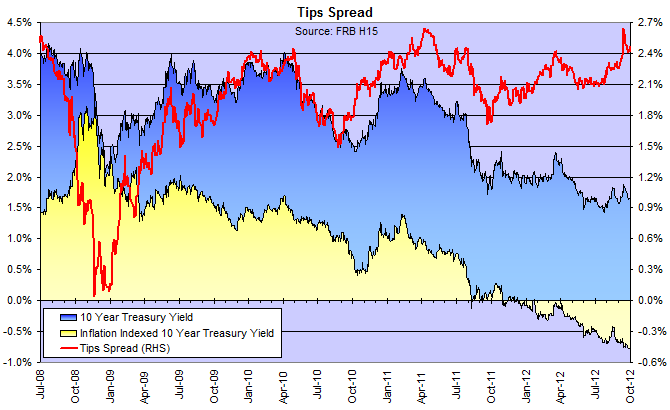 Commodities: The RJ/CRB Commodities index has been delisted by ICE Futures US (formerly NYBOT). See below for details.

The equivalent DJ-UBS Commodity Index is testing resistance at 150/155. Respect would warn of another test of primary support at 125, but also that inflation expectations remain muted.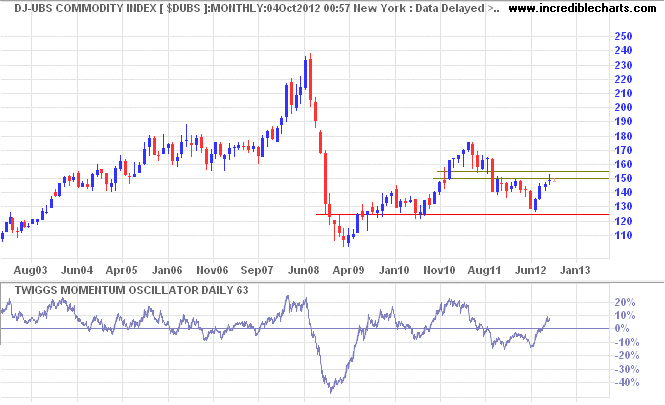 Brent Crude is correcting despite the rise in inflation expectations, reflecting slowing economic activity rather than improved security. Follow-through below $108 per barrel would indicate a correction to $100, while reversal of 63-day Twiggs Momentum below zero would suggest a primary down-trend.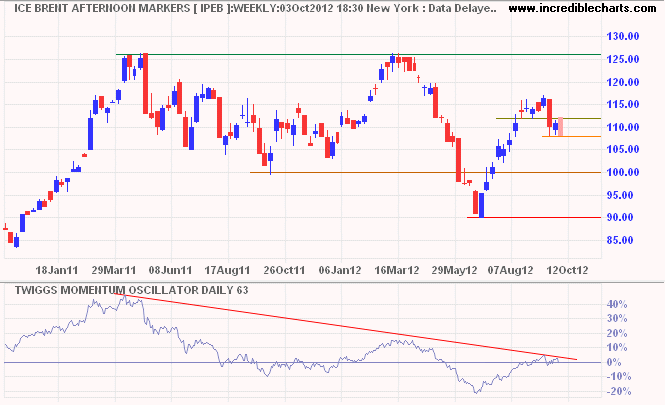 Politics is not a bad profession. If you succeed there are many rewards. If you disgrace yourself you can always write a book.

~ Ronald Reagan