---
US: Fedex warns of declining activity
By Colin Twiggs
September 24th, 2012 3:00 a.m. ET (5:00 p.m. AET)
These extracts from my trading diary are for educational purposes and should not be interpreted as investment or trading advice. Full terms and conditions can be found at Terms of Use.
Bellwether transport stock Fedex fell hard in the last week, testing support at $84. Breakout would confirm the primary down-trend signaled by 63-day Twiggs Momentum below zero. A down-trend on Fedex would warn of slowing activity in the broader economy.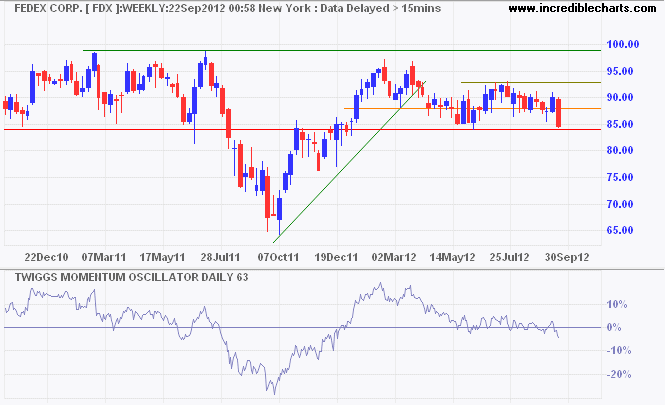 A daily chart of the S&P 500 index shows narrow consolidation above 1450. Bearish divergence on 21-day Twiggs Money Flow continues to warn of selling pressure. Reversal below 1450 would indicate a test of 1400.
Weekly chart of the Nasdaq 100 shows the index hesitating below 2900. Expect retracement to test the new support level at 2800.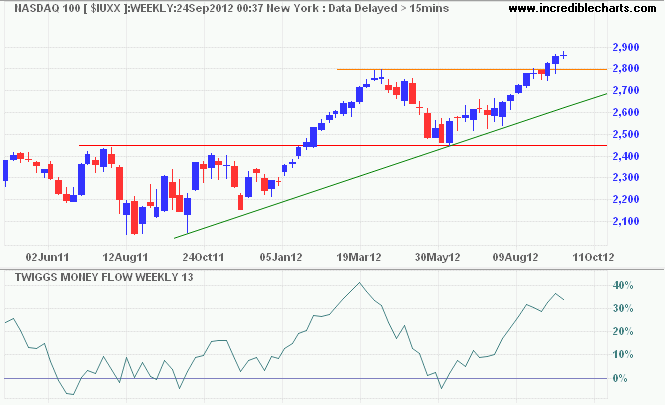 Everybody has talent, but ability takes hard work.

~ Michael Jordan