---
Forex Update
By Colin Twiggs
September 14th, 2012 6:00 p.m. ET (8:00 a:m AET)
These extracts from my trading diary are for educational purposes and should not be interpreted as investment or trading advice. Full terms and conditions can be found at Terms of Use.
The Euro broke out above its trend channel and resistance at $1.2750 on the daily chart to signal a primary up-trend. Recovery of 63-day Twiggs Momentum above zero confirms. Target for the advance is the 2012 high of $1.35*.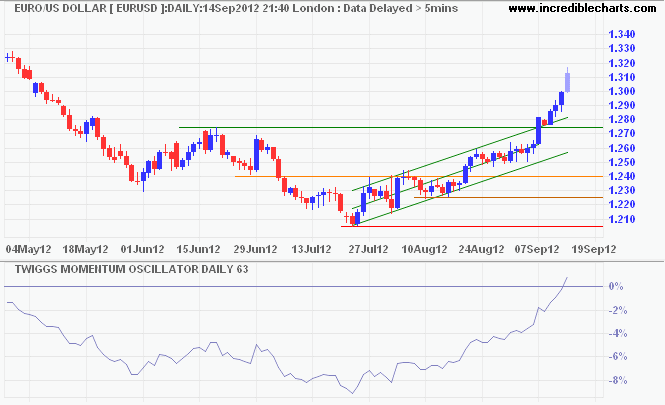 * Target calculation: 1.275 + ( 1.275 - 1.20 ) = 1.35
Pound Sterling is correcting to support around €1.22 against the Euro. Breach of the rising trendline would warn that a top is forming, while retreat of 63-day Twiggs Momentum below zero would indicate a primary down-trend.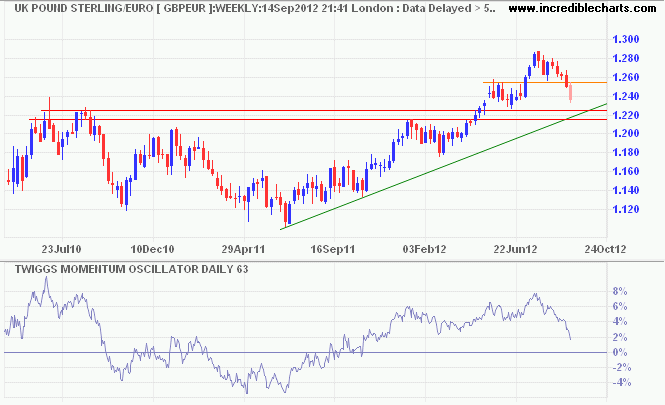 Canada's Loonie is retracing to test the new support level after breaking above resistance against the greenback at $1.02. Breakout confirms the primary up-trend indicated by long-term bullish divergence on 63-day Twiggs Momentum. Target for the advance is $1.08*.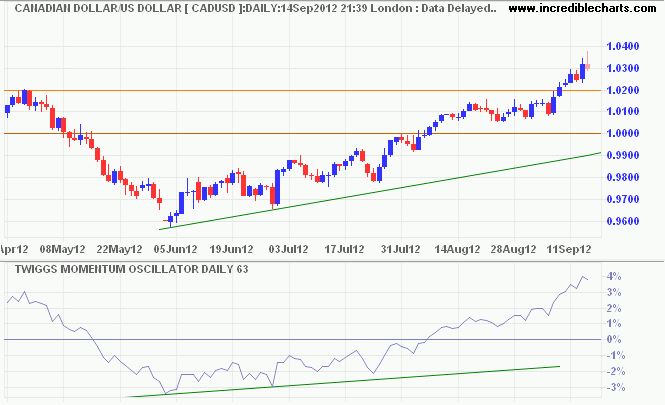 * Target calculation: 1.02 + ( 1.02 - 0.96 ) = 1.08
The Aussie Dollar is testing resistance at $1.06 against the greenback. The 63-day Twiggs Momentum trough above zero signals a primary up-trend. Breakout above $1.06 would confirm. Expect resistance at $1.075/$1.08, but target for an advance would be $1.10*.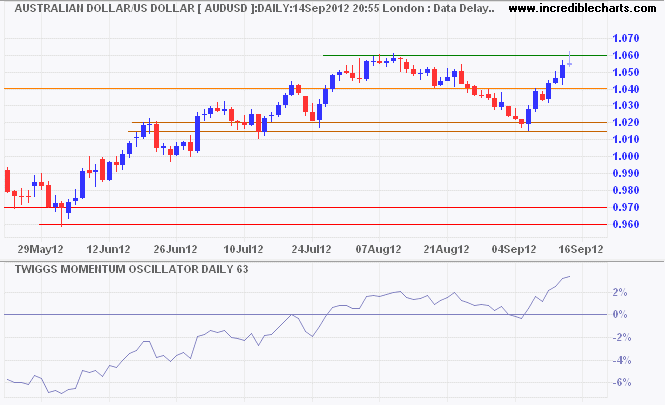 * Target calculation: 1.06 + ( 1.06 - 1.02 ) = 1.10
I commented a few days ago that apart from a bad case of Dutch Disease — where capital inflows and increased revenues from resources projects drive up the exchange rate and harm other export industries — the Australian dollar is at risk of developing "Swiss Disease" — where flight to a safe haven currency also drives up the exchange rate, destroying local export industries. Professor Warwick McKibbin has a point:
"When a portfolio shift into Australian currency is observed, the exchange rate change should be completely offset so the shock only affects the money markets rather than the real economy. If the shock cannot be observed precisely then the central bank should 'lean against the wind', that is intervene to slow down the extent of appreciation of the exchange rate."
The RBA should be selling dollars to protect local export industries from rapid appreciation of the currency.
The Aussie Dollar is headed for resistance at ¥83.50 against the Japanese Yen. Recovery of 63-Day Twiggs Momentum above zero indicates a primary up-trend. Breakout would signal an advance to ¥88*.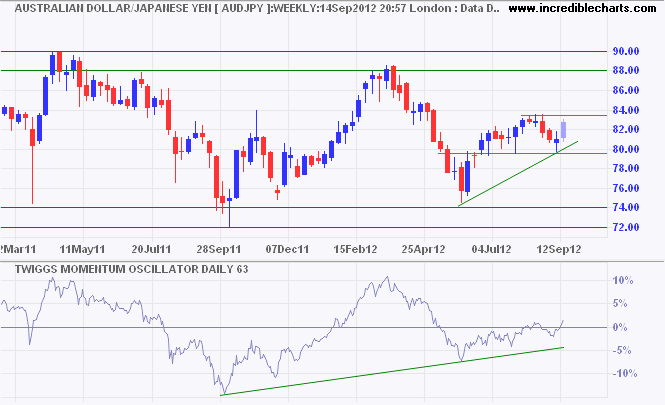 Half the lies they tell about me aren't true.

~ Yogi Berra