---
Gold Bugs double bottom
By Colin Twiggs
September 6th, 2012 1:30 a.m. ET (3:30 p:m AET)
These extracts from my trading diary are for educational purposes and should not be interpreted as investment or trading advice. Full terms and conditions can be found at Terms of Use.
The Dollar Index is testing primary support at 81.00. Downward breakout would warn of reversal to a primary down-trend. Fall of 63-day Twiggs Momentum below zero would strengthen the warning, while respect of zero would continue the primary up-trend.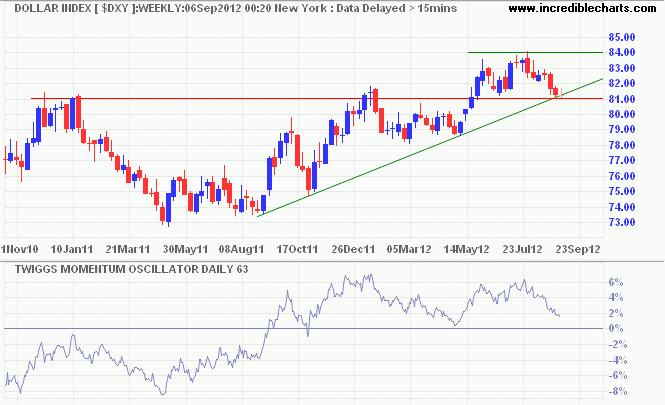 * Target calculation: 82 + ( 82 - 78 ) = 86
The Gold Bugs Index, representing un-hedged gold stocks, responded by forming a double-bottom. Breakout above 460 would signal primary advance to 530*. Recovery of 63-day Twiggs Momentum above zero would strengthen the signal.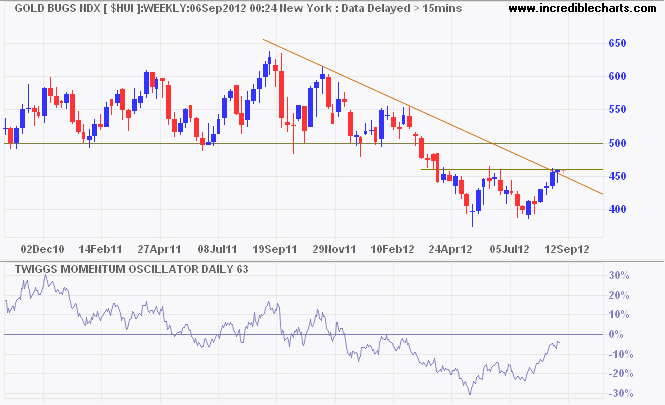 * Target calculation: 460 + ( 460 - 390 ) = 530
Spot Gold respected its new support level at $1640 and is advancing toward $1800 per ounce*. Recovery of 63-day Twiggs Momentum above zero indicates a primary up-trend. Expect some resistance at $1700 but reversal below $1640 is unlikely.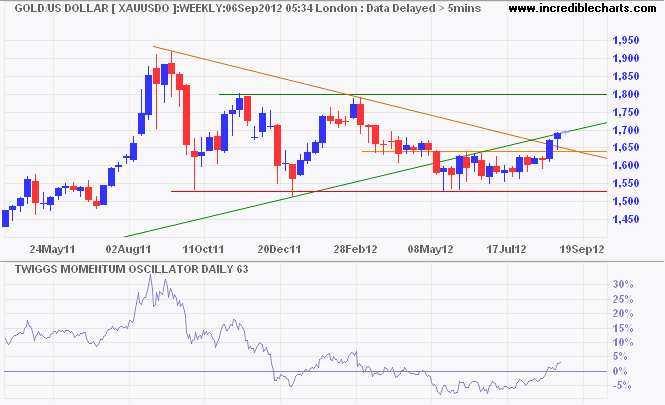 * Target calculation: 1650 + ( 1650 - 1500 ) = 1800
The CRB Non-Energy Commodities Index shows commodities responding to the weaker dollar. Short retracement followed by breakout above 296 indicates a test of primary resistance at 305. Recovery of 63-Day Twiggs Momentum above zero suggests a primary up-trend. Breakout from the trend channel indicates the primary down-trend is over, but no clear (primary) up-trend has yet formed.
Brent Crude is consolidating between $112 and $116 per barrel. Narrow consolidation suggests an upward breakout and test of $126. 63-Day Twiggs Momentum recovery above zero strengthens the bull signal. Reversal below $112 is unlikely, but would signal another test of support at $100.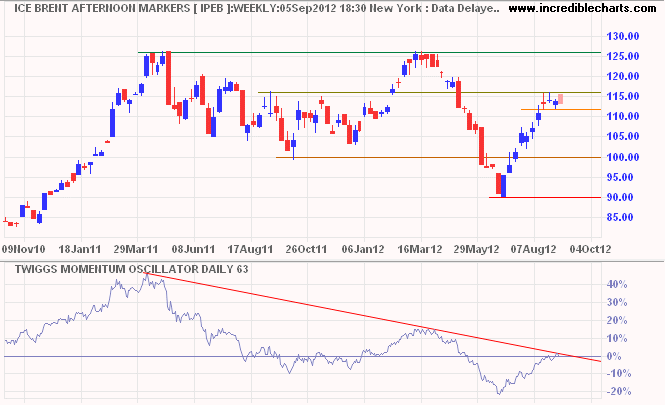 In a crisis, moral hazard concerns have to be put on one side, as central banks recognise in a financial crisis. The fire engine does not drive slowly to the fire to encourage others to be careful.

~ Simon Wren-Lewis, commenting on the ECB