---
Gold and dollar test support
By Colin Twiggs
August 30th, 2012 12:30 a.m. ET (2:30 p:m AET)
These extracts from my trading diary are for educational purposes and should not be interpreted as investment or trading advice. Full terms and conditions can be found at Terms of Use.
The Dollar Index is testing primary support at 81.00/81.50. Failure would signal reversal to a primary down-trend. Reversal of 63-day Twiggs Momentum below zero would also suggest a reversal, while respect of the zero line would indicate continuation of the primary up-trend.
* Target calculation: 82 + ( 82 - 78 ) = 86
Spot Gold is retracing to test its new support level after breaking resistance at $1650 per ounce. Respect of $1640 would confirm the primary up-trend. Respect of the zero line by 63-day Twiggs Momentum would strengthen the signal. Reversal below $1640 is unlikely but would indicate a false signal and re-test primary support at $1525.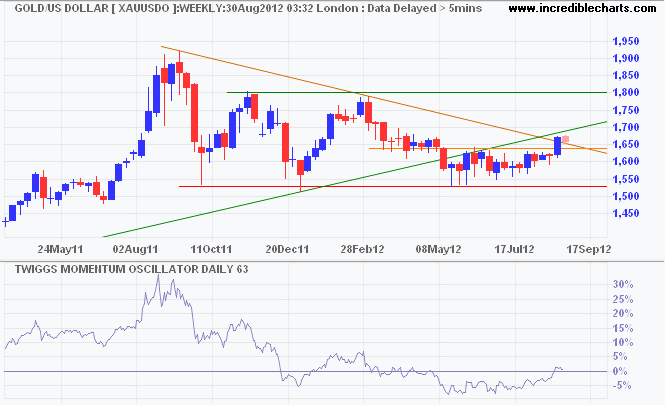 * Target calculation: 1650 + ( 1650 - 1500 ) = 1800
The CRB Commodities Index is retracing after breaking medium-term resistance at 305. Recovery of 63-Day Twiggs Momentum above zero suggests a trend reversal, but only a trough above zero would confirm.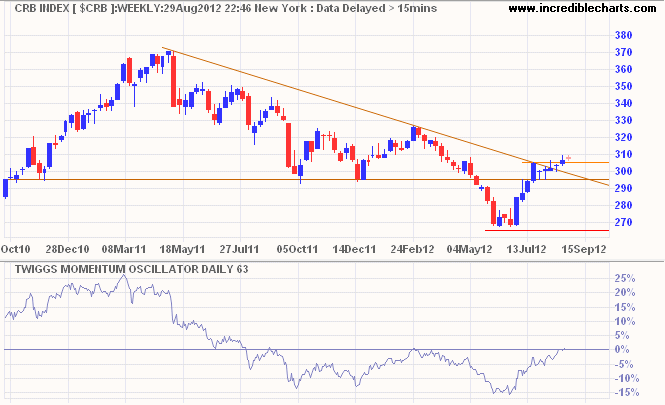 Brent Crude retreated from resistance at $115 per barrel. Reversal below $108 is unlikely, but would signal another test of support at $100. Breakout would indicate a test of the March high at $126. 63-Day Twiggs Momentum recovery above zero would strengthen the bull signal.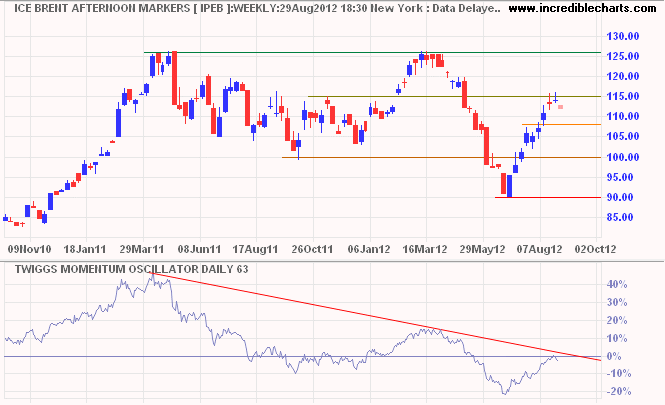 Mr. Market is a manic depressive with huge mood swings, and you should bet against him, not with him, particularly when he is raving.

~ Barton Biggs