---
S&P 500 and Nasdaq 100
By Colin Twiggs
August 13th, 2012 5:00 a.m. ET (7:00 p.m. AET)
These extracts from my trading diary are for educational purposes and should not be interpreted as investment or trading advice. Full terms and conditions can be found at Terms of Use.
Bearish divergence on the S&P 500 Index (21-day Twiggs Money Flow) warns of increasing resistance as the index approaches 1420. Expect retracement to 1360/1380 followed by another attempt at 1420. Breakout would signal another primary advance. Reversal below the trend channel is unlikely but would warn of a correction to test primary support at 1280.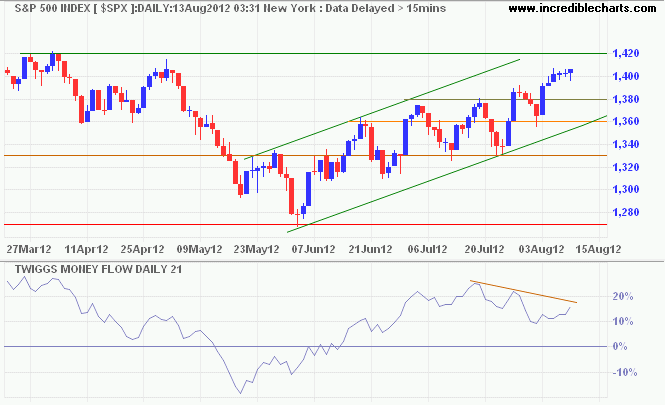 * Target calculation: 1420 + ( 1420 - 1280 ) = 1560
The Nasdaq 100 is headed for 2800 on the weekly chart. A 63-day Twiggs Momentum trough above zero indicates a healthy primary up-trend.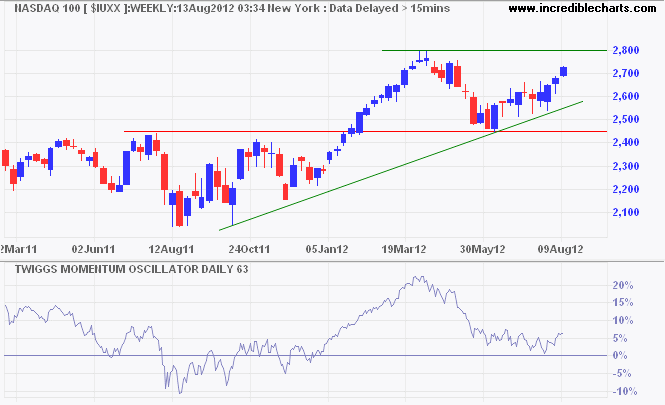 * Target calculation: 2800 + ( 2800 - 2450 ) = 3150
Bellwether transport stock Fedex, however, is edging lower. Reversal of 63-day Twiggs Momentum below zero warns of a primary down-trend. Failure of primary support at $84 would confirm the primary down trend signaled by the March-April double-top. That would warn of an economic down-turn.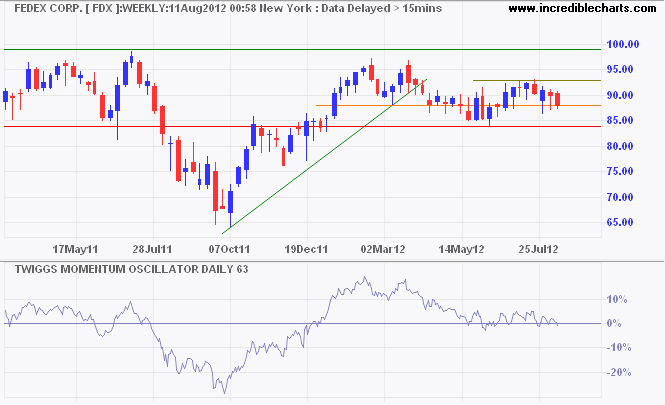 If anyone tells you that a certain person speaks ill of you, do not make excuses about what is said of you but answer, "He was ignorant of my other faults, else he would not have mentioned these alone."

~ Epictetus