---
Australia: ASX 200
By Colin Twiggs
August 8th, 2012 1:00 a.m. ET (3:00 p.m. AET)
These extracts from my trading diary are for educational purposes and should not be interpreted as investment or trading advice. Full terms and conditions can be found at Terms of Use.
The ASX 200 broke short-term resistance at 4290, indicating an advance to 4360. Retracement that respects support at 4290/4300 would confirm breakout from the trend channel and an advance to 4450. Rising 21-day Twiggs Money flow indicates medium-term buying pressure. In the longer term, breakout above 4450 would signal a primary advance to the 2011 high at 4950.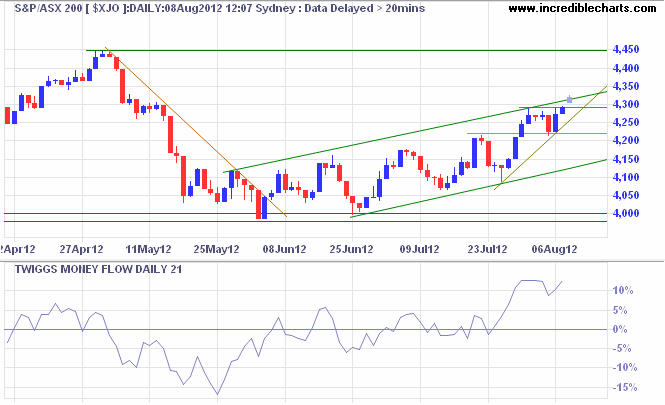 * Target calculation: 4290 + ( 4290 - 4220 ) = 4360
The most important thing in the Olympic Games is not winning but taking part; the essential thing in life is not conquering but fighting well.

~ Who said this? See The Olympic Spirit.