---
S&P 500 and Nasdaq remain bearish
By Colin Twiggs
July 23th, 2012 5:00 a.m. ET (7:00 p.m. AET)
These extracts from my trading diary are for educational purposes and should not be interpreted as investment or trading advice. Full terms and conditions can be found at Terms of Use.
The S&P 500 remains in a slow up-trend as indicated by narrow oscillation of 63-day Twiggs Momentum above zero. A fall below zero, or downward breakout from the trend channel would warn of another correction. In the long term, breakout above 1420 is unlikely, but would signal an advance to 1570*.
* Target calculation: 1420 + ( 1420 - 1270 ) = 1570
The Nasdaq 100 is in a similar trend channel on the weekly chart. Respect of resistance at 2660 would suggest another test of primary support at 2440. Reversal of 13-week Twiggs Money Flow below zero would warn of a primary down-trend.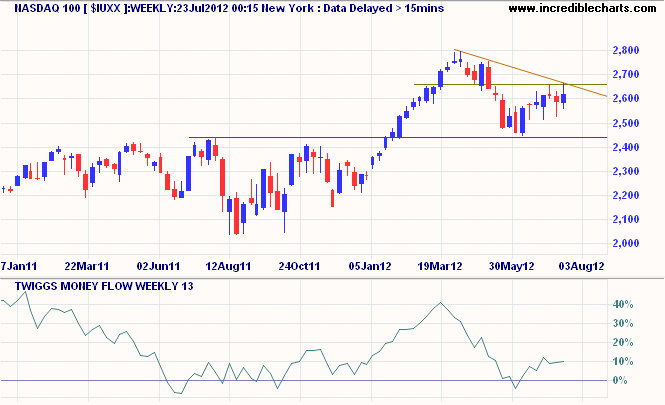 Bellwether transport stock Fedex also displays an upward trend channel on the weekly chart but remains bearish after completion of an earlier double top formation. Reversal below the former neckline at 88.00 would strengthen the bear signal, while failure of primary support at 84.00 would confirm.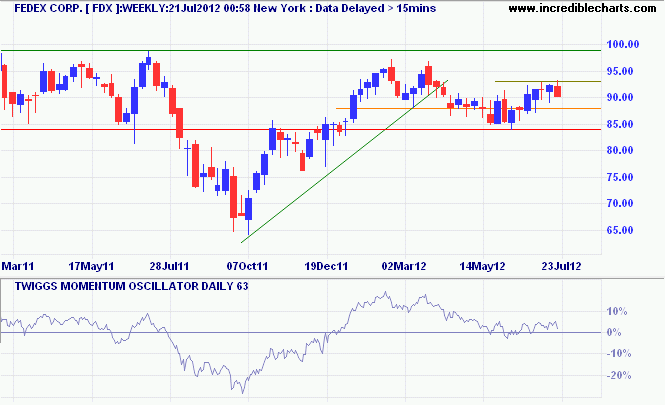 A life spent making mistakes is not only more honorable, but more useful than a life spent doing nothing.

~ George Bernard Shaw