---
S&P 500 and Dow Industrials remain bearish
By Colin Twiggs
July 17th, 2012 4:00 a.m. ET (6:00 p.m. AET)
These extracts from my trading diary are for educational purposes and should not be interpreted as investment or trading advice. Full terms and conditions can be found at Terms of Use.
The S&P 500 continues to test resistance at 1370 but declining 63-day Twiggs Momentum warns of a primary down-trend. Breach of the rising trendline would indicate a primary down-swing; confirmed if support at 1270 is broken. Reversal of 63-day Twiggs Momentum below zero would strengthen the bear signal. Breakout above 1420 is unlikely, but would signal an advance to 1570*.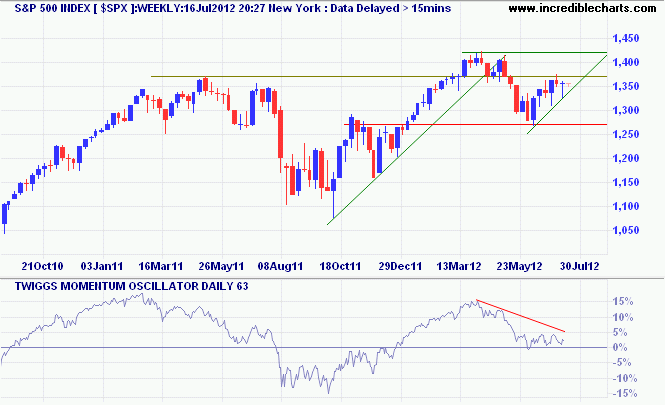 * Target calculation: 1420 + ( 1420 - 1270 ) = 1570
The Dow Industrial Average is in a similar position, with bearish divergence on 13-week Twiggs Money Flow warning of selling pressure. Reversal of TMF below zero would indicate a primary down-trend.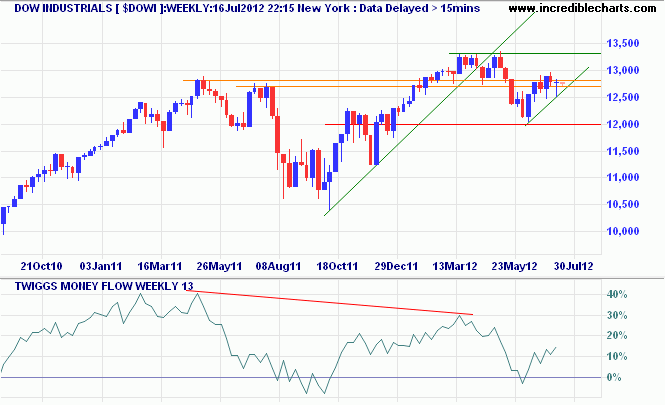 Success does not consist in never making mistakes but in never making the same one a second time.

~ George Bernard Shaw