---
Dollar rebound drives gold and commodities lower
By Colin Twiggs
June 28th, 2012 1:00 a.m. ET (3:00 p:m AET)
These extracts from my trading diary are for educational purposes and should not be interpreted as investment or trading advice. Full terms and conditions can be found at Terms of Use.
The US Dollar Index respected support at 81.00 and is headed for resistance at 83.50. Breakout would offer a target of 86.00*. 63-Day Twiggs Momentum oscillating above the zero line indicates a healthy up-trend.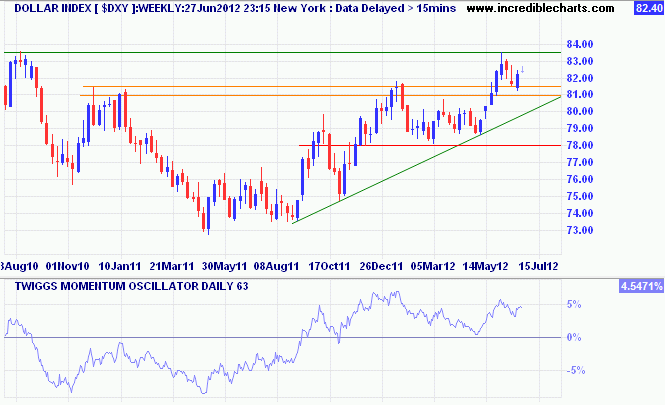 * Target calculation: 81 + ( 81 - 78 ) = 84
Spot Gold retreated below support at $1600/ounce. 63-Day Twiggs Momentum reversal below zero signals a primary down-trend. Breach of primary support at $1530 would confirm. Introduction of QE3 by the Fed, however, would commence a new up-trend.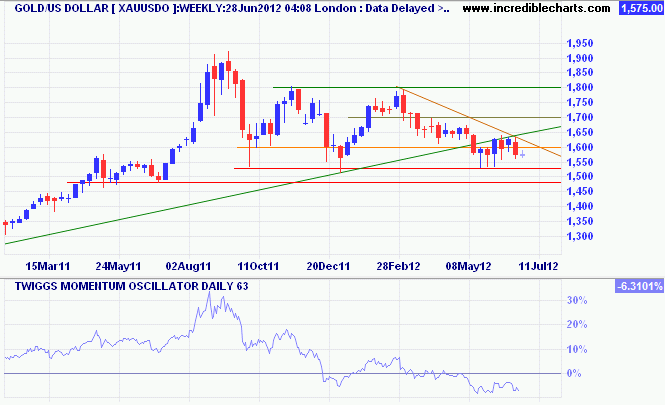 * Target calculation: 1550 - ( 1800 - 1550 ) = 1300
The primary down-trend on CRB Commodities Index is unlikely to change unless we see the introduction of QE3. Declining 63-day Twiggs Momentum below zero indicates a strong primary down-trend.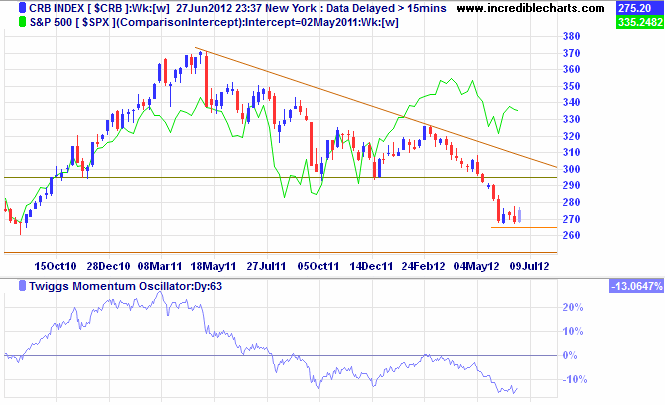 * Target calculation: 270 - ( 290 - 270 ) = 250
Brent Crude and Nymex WTI Light Crude both offer a target of $75 per barrel. After falling sharply over the last few months, the gap has narrowed to just over $10 per barrel — from a peak of $25 in October 2011. Rapidly expanding gas and oil reserves are driving North American prices lower, while gloomy prospects for European economies have crimped demand for Brent Crude.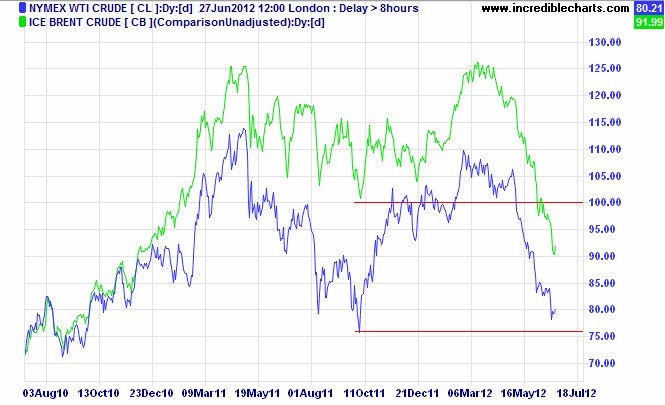 * Target calculation: 100 - ( 125 - 100 ) = 75
I'm extraordinarily patient provided I get my own way in the end.

~ Margaret Thatcher: The Path To Power