---
Forex: Euro, Pound Sterling, Australian Dollar and Canadian Loonie
By Colin Twiggs
June 28th, 2012 4:00 a.m. ET (6:00 p:m AET)
These extracts from my trading diary are for educational purposes and should not be interpreted as investment or trading advice. Full terms and conditions can be found at Terms of Use.
The Euro retreated below support at $1.26, indicating a test of the 2010 low at $1.19/$1.20. Breach of the rising trendline on 63-day Twiggs Momentum would strengthen the bear signal.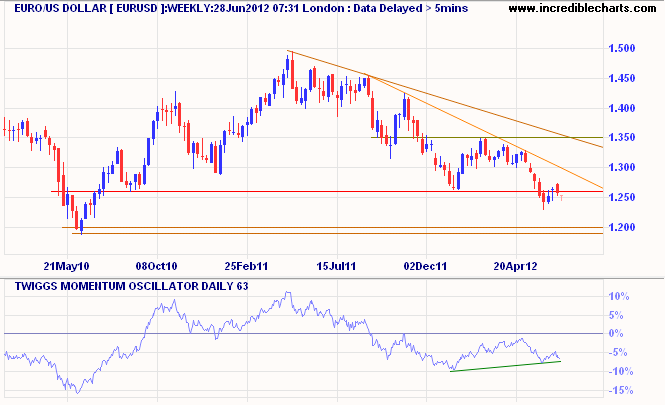 Pound Sterling is testing resistance at $1.58 against the greenback. Respect would indicate another test of primary support at $1.52. A 63-day Twiggs Momentum peak below zero would warn of a primary down-trend.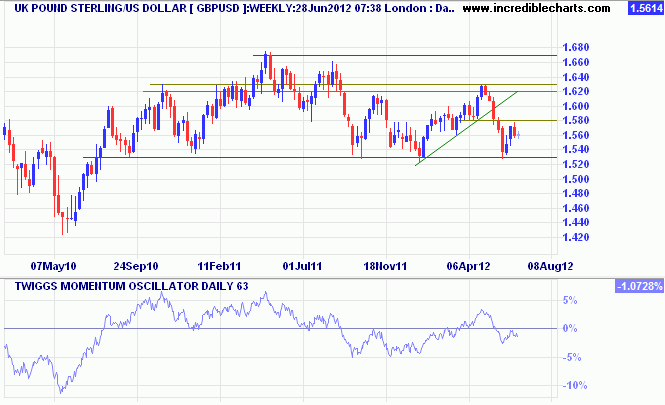 * Target calculation: 1.53 - ( 1.63 - 1.53 ) = 1.43
Against the Euro, Pound Sterling is in an accelerating up-trend. The gap between the recent low at €1.225 and the previous peak at €1.215 suggests strong buying pressure — as does 63-day Twiggs Momentum oscillating high above zero.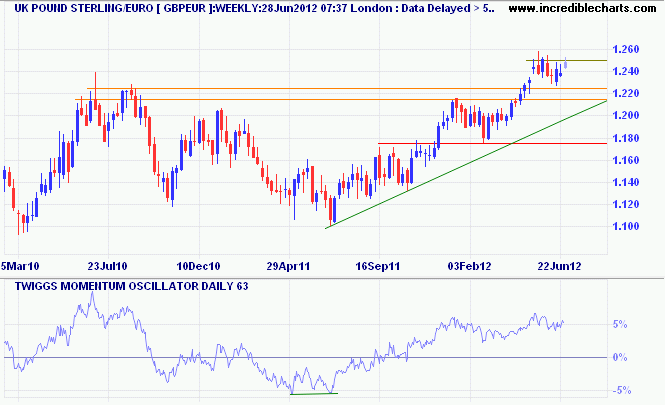 * Target calculation: 1.25 + ( 1.25 - 1.215 ) = 1.285
Canada's Loonie is strengthening against the Aussie Dollar. Long-term bullish divergence on 63-day Twiggs Momentum warns of reversal to a primary up-trend. Breakout above parity would confirm.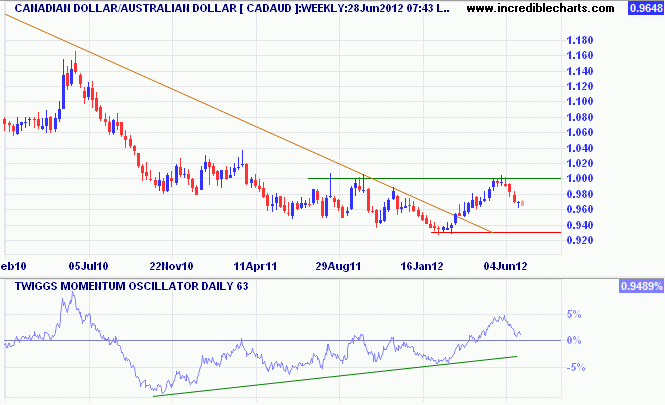 * Target calculation: 1.00 + ( 1.00 - 0.96 ) = 1.04
Short retracement suggests that the Aussie Dollar is, in turn, strengthening against the greenback on the Daily chart. Breakout above $1.02 (and the descending trendline) would indicate that a bottom is forming. Recovery of 63-day Twiggs Momentum above zero would suggest a primary up-trend.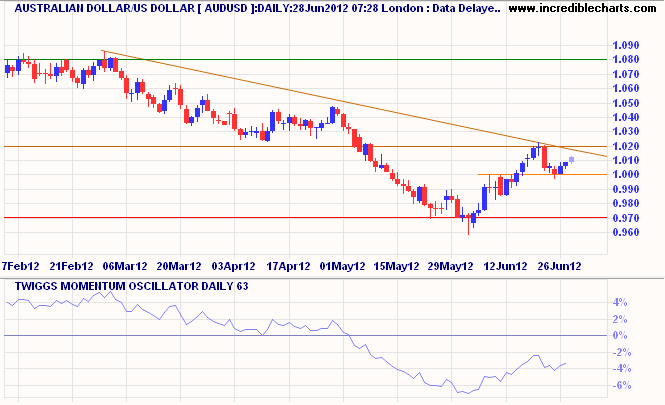 * Target calculation: 1.02 + ( 1.02 - 1.00 ) = 1.04
Training was a time where resolutions made in the enthusiasm of an inspired moment were put to personal test.

~ Australian Olympic athlete, Herb Elliott