---
US and Canada: bear trap?
By Colin Twiggs
June 26th, 2012 1:00 a.m. ET (5:00 p.m. AET)
These extracts from my trading diary are for educational purposes and should not be interpreted as investment or trading advice. Full terms and conditions can be found at Terms of Use.
The S&P 500 retracement breached support at 1330, indicating a false breakout. Reversal of 21-day Twiggs Money Flow below zero would warn of a bear trap, while breach of support at 1270 would confirm another decline — with a target of 1160*.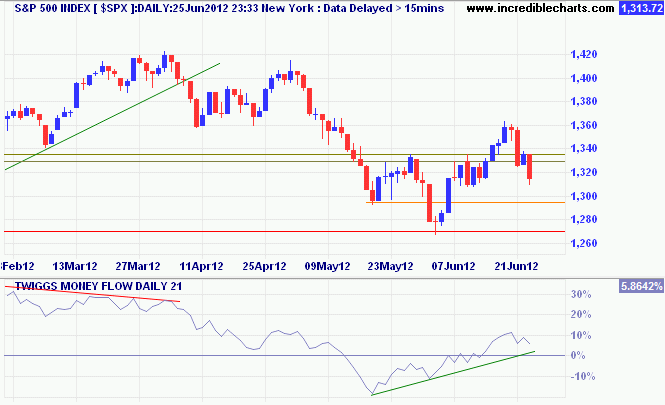 * Target calculation: 1260 - ( 1360 - 1260 ) = 1160
Nasdaq 100 monthly chart shows an intact up-trend despite slowing momentum. Respect of support at 2400 (and the zero line by 63-day Twiggs Momentum) would indicate another primary advance. Penetration of the rising trendline, however, would warn that a top is forming.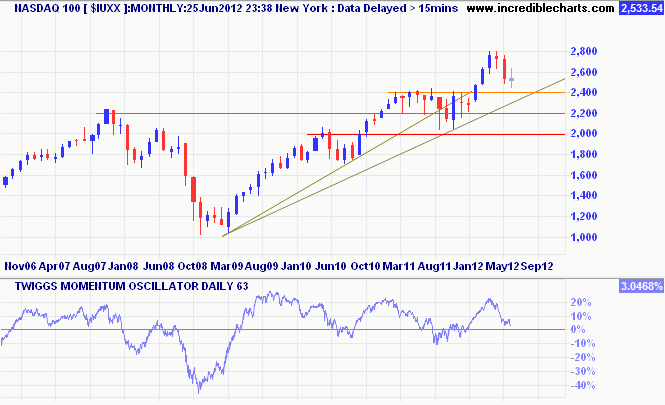 * Target calculation: 2800 + ( 2800 - 2400 ) = 3200
Canada's TSX 60 shows similar weakness, on the daily chart, to the S&P 500. Rising 21-day Twiggs Money Flow, however, indicates support at 640. Respect would suggest that a bottom is forming — strengthened if the index recovers above the declining trendline. Breach of support, on the other hand, would signal a decline to 600*.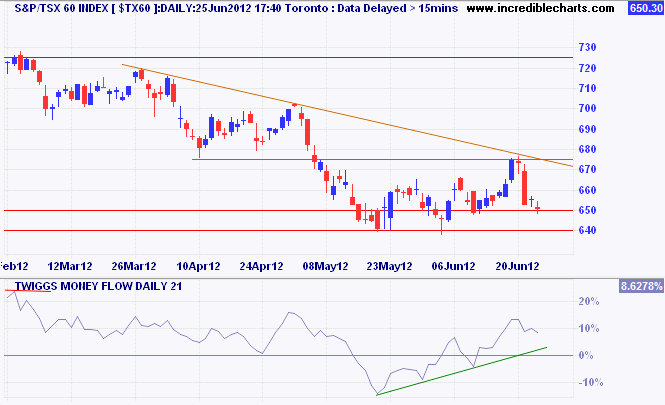 * Target calculation: 640 - ( 680 - 640 ) = 600
It is easier to make our wishes conform to our means than to make our means conform to our wishes.

~ Confederate General Robert E. Lee