---
Dollar, gold, crude oil and commodities
By Colin Twiggs
June 14th, 2012 4:00 a.m. ET (8:00 p:m AET)
These extracts from my trading diary are for educational purposes and should not be interpreted as investment or trading advice. Full terms and conditions can be found at Terms of Use.
The Dollar Index is retracing to test support at 81.50. Respect would confirm the primary up-trend, offering a long-term target of the 2010 high at 89. 63-Day Twiggs Momentum oscillating above zero indicates a healthy up-trend.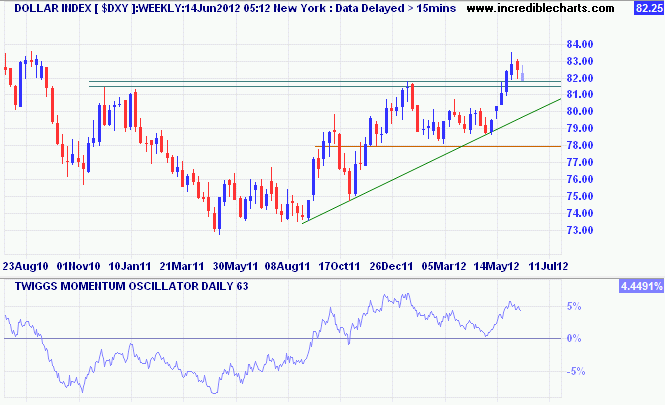 Spot Gold is rallying to test resistance around $1650/ounce — at the descending trendline on the monthly chart. Breakout from the long-term trend channel suggests that a top has formed in response to the stronger dollar. Reversal below $1600 would indicate another test of primary support at $1500, while upward breakout would test $1800. A second dip of 63-day Twiggs Momentum below zero strengthens the warning of a primary down-trend.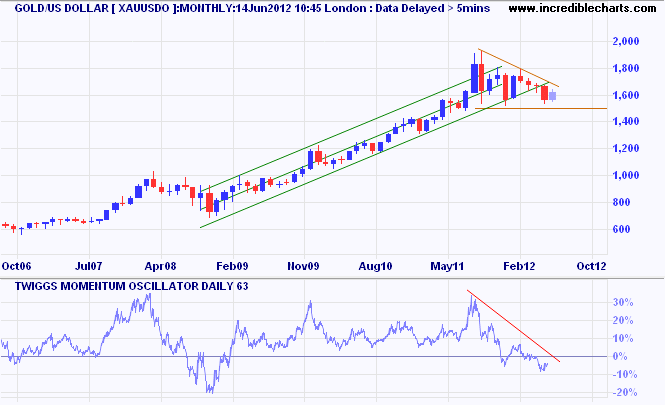 * Target calculation: 1550 - ( 1800 - 1550 ) = 1300
CRB Commodities Index is consolidating above support at its target of 265. Expect a rally to test resistance at 295, but failure of support would test the 2010 low at 250. 63-Day Twiggs Momentum oscillating below zero indicates a healthy down-trend. Commodities are falling (and the dollar rising) in anticipation of a global economic down-turn. Expect stocks (as indicated by the S&P 500 index) to follow commodities lower.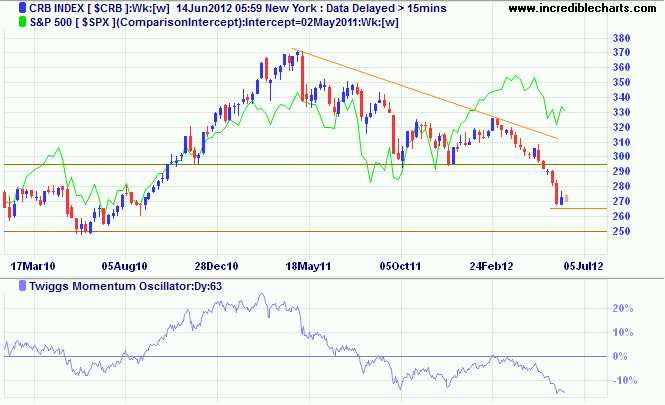 * Target calculation: 290 - ( 330 - 290 ) = 250
Nymex WTI Light Crude is headed for support at its 2011 low of 76, though we may see medium-term retracement to test resistance at 93. 63-Day Twiggs Momentum below zero signals a primary down-trend.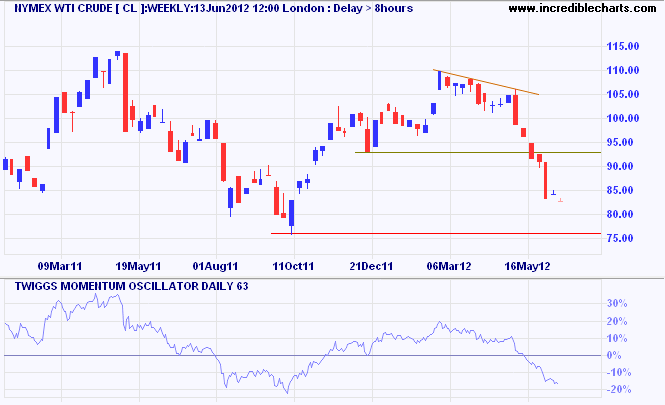 Consensus: The process of abandoning all beliefs, principles, values, and policies in search of something in which no one believes, but to which no one objects; the process of avoiding the very issues that have to be solved, merely because you cannot get agreement on the way ahead. What great cause would have been fought and won under the banner: "I stand for consensus"?

~ Margaret Thatcher