---
Gold suffers from strong dollar
By Colin Twiggs
May 24th, 2012 1:00 a.m. ET (5:00 p:m AET)
These extracts from my trading diary are for educational purposes and should not be interpreted as investment or trading advice. Full terms and conditions can be found at Terms of Use.
The US Dollar Index broke resistance at 81.80, signaling the start of a primary advance to 86.00*. The 63-day Twiggs Momentum trough above zero indicates a strong up-trend. Expect retracement to test the new support level at 81.50/81.80. Respect would confirm the bull signal.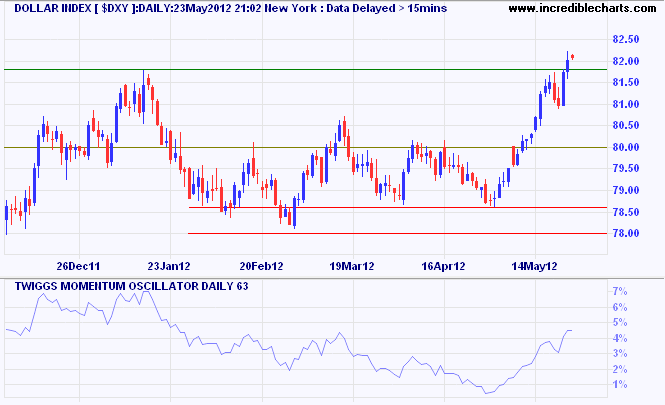 * Target calculation: 82 + ( 82 - 78 ) = 86
Spot Gold is testing the band of support between $1500 and $1550/ounce. Wednesday's long tail is evidence of buying support, but declining 63-day Twiggs Momentum (below zero) warns of a primary down-trend. Another rally that respects resistance at $1600 would strengthen the bear signal. Breakout below $1500 would confirm, offering a target of $1200*. Recovery above $1600, while unlikely, would suggest another test of $1800.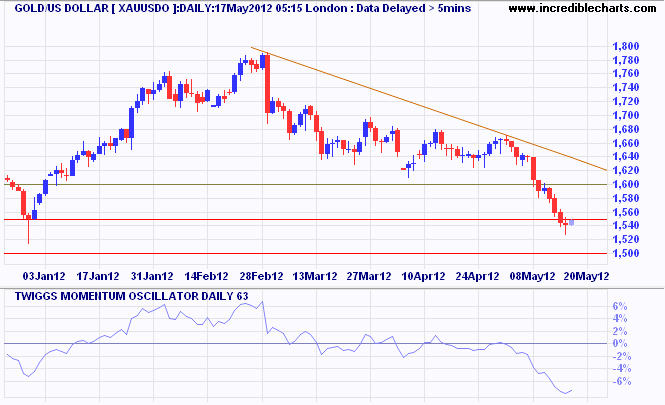 * Target calculation: 1500 - ( 1800 - 1500 ) = 1200
People do not lack strength; they lack will.

~ Victor Hugo