---
S&P 500 and Nasdaq rally
By Colin Twiggs
May 22nd, 2012 1:00 a.m. ET (5:00 p.m. AET)
These extracts from my trading diary are for educational purposes and should not be interpreted as investment or trading advice. Full terms and conditions can be found at Terms of Use.
The S&P 500 rallied off support at 1290/1300, the 50% Fibonacci retracement level. Respect of resistance at 1350/1360 would indicate a strong correction. Likewise a 21-day Twiggs Money Flow peak below zero would be a strong bear signal. The primary trend remains upward, with support a long way off at 1150.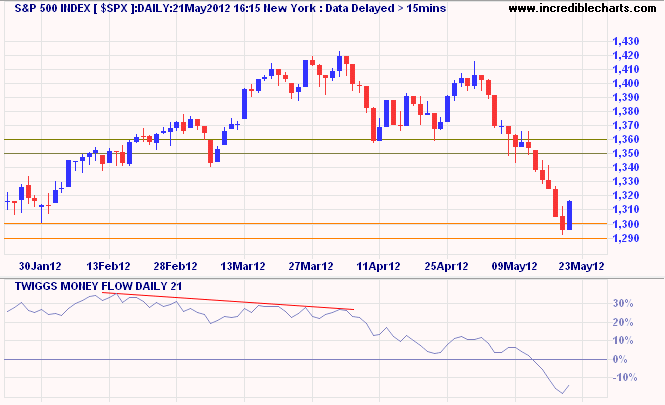 * Target calculation: 1350 - ( 1400 - 1350 ) = 1300
On the weekly chart, the Nasdaq 100 displays a solid bounce off support at 2500 and the rising trendline. Respect of resistance at 2650 would indicate a test of 2400. A 63-day Twiggs Momentum trough above zero would reinforce the primary up-trend, but momentum is falling fast and penetration of the zero line would warn of reversal to a down-trend.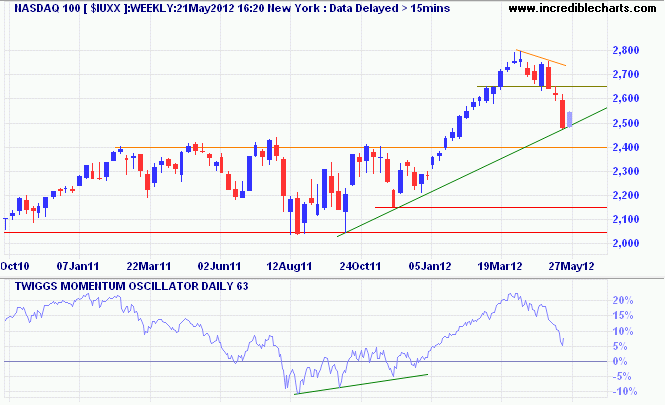 * Target calculation: 2630 - ( 2760 - 2630 ) = 2500
The best way to destroy the capitalist system is to debauch the currency.

~ Vladimir Ilyich Lenin