---
Gold breaks support at $1600/ounce
By Colin Twiggs
May 9th, 2012 11:00 p.m. ET (1:00 p:m AET)
These extracts from my trading diary are for educational purposes and should not be interpreted as investment or trading advice. Full terms and conditions can be found at Terms of Use.
Spot Gold broke its long-term rising trendline and support at $1600, warning of a primary down-trend. Reversal of 63-day Twiggs Momentum below zero strengthens the signal. Failure of primary support at $1500 would confirm, offering a target of $1200*. Recovery above $1600 would indicate all bets are off.
* Target calculation: 1500 - ( 1800 - 1500 ) = 1200
The Gold Bugs Index, representing un-hedged gold stocks, has been suggesting a gold down-trend for some time.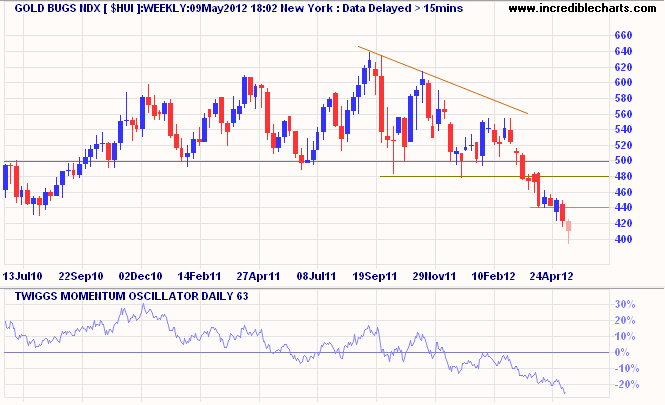 The Dollar Index broke through resistance at 80 on the weekly chart and a 63-day Twiggs Momentum trough above zero indicates another rally. Expect a test of 82 in the next few weeks, mirrored by a weakening gold price.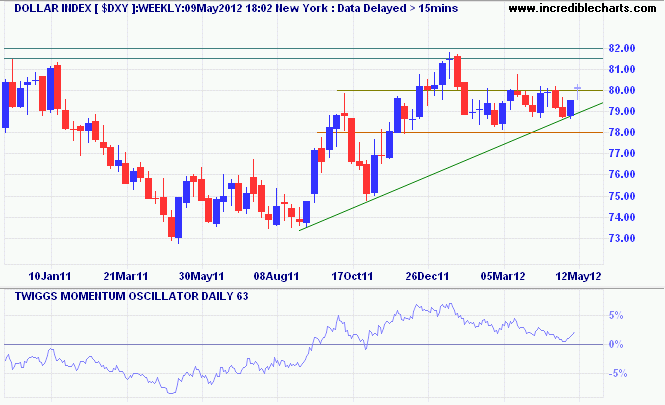 In reading the lives of great men, I found that the first victory they won was over themselves... self-discipline with all of them came first.

~ Harry S. Truman